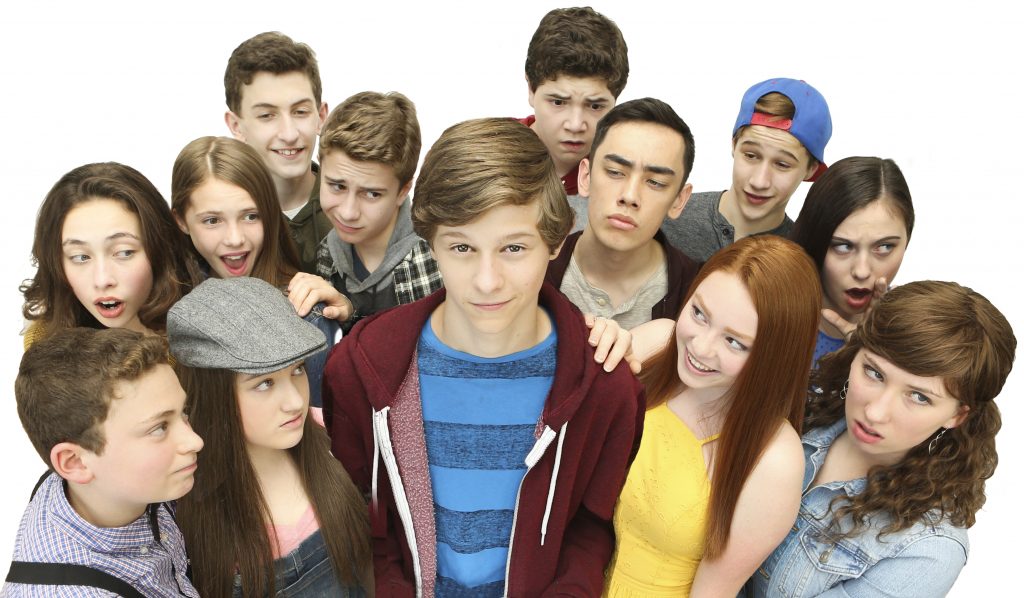 At Waterfront Theatre October 4-8, 2017
botco.eventbrite.com
Posted October 2, 2017
Everyone fourteen or older knows what it was like to be thirteen – and it wasn't always a barrel of laughs. Too fat, too thin, big ears, no boobs, bad skin; the list of complaints was endless. But 13: The Musical, with music and lyrics by Jason Robert Brown and book by Dan Elish and Robert Horn, is funny in a 'Didn't we get ourselves tied up in knots over the damnedest things' way. Being different felt like the end of the world.
By far the most outstanding aspect of this production, directed by Chris Adams with choreography by Nicol Spinola, is the enthusiasm, energy and amazingly polished professionalism – to say nothing of perseverance – of this cast of nineteen teenagers. Apparently, a core group of teenagers cast in Billy Elliot: The Musical (last season at The Stanley), carpooled together to and from those rehearsals. Young Julia MacLean had discovered and researched 13: The Musical and introduced all the kids in the car to the songs; they sang them all the way to and from Billy Elliot. By the time that show closed, they knew all the songs and were eager to see a production mounted – in which they, of course, would be cast. That's where perseverance paid off. Julia got her father Dave MacLean on board and eventually MacLean, Bruce Verchere, Monique Creber (musical director) and Chris Adams (director) rose to the challenge and co-produced it in association with Bring On Tomorrow Co, Moving Mirror Productions and Creber Music Corporation.  And now they just might have a hit on their hands.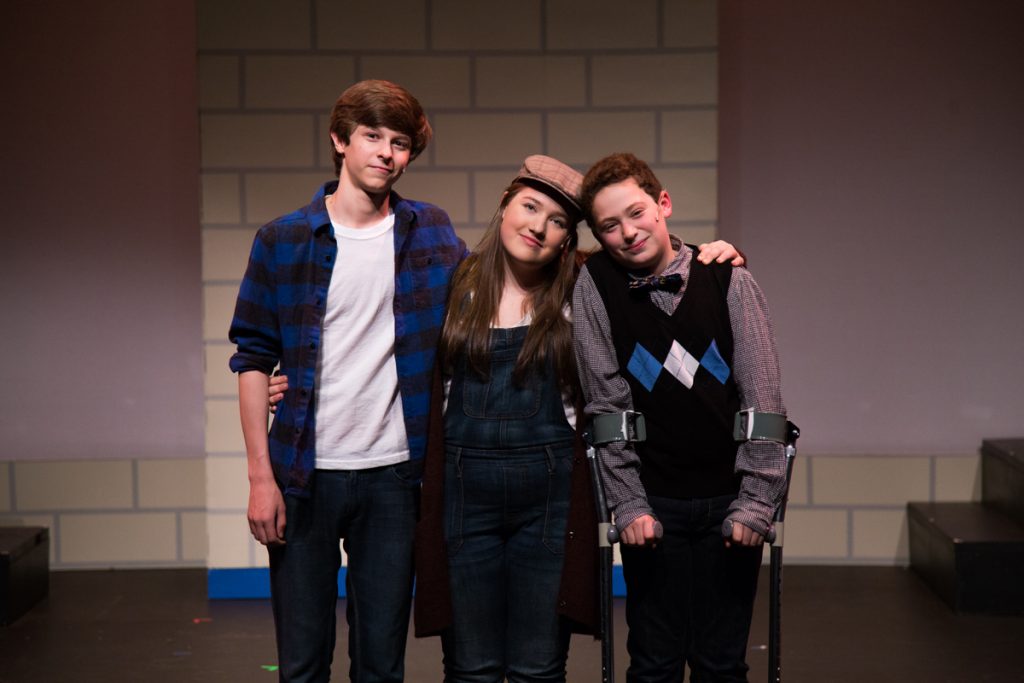 It's a simple story: the parents of twelve-and-a-half-year-old Evan Goldman (Graham Verchere) have split up following his dad's affair with a stewardess. Evan's mom packs up their New York City home and moves them to Appleton, Indiana, "the lamest place in the world." Evan is coming up to his Bar Mitzvah and he wants to have a big party but he doesn't yet have any friends – other than outcasts Patrice (Julia MacLean) and metal crutch-wearing Archie (Julian Lokash) – at Dan Quayle Junior High. If only Evan can persuade Brett (Jason Sakaki), the coolest, most popular guy in the school to come, all will be well. But Jason's friendship comes at a price: Evan has to persuade foxy-but-kind-of-dim Kendra (Kyra Leroux) to go to a scary movie with Brett, and Evan's mother has to buy the R-rated tickets for all the kids. Somehow, she goes along with it. Naturally, it doesn't all work out.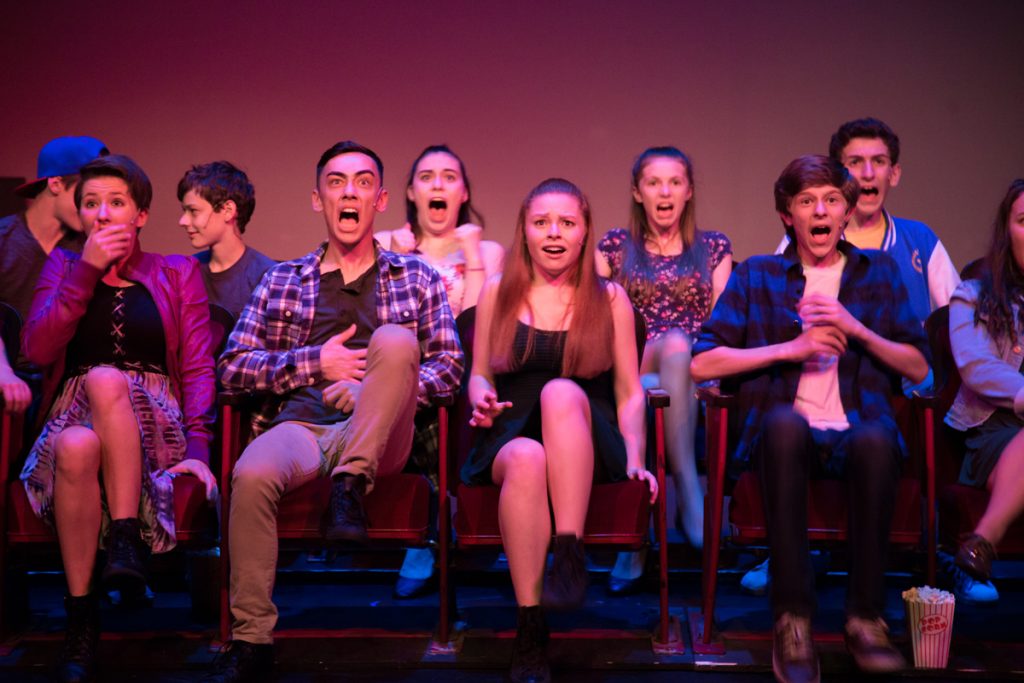 So the story is simple – musical sit-com for tweens and early teens – and has the usual suspects: new kid (Evan), cool kid (Brett), goony sidekicks (Eddie and Malcolm), cute girl (Kendra), mean girl (Lucy), outcasts (Patrice and Archie) and all the rest. There are no adults in the show and in the original Broadway production, every kid on stage was thirteen and everyone in the band was also thirteen. The range is greater in this production: at eighteen Michelle Creber – already an Actors Equity performer – is possibly the oldest. And four adults make up the terrific band.
The performers may be young but they're already acting, singing and dancing like pros. Julia MacLean (Patrice) has a big, confident voice that blows the roof off with songs like "The Lamest Place in The World" and especially "What It Means To Be A Friend". Graham Verchere (Evan) captures our hearts right off the top with "13/Becoming A Man" while Julian Lokash (Archie) sets his character up as a conniving little shit in "Get Me What I Need." Jason Sakaki has the unenviable task of portraying manipulating but dim bulb Brett but he does a great job of it, especially in the completely ridiculous "Any Minute." And Michelle Creber sets a new 'bad girl' standard as rumour-spreading Lucy. Creber has an outstanding voice and terrific stage presence. Other leads include Avril Brigden, Emma Ciprian, Nolan Fahey, Avery Johnson, Taylor McKee and Nathan Piasecki.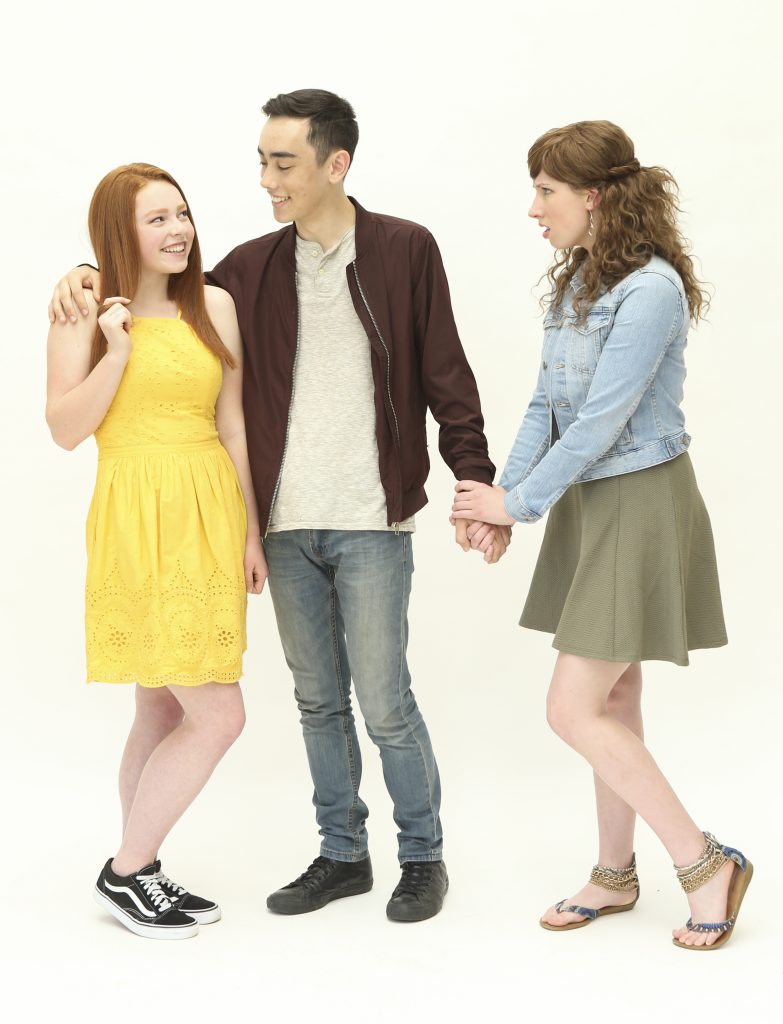 Providing a whole lot fun with their geekiness are Toby Verchere (Eddie) and Cameron Andres (Malcolm).
While everyone will get a kick out of 13: The Musical, this production surpasses the material Jason Robert Brown provides. While seeming to glimpse the world through thirteen-year-old eyes, it's clearly written by an almost 40-year-old male. The 'prize' that Brett seeks is "the tongue" – a French kiss – and much is made of it. Sitting in the darkened movie theatre, thirteen-year-old Brett sings, "After all, tonight is the tongue/And after the tongue, there will be groping." Definite yuck factor here and a kind of crass pandering to what the playwright thinks audiences – young and old – want.
But the overall message is a good one: "A friend is a person who, most of all/Cares about what you feel".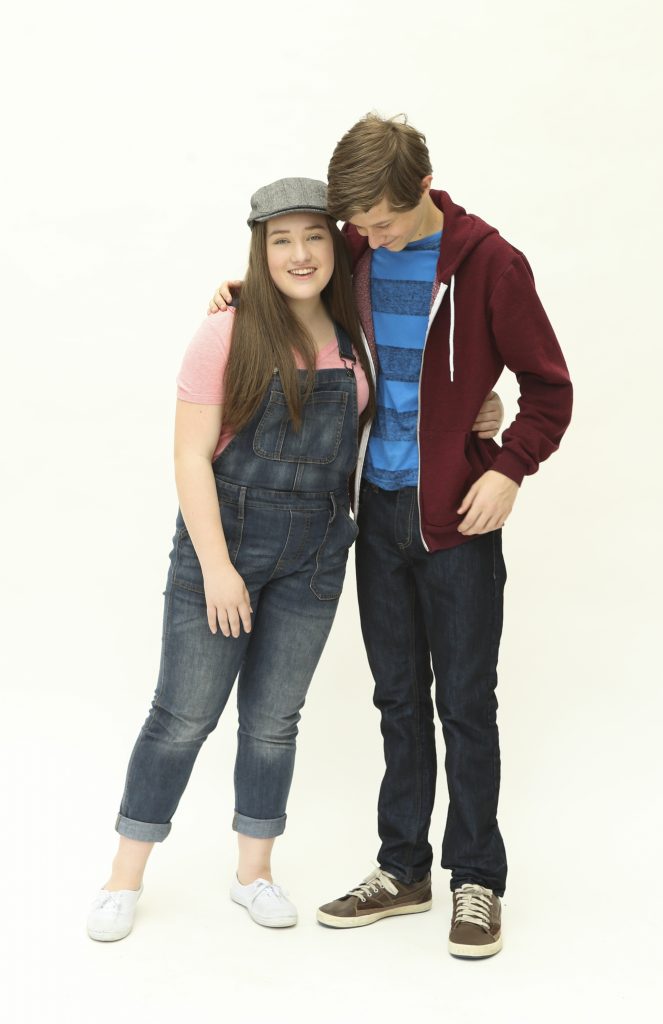 The camaraderie and exuberance of this group of young adults is absolutely infectious. They take the material, make it their own, make it better and in doing so, take us back to the good, the bad and the ugly of that furiously funny, sometimes miserable and almost always hopeful age.