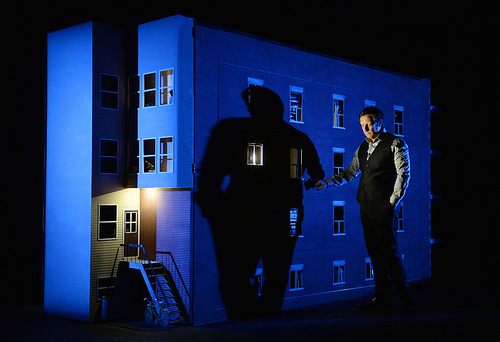 At the Wong Experimental Theatre, SFU (149 West Hastings) until February 21, 2016
sfuwoodwards.ca
Posted February 13, 2016
Originally scheduled run completely sold out. Matinee added: Saturday, February 20 at 2PM
Dust off all the superlatives: Robert Lepage is back in town. Jointly presented by SFU Woodward's Cultural Programs and Théâtre La Seizième, this production marks the Western Canada premiere of 887, an evocative exploration of memory: what we remember, what we forget and who we are when memory fails.
For an actor, memory is even more critical than it is for the rest of us. Lepage: "Theatre is all about memory. It's  the grand sport of remembering." Charged with reciting Michèle Lalonde's poem Speak White for a poetry festival, Lepage sought help when he found he couldn't commit Lalonde's long poem to memory. The advice he received was to go back in his mind to a time when remembering things was easy and to work from there. This mnemonic took him back to 887 Avenue Murray in Quebec City, his boyhood home located between Parc des Braves and Plaines d'Abraham – historic icons both.
What Lepage discovered was revisiting his childhood was to revisit the separatist movement of Quebec as it was experienced within his own family: his father, a Federalist; his mother, more inclined to support the Separatists. The big question on a Saturday night in the Lepage household? To watch Hockey Night in Canada in French or English.
While 887 possibly relates more to those who can remember their very first phone number but can't remember what they had for breakfast, the presentation will dazzle everyone with its sheer inventiveness. Centre stage is dominated by a huge 'block' that revolves to show us a miniature apartment building complete with little windows through which we see the tiny occupants. Lepage looms large as he recalls the various residents including Prince, a huge (in Lepage's boyhood memory) Great Dane. Lepage turns the block – like a giant wooden puzzle into which the various parts fit – again and again to reveal his present, life-sized, book-lined apartment and gleaming kitchen, a 60s diner and various other locations. Other set pieces slip smoothly into position downstage: Parc des Braves on Parade Day, his father's tiny taxi crossing from stage left to right and Charles de Gaulle passing by in his black Lincoln before inflaming a cheering crowd with his "Vive le Québec libre" speech.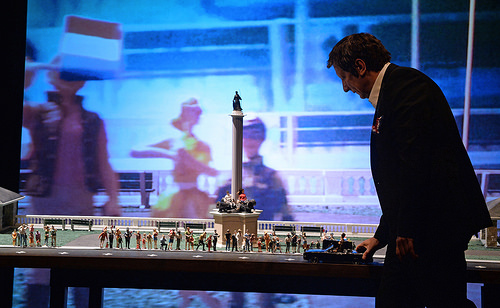 Lepage, addressing us directly, invites us into his life through these doll house-size and real-size images with generosity, quiet thoughtfulness and humility. Two hours – without intermission – fly by.
As with all of Lepage's work, 887 is a work of art, a jewel-box of images and cutting edge technology – all in the service of narrative. It is whimsical: Lepage's huge, projected, out-of-focus face, peering into his miniature boyhood bedroom. It's provocative: de Gaulle shouting out his rabble-rousing message. It's magical: a bed transformed into a stage.
In spite of all the technology, there are a few glitches that may (or may not) be able to be rectified. Much of Lepage's text is in French and the surtitles, appearing as grey-on-black, are difficult to read. Also, French is spoken very quickly and it's often impossible to keep up. As well, an effect that is really stunning – the almost blinding reflection off the stainless steel fridge in Lepage's kitchen – makes it absolutely impossible to read huge swatches of important dialogue.
887 ultimately is a very personal homage to his father, a taxi-driver with a Grade 8 education; a man who worked tirelessly night and day to make ends meet and to care for his family. Indeed, he was home very little but he had a profound effect on Lepage, his work ethic, integrity and politics.
It all comes home in the final scene in which Lepage plays both himself and his father in a touching, compassion-filled and enduring image. A national treasure – in French and English – Robert Lepage is not to be missed.