At the Waterfront Theatre until September 2, 2017
Tickets from $35 at fightingchanceproductions.ca
Posted August 27, 2017
Auditions: how do performers find the strength and resilience to put themselves through it again and again? Too tall, too short, too much attitude, not enough pizazz – the reasons for being rejected are endless. Michael Bennett, who conceived and originally directed and choreographed A Chorus Line, explores the process in this multi-award-winning musical. With music by Marvin Hamlisch and lyrics by Edward Kleban, the show won nine Tony Awards plus the Pulitzer Prize for Drama in 1976.
Everyone who auditioned for this Fighting Chance Productions (FCP) show went through the same hell as the twenty-three hopefuls whose stories are told in A Chorus Line. When the ensemble sings "I Hope I Get It", it's personal. "Oh god, I need this job" really resonates with everyone on that Waterfront stage. They are the lucky ones.
Fighting Chance Productions, under the artistic direction of Ryan Mooney, has been asking audiences to take a chance on the company since 2007. Ten years and about four dozen productions later, it's paying off for audiences and performers. The shows are getting better and better.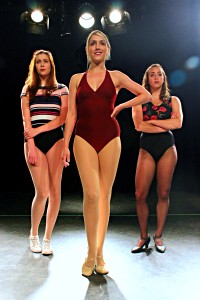 Directed and choreographed by Rachael Carlson, almost two dozen young performers sing and dance their hearts out. Each sculpts a unique persona and remains committed right down to the final curtain: for example, Bebe (Haley Allen) thinks she's unattractive except when she's dancing; Connie (Jolene Bernardino) gets passed over because she's barely five feet tall; Bobby (Eric Vincent), breaks free from his conservative upbringing by dancing; Paul (Jess Alvarez) talks about coming out to his parents. One by one they reveal themselves.
The storyline is formulaic: Zach (Chris King), the chorus line casting director for an upcoming musical on Broadway, questions each hopeful about how they began dancing, what dancing means to them, etcetera. Once the pattern is set, we know he will, at random, ask each one the questions that grow increasingly personal, even invasive.
Breaking up this formula is Larry (Marcel Tremel), Zach's assistant, who puts the performers through the various choreographed numbers, watching carefully to see who performs well. Five are soon cut. Of the remaining sixteen dancers, four men and four "girls" will be cast. The pressure is on.
More interesting than some of the individual stories is a narrative thread running through A Chorus Line: Cassie (Lucia Forward) has had a relationship with Zach and, although she has danced various leads over the years, she's getting older and now desperately looking for work in the chorus line. Zach says she's too good for the chorus line; Cassie just wants to dance. Forward, in a flowing, body-revealing scarlet dress, is breathtaking in an extended solo performance.
The only serious tension – that comes and goes throughout A Chorus Line – is whether Zach will cast her or not.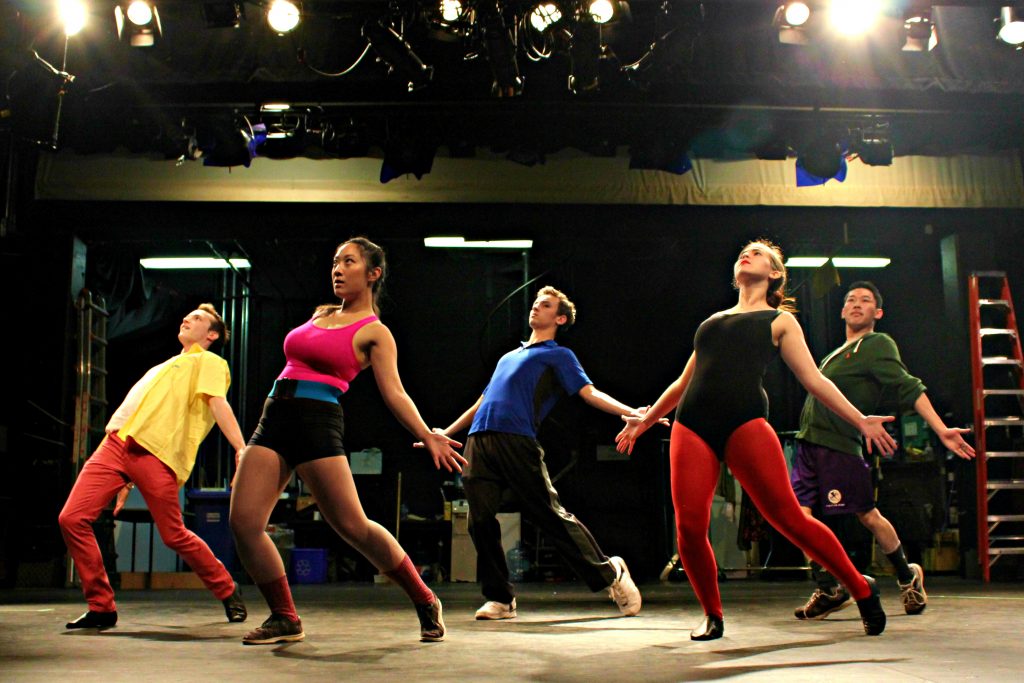 Outstanding are Alishia Suitor as full-of-attitude Sheila; Gregory Liow in the role of exuberant Mike; and Lindsay Marshall as Val who despaired of ever growing "tits". Now she has 'em, thanks to plastic surgery
Without a big costume budget, it's difficult to pull off the really big number that everyone expects to bring down A Chorus Line curtain. Perhaps it's better to put everyone in black leotards, white bowties and top hats – and leave it at that.
With a mandate to provide opportunities for young theatre artists to present their skills on a stage where their age or experience do not limit them but help them gain on-the-job experience, FCP has been dipping into the goldmine that is the Capilano University's Musical Theatre Program. Of the twenty-three performers in this show, eight are currently enrolled in or are graduates of that program. Also in the mandate is the commitment to cast at least half of the show with new-to-the-company performers. The exposure FCP gives these young theatre artists is unbeatable. They are all fresh, young, bright-eyed and full of enthusiasm.
A five-piece band under the direction of Arielle Balance provides live, off-stage music.
While this FCP production may not be Broadway-ready, it's ambitious, energetic and highly entertaining. Next up for the company is Posh (a non-musical) at the PAL Studio Theatre, September 15-29.