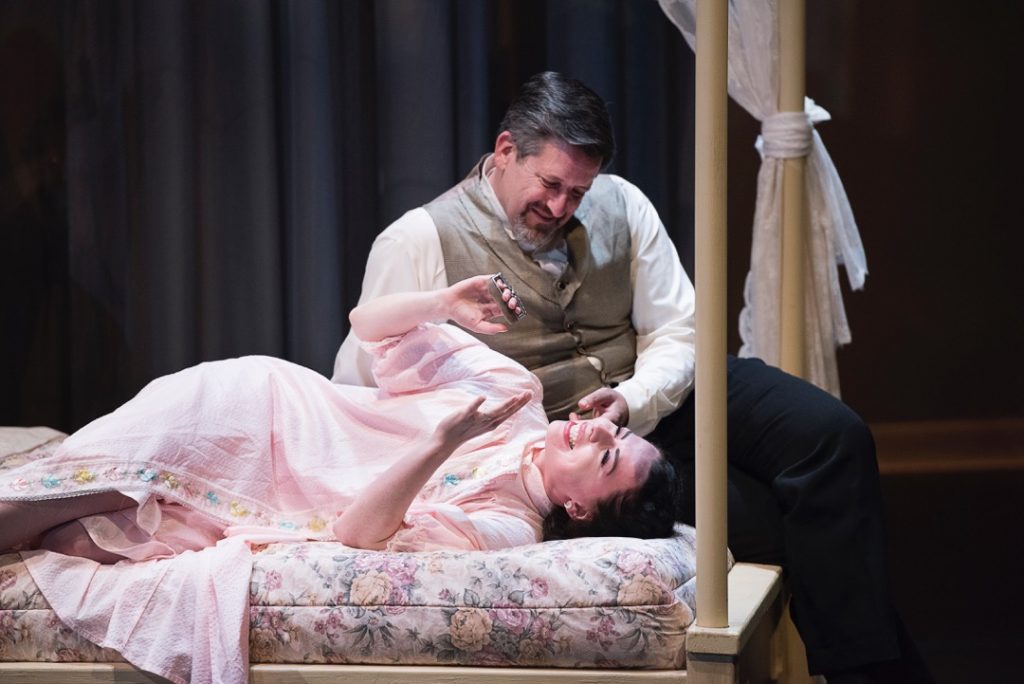 At The Anvil Centre Theatre (New Westminster) until May 21, 2017
www.ticketsnw.ca/604-521-5050
Posted May 15, 2017
Peter Jorgensen, director and artistic producer of Patrick Street Productions, shakes up and wakes up A Little Night Music, a sophisticated Stephen Sondheim musical comedy subtitled Love & Desire in Three-Quarter Time.
The 1973 musical (with music and lyrics by Sondheim, book by Hugh Wheeler) has interesting roots. Sondheim tips his hat to Mozart's Eine Kleine Nachtmusik, generally translated as A Little Night Music and he also pays tribute to Ingmar Bergman whose film, Smiles of a Summer Night, won the award for "Best Poetic Humour" at the 1955 Cannes Film Festival and which provides, more or less, the plot for Sondheim's A Little Night Music.
Nothing about Sondheim is ever simple and that's what makes his musicals so richly rewarding. You don't have to understand polyphony or counterpoint to appreciate the complexity – yet the complete accessibility – of this romantic romp. And although both Bergman and Sondheim set the action in the early 1900s in Sweden, the muddle in which the characters find themselves is relevant today. Director Jorgensen makes that point when the performers first appear on stage in contemporary clothing but then peel off layers to reveal period costumes – knickers and corsets on the women. Costume design is by Jessica Bayntun who also provides some absolutely gorgeous gowns.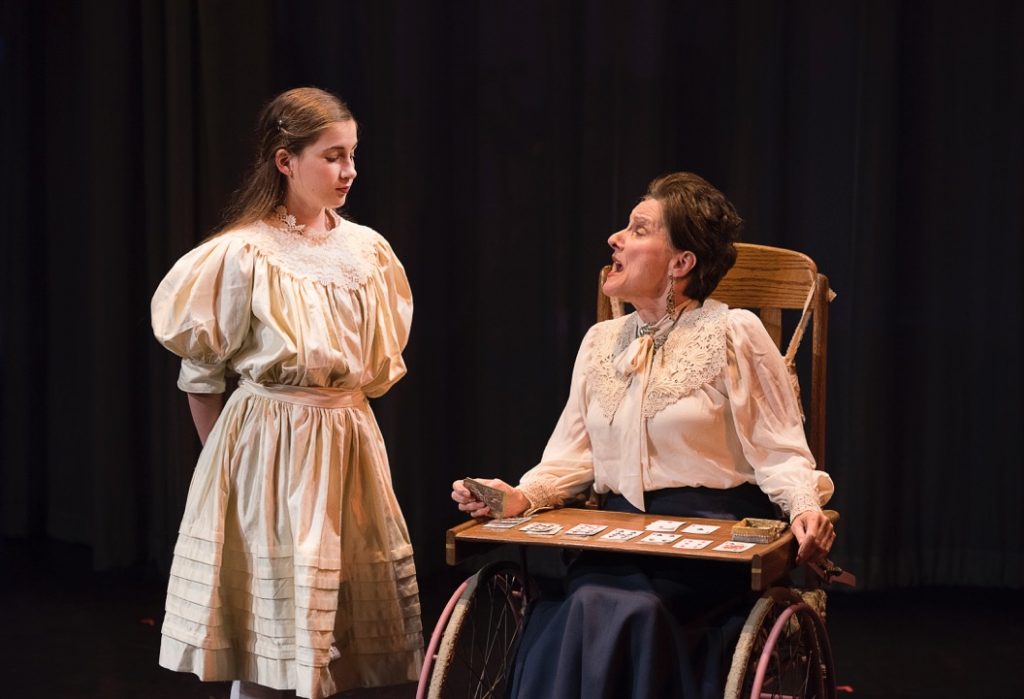 After the opening "Night Waltz", during which the characters pair up and dance whilst eyeing each other suspiciously, old dowager Madame Armfeldt (Patti Allan) is brought onstage in a wheelchair and joined by her thirteen-year-old granddaughter Fredrika (Elizabeth Irving). The grandmother shares with Fredrika an old Swedish myth: the midsummer night smiles three times – first on the young, then on fools and finally on the old. The plot of A Little Night Music bears the myth out: there are the young, the fools and the old.
Challenging as Sondheim's music is, the performers as well as the six-piece orchestra under the direction of Sean Bayntun are consistently up to the task. Baritone Warren Kimmel is – as always – assured and note perfect, exuding a charming, befuddled decency as middle-aged Fredrik Egerman. Fredrik's eleven-month-old marriage to eighteen-year-old Anne (Arinea Hermans) has yet to be consummated and his patience is wearing thin. He hopefully sings "Now" while soprano Hermans sings "Soon". Meanwhile Fredrik's twenty-something, seminary-student son Henrik (Caleb Di Pomponio) pines for and lusts after vain and flighty Anne; he woefully sings "Later." Di Pomponio strikes just the right note; he's partly a petulant ninny but his plight eventually elicits our sympathy. Hermans' Anne begins as a primping coquette, constantly checking herself in the mirror, but even here we see that she, silly child, is ensnared in a ridiculous farce of a marriage.
A trip to the theatre to see the celebrated, "one and only" Desirée Armfeldt (Katey Wright) ends in Anne demanding to be taken home immediately when she sees a spark between Desirée and Fredrik. Wright brings all her comedic skill to the wise and sexually liberated Desirée and delivers the show's most famous song – "Send in the Clowns" – with show-stopping, wistful depth.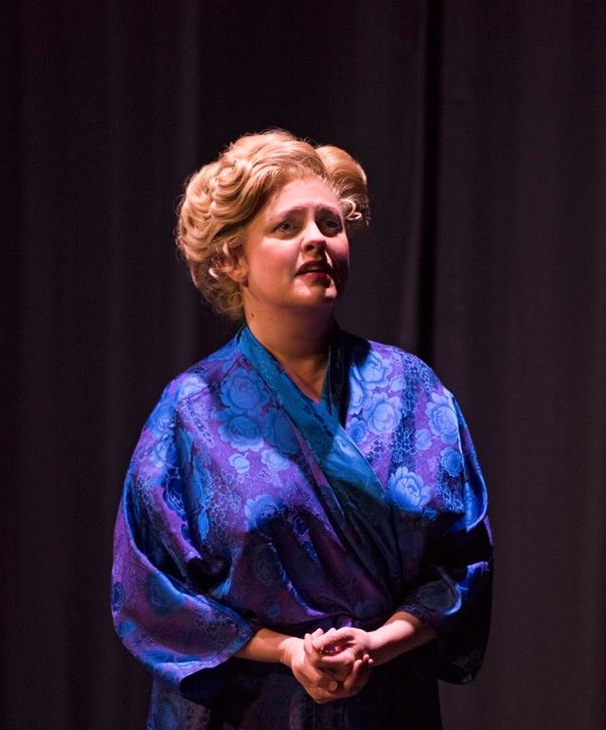 Complicating the relationship between Desirée, Fredrik and Anne are arrogant Count Carl-Magnus Malcolm (Nick Fontaine) and his badly neglected wife Charlotte (Lindsay Warnock), sadly aware that her husband is having an affair with Desirée. Warnock sings the show's darkest song, "Every Day a Little Death", later joined by Hermans; the two lament the grief marriage has brought them.
Rose McNeil is the lusty, free-loving Petra, a servant in the Egerman household. In contrast to all the unhappiness the various pairings generate, McNeil brings uncomplicated generosity and earthiness to the role.
Performing acoustically – no head mikes – presents challenges especially for thirteen-year Irving who has a sweet, clear voice but not yet a big voice. However, she shows professionalism and confidence well beyond her years. A triple threat – singing, dancing and acting – Irving is definitely one to keep an eye on.
A Little Night Music is performed in the three-year-old Anvil Theatre Centre; it's a beautiful venue with seating for 364 and a highly flexible seating plan. Across the street is the SkyTrain station, a 20-minute trip from downtown Vancouver. For those who want to bring their own vehicle, street parking is free after 8PM; underground parking is available at the Centre that also houses a museum and an art gallery. A terrific addition to The Royal City, its proximity to Vancouver and beyond makes it well worth a visit.
So make your own little night music: dine out in New Westminster, check out – if you haven't already – the exciting new venue and enjoy this Sondheim musical comedy made utterly sparkling by Patrick Street Productions.
View the trailer here: https://www.youtube.com/watch?v=edkHP6qqay8