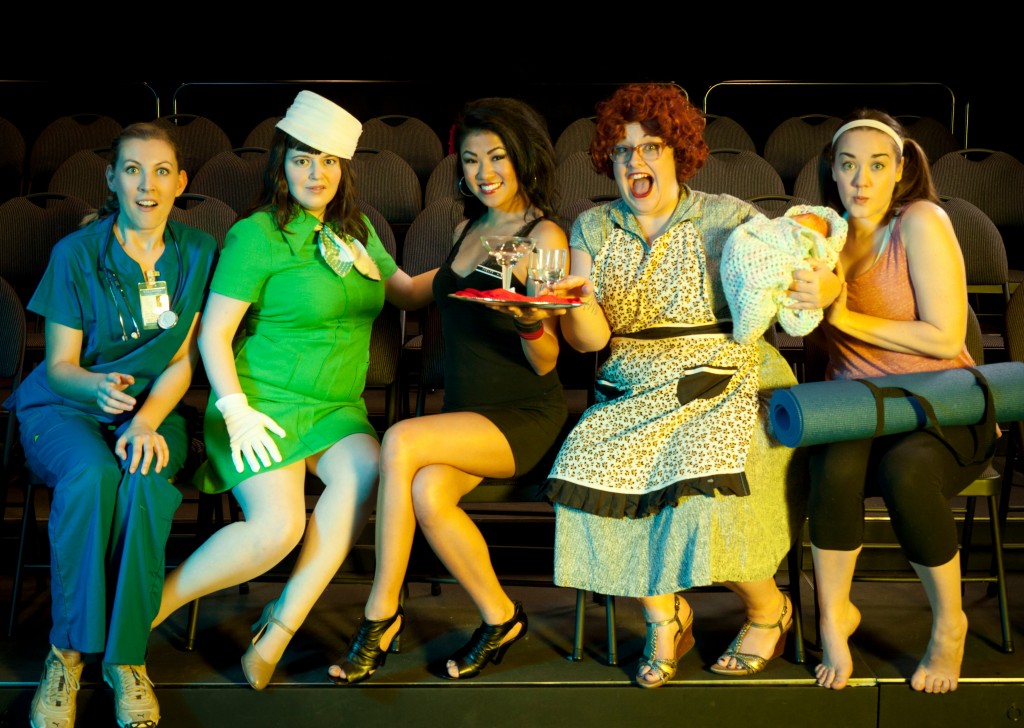 At Studio 1398 until August 25
brownpapertickets.com
Posted on August 18, 2013
I don't usually review musical revues but how could I resist a show with five young women under the direction of one young-ish guy? All the songs are about women in various stages of life and I do have experience: daughter, sister, aunt, wife, mother, mother-in-law, ex-wife, ex-mother-in-law, friend and grandmother.
Revues are collections of songs sometimes grouped along a theme, sometimes not. Some of the material is more interesting than the rest; and usually there's a mix of silly and sincere, upbeat and melancholy. Revues are always a bit of a grab bag.
A…My Name is Alice is all of this but the enthusiasm and raw talent on the Studio 1398 stage make it worthwhile. And Yawen Wang – the sixth woman on stage – is simply fantastic on the keyboard.
Conceived by Joan Micklin Silver and Julianne Boyd, A…My Name is Alice won the Outer Critics Circle Award in 1983 and has spawned two sequels, A…My Name is Still Alice and A…My Name Will Always Be Alice. The songs – twenty-one in all – are written by various songwriters and pulled together by Silver and Boyd.
The show takes it title from the children's word game that works its way through the alphabet something like this: A…my name is Alma/My husband's name is Al/We live in Alberta and we like apples. It's a great road trip game for kids and by the time you've driven all the way to Disneyland you've worked through the alphabet many, many times.
Boyd and Silver's show begins with each of the five performers stepping forth and introducing themselves with "A…my name is Alice" but then things go sideways: "A … my name is Alice, And my husband's name is Adam, And his girlfriend's name is Amy, And my lover's name is Abby, And her husband's name is Arnie, And his boyfriend's name is Allan, And my analyst's name is Arthur, And we're working on my anger".
We're no longer playing a children's' game and the 'A's run the gamut from anxiety to alimony.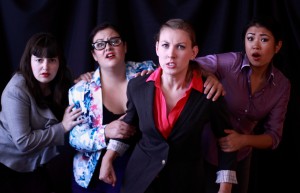 Director Rick Tae brings together five talented performers who skills range from the operatic (Michelle T. Baynton) and balletic (Rebecca Friesen) to the comedic/dramatic (Rosie Simon, Danielle Lemon and Hannah Unterschultz). The show kicks off with a rousing "All Girl Band" and moves into a poignant "At My Age", a duet sung by Lemon and Simon about an older woman and a younger woman nervously getting ready for their dates.
Not all of the material is sung. Lemon is the kindergarten teacher intimidating so-called "bad mother" (Unterschultz) and Baynton does several turns as an angst-ridden poetess whose poems begin with "I Am Woman" but include a shrieking, accusatory, "He did it!" in each one.
A…My Name is Alice does a good job of covering some of the stages of women's' lives but truly disappointing – in spite of Lemon's good performance – is the long monologue, "Ms. Mae", a seventy-two year old woman in the hair salon. She blithers on and on while the indulgent staff carries on its work. There is so much rich material that could have been used here that it's downright painful. Gloria Steinem, Sophia Loren and Judi Dench will be eighty next year and I doubt you'd find them dithering about their hair being their "crowning glory".  Silver and Boyd squandered a golden opportunity here.
The staging is simple and the enthusiasm infectious. Produced by Skycorner Productions in association with Vancouver Asian Canadian Theatre, A…My Name is Alice is 'A' for 'Admirable' in bringing some new or infrequently seen performers to the stage. Note to director Tae: I have a book club full of smart, articulate and funny women 'of a certain age' who could write you a terrific replacement for "Ms. Mae" if we weren't so busy writing, consulting, counseling, cataloguing or making art.