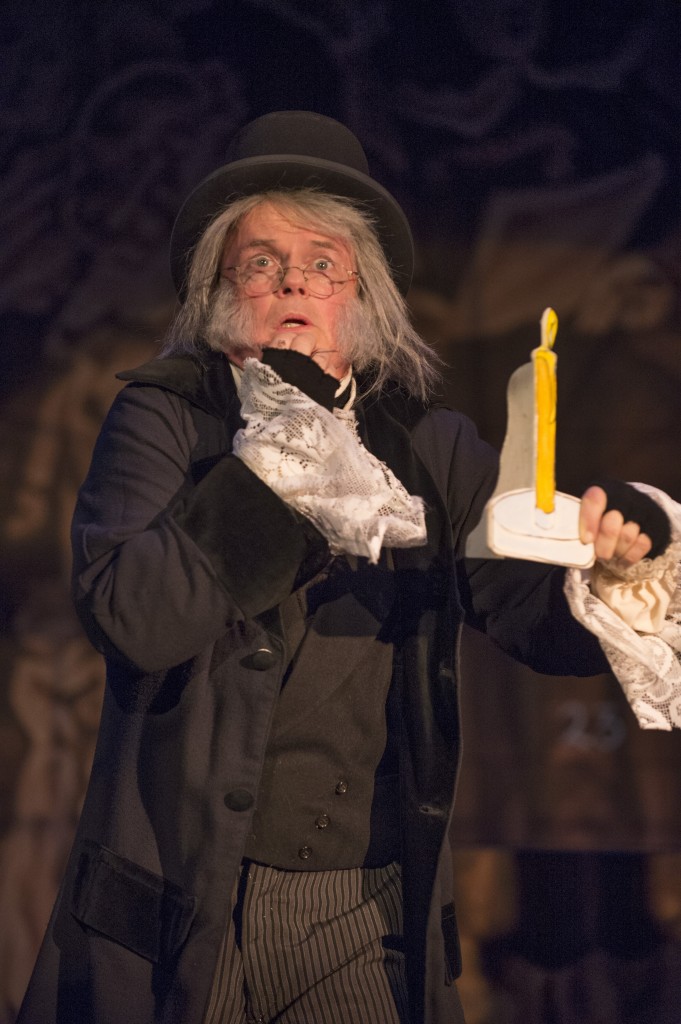 At the Arts Club Revue Stage until December 27, 2014
604-687-1644/artsclub.com
Posted December 5, 2014
Bah, humbug! Yes, it's that time of year when you can't drink your medium, soy, extra hot latté without hearing "Rudolph, the Red-Nosed Reindeer" or pick up a loaf of bread without being serenaded with "Have A Holly, Jolly Christmas". So thank goodness for Rock Paper Scissors and the Arts Club for mixing it up with A Twisted Christmas Carol.
This tweaking and twisting of the Charles Dickens 1843 novella originally came from the seriously funny minds of David C. Jones and the company of Rock Paper Scissors back in 1998 when the show was produced with Jones as Scrooge at the Jericho Arts Centre. The 'other' funny Jones – Gary Jones – is Scrooge this time around and he's not only hilarious but, like, David C, amazingly, quick-as-a-bunny inventive. What makes mere mortals like the rest of us break into a sweat – finding ourselves on stage without a script – is what turns these improv artists on. They are a breed apart.
A Twisted Christmas Carol is scripted improv; that is, Dickens' basic story remains intact: nasty, miserly Ebenezer Scrooge is visited in his bed by the spirits of Christmas Past, Present and Future. He does an about-face and ends up being Mr. Nice Guy. But within that framework the audience makes suggestions and instantly the performers have to respond. Scrooge, on the night attended, was not a businessman but 'a gymnast' and in one of the most hilarious responses, Gary Jones (lank grey hair, top hat, tiny glasses and Dickensian period dress) executed a routine on an improvised pommel horse. The man is fearless. How quick is he? Well, on the spur-of-the-moment, this Scrooge tells us, in an aside, that his cat's name is Nadia Comaneci. The under-40s might not have got it but the rest of us did. What else would an old gymnast call his cat?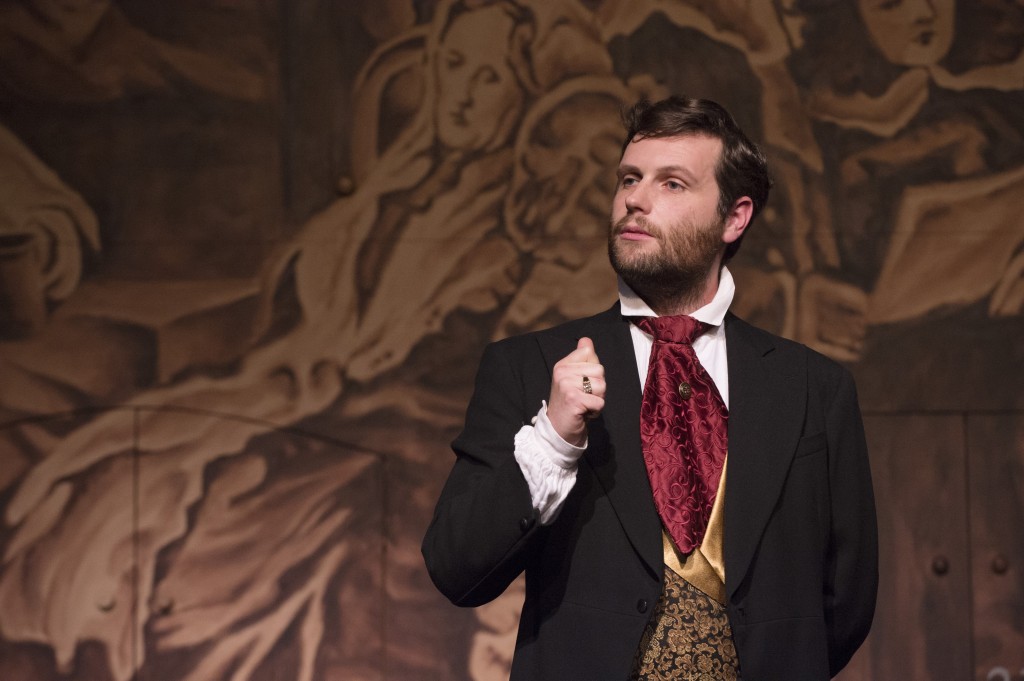 Tiny Tim (Jeff Gladstone) is still afflicted but he's no longer lame. The non-threatening ailment that the audience suggested last Wednesday was ADD and while not politically correct, it gave Gladstone licence for some very funny antics because Tiny Tim simply can't focus for more than a second or two.
Diane Frances, who was part of the Twisted Christmas Carol co-op back in '98, plays several roles including Mrs. Cratchit and Scrooge's long-lost fiancée who, like Catherine from the audience, is an assistant to the president of a uranium company. This prompted the slightly naughty and ever-quick Jones to quip, "You sent a lot of heavy water to my rod."
Bill Pozzobon is not only Bob Cratchit, gymnast, but also Scrooge's nephew's wife who, on another audience suggestion, looks like a hippo. He made the most of that with gaping mouth and lumbering gait.
Kirk Smith is plummy, English-accented Dickens himself who, referring to his iPad, keeps the show on track. His self-proclaimed aim is "to put the merry back in Merry Christmas" and "the dick back in Dickens." Looking for a "fresh, new" look he mocks the usual sepia-tone set so often the backdrop to other production of A Christmas Carol. What he gets, to his dismay, is a sepia-tone set but what a set: designed originally by David C. Jones and Michelle Porter it's a huge advent calendar with doors and windows that pop open, beds and tables – even a makeshift pommel horse – that slide out. Along with the cast of seven masters and mistresses of mayhem, the set is arguably one of the stars.
John Murphy directs this silliness and suggests in his program notes that even the most ordinary shout-outs from the audience – raucous on opening night – can be mined for comedic gold. There's definitely gold in them thar hills as these merrymakers, running on pure adrenalin, do a number on Dickens. God bless them, every one.