Dayson Board Room, Jewish Community Centre, March 5-10 and March 12-13
604-257-5145/chutzpahfestival.com
Posted March 6, 2016
If you take religion out of the equation, is a Jewish guy still a Jew? That's the question Itai Erdal – best known as one of Vancouver's most innovative lighting designers – asks himself. Is it enough to celebrate the food, music, art, holiday traditions and history and still be Jewish even if you're an atheist? The answer is important to Erdal because Talia, the sister whom he dearly loves, is becoming more deeply religious and he fears his secularism will drive a wedge between them.
A Very Narrow Bridge (Kol Ha'olam Kulo) is a Hebrew song sung on important occasions; the event in this Elbow Theatre Production is Erdal's request for a divorce, for which he returned to Israel and met with a tribunal of rabbis (portrayed by Patti Allan, Tom Pickett and Anton Lipovetsky). The grilling he was put through is just another issue he has with being a secular Jew; surely a divorce is a civil matter, not a religious one, he argues.
After five or six hours of being asked again and again, "What is your name?" and "How do you spell it?" they finally turn to his wife Naomi. It's as if she hasn't existed for the tribunal until this moment. We don't actually see Naomi but we do see her in photographs projected on a screen. As divorces go, it's all very strange.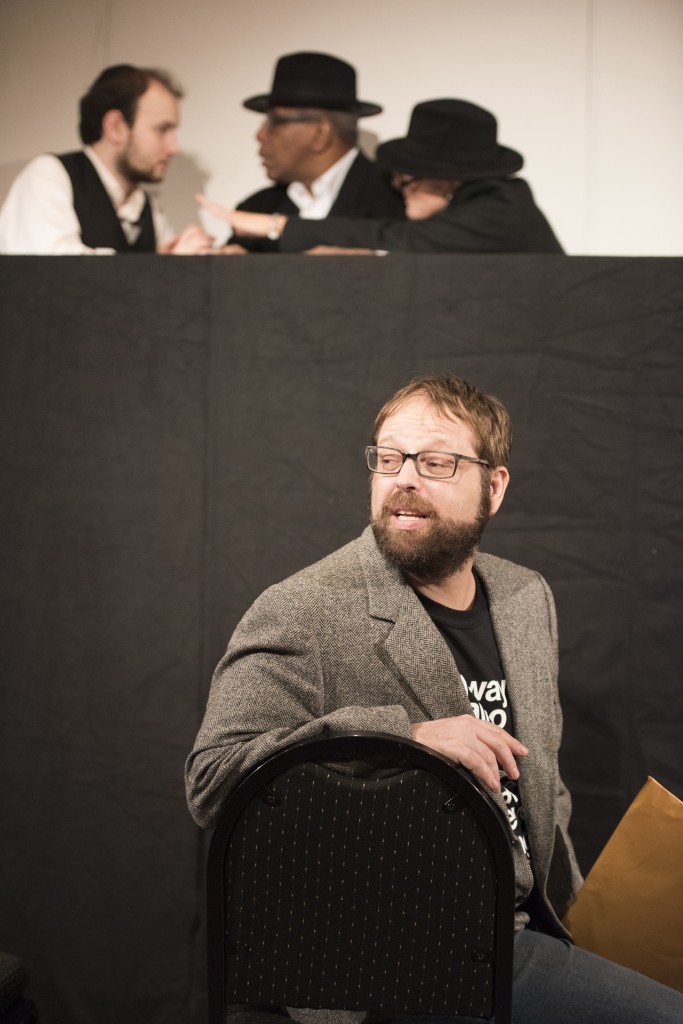 A Very Narrow Bridge is deceptively simple and, because it's Erdal's story and he's telling it, completely compelling. He speaks to us directly, he speaks to the rabbis and he speaks to his sister Talia Erdal, here from Israel via Berlin to be in this show with her brother. They speak Hebrew to each other – seated at opposite sides of the performance area – and their conversation is projected in English on the screen. Sometimes she speaks Hebrew to him and he translates for us.
But here is the icing on this particular cake: Talia Erdal is an amazing composer, cellist and singer. I have never heard the cello played like this – one piece is completely 'plucked' not bowed – and in another, it feels as if she channels all the joys and sorrows of all Jews throughout time. It's staggeringly lovely.
Talia chooses Israel as her home as did Naomi, now Itai's ex-wife; indeed, the reason for the divorce was Naomi's decision to return to Israel. Despite what Itai calls his "successful immigration" he feels like an Israeli in Canada, and a Canadian when in Israel. That, he says, is the fate of all immigrants.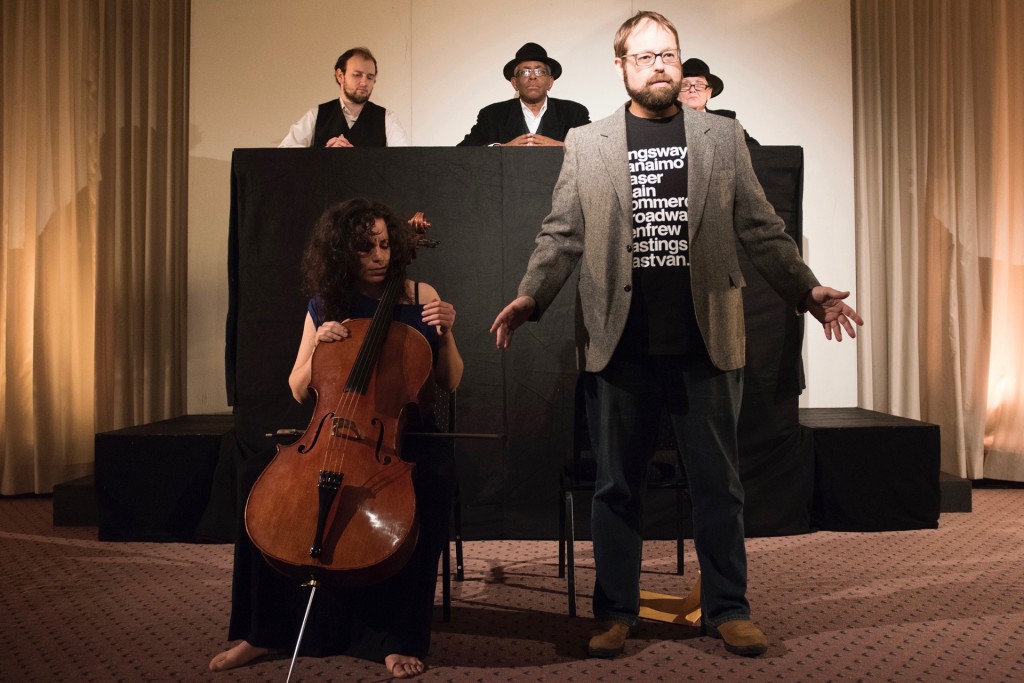 While the tribunal that cross-examined Erdal was frustrating, he mines the trio of rabbis for humour. Patti Allan is at her sour-pussiest; Tom Pickett depends on his character's ridiculously befuddled reaction; and Anton Lipovetsky, always looking mischievous, rhymes "Itai, Itai" with "let's eat meat pie" in the sing-song manner of a schoolyard taunt. Unbelievable, but true.
Possibly provocative for some Jews are Erdal's thoughts on Palestine and Israel. In a flurry of projections, he runs through the various occupations right back to cave paintings. From a historical perspective, he raises the question; who has the right to the land?
Only slightly provocative and all in good fun are his thoughts on hummus. Apparently "shitty hummus" in Israel is better than the best hummus in Vancouver. That sounds like an opportunity. We do, he concedes, have great sushi.
Erdal has plumbed his personal history before in the highly successful "How To Disappear Completely". He goes there again with A Very Narrow Bridge. Co-created and co-directed by Anita Rochon and Maiko Yamamoto, Erdal paints an intelligent, layered, thoughtful, gently humorous and honest picture of not only himself, but of other immigrants struggling to retain some traditions and to let go of others. It's simply beautiful.