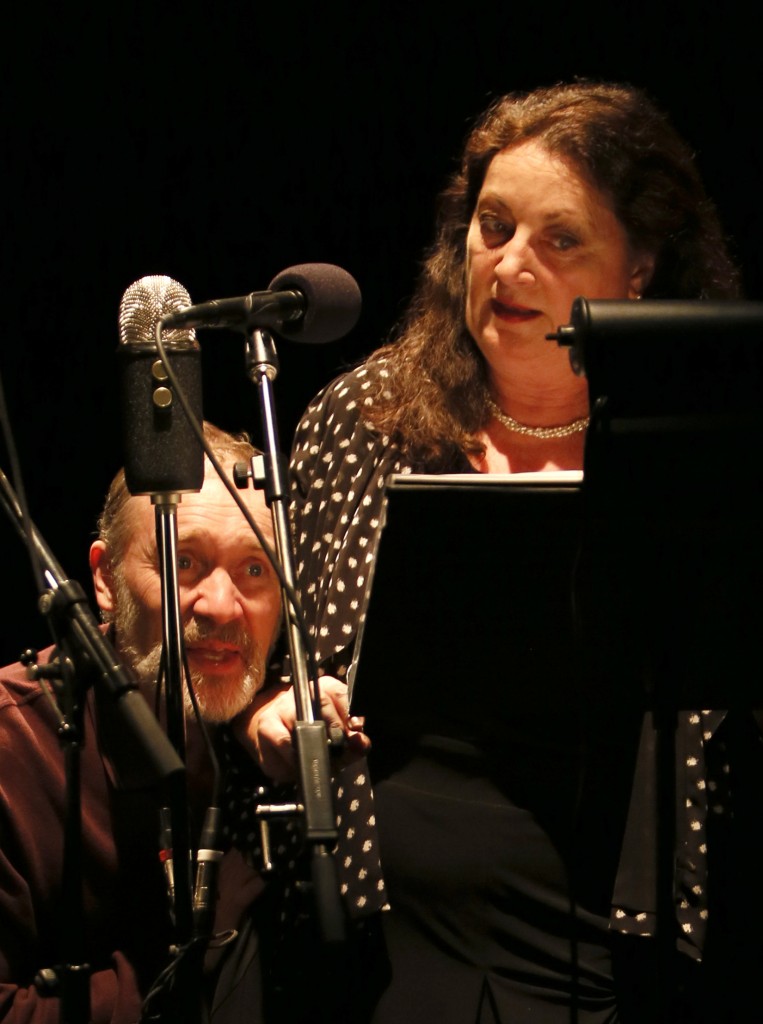 At The Cultch until January 24, 2015
604-251-1363/tickets.thecultch.com
Posted January 2, 2015
Although Lee Van Paassen is neither a septuagenarian nor "two hundred pounds of unhealthy fat", she embraces, in every other respect, Samuel Beckett's Maddy Rooney, a self-described "hysterical old hag." Van Paassen is simply magnificent, Irish accent and all.
Written for radio, All That Fall is a perfect, polished jewel of a play with an exquisite role for a woman 'of a certain age'. Under Duncan Fraser's direction for Blackbird Theatre, Van Paassen almost mesmerizes us as Mrs. Rooney drifts in and out from present to past and back.
Broadcast on BBC in 1957, it's Beckett's first radio play, his most Irish and his funniest. That's not to say it isn't full of existential angst but death and decline are treated with such wry humour that you laugh because if you didn't, you might fall into despair. It's also Beckett's most plot-based work: Mrs. Rooney sets off from her home on a June afternoon to meet the train that brings blind husband Dan home from work. Huffing and puffing, she meets colourful locals along the way, ending up at the train station only to find the train has been delayed. Eventually she finds Dan and they walk back home to their country cottage – the obese leading the blind. Along the way, she asks about the delay but Dan is strangely closed-mouth about it.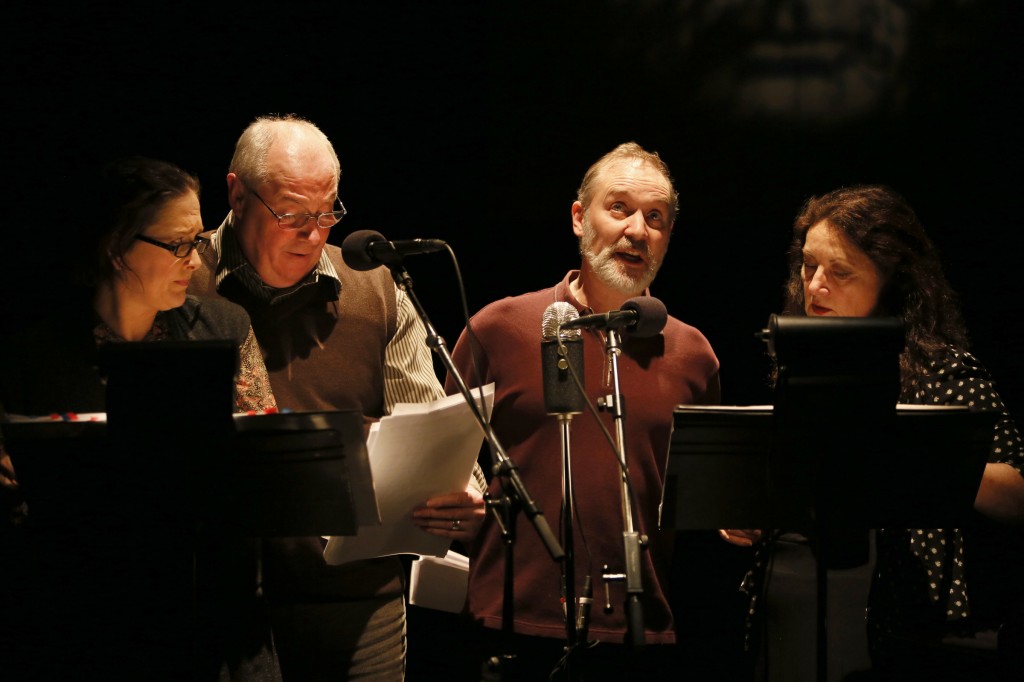 Granted, that doesn't seem like much of a plot but a richer seventy minutes you won't find.
Beckett was adamant that All That Fall was to be performed only for radio but after his death the managers of his estate allowed a stage adaptation – but only if it was staged as a radio play. So Marti Wright's set flashes with a red sign "ON AIR", the actors are seated until they step up to the microphone and the sound effects – horses whinnying, chickens clucking, cars starting, trains arriving – are all produced by the performers on stage. Jeff Harrison's lighting is moody and evocative especially the light coming up from the lectern on Van Paassen's face while the rest of the performers remain in shadow.
Radio drama has been called "theatre between the ears" and you will be tempted to close your eyes but Van Paassen's physical presence is so seductive your eyes will fly open to watch her transform from coy and slightly flirtatious and, on occasion, bawdy (wishing for "fifty years of twice daily") to despairing ("How can I go on? I cannot.") Punctuated with humour All that Fall has melancholy echoes of Waiting for Godot.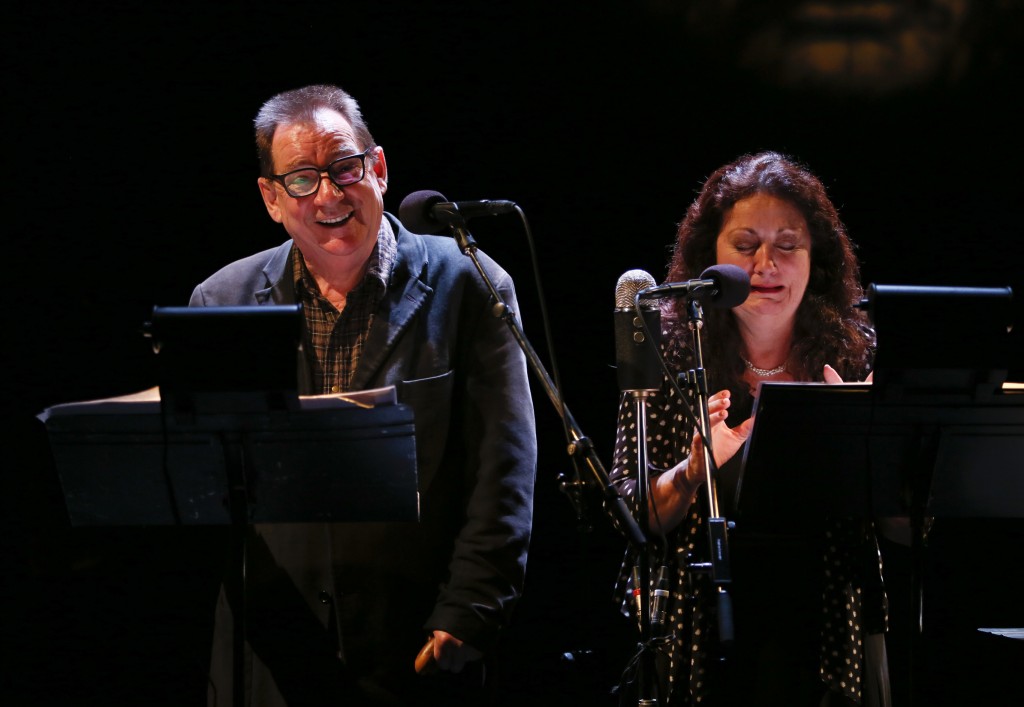 Van Paassen shares the stage with four others, equally superb: William Samples as Dan, a child-hating old codger for whom counting is "one of the few satisfactions in life." Samples is also Christy who tries to sell Maddy a load of "stydung". Adam Henderson is gravel-voiced Mr. Barrell and Mr. Slocum, an old admirer of Mrs. Rooney's. One of the best scenes in the play involves Mr. Slocum trying to hoist fat Mrs. Rooney into his limousine; Henderson puts his shoulder under Van Paassen's butt and grunts and strains as she squeaks out "oh" and "oh" again. Gerard Plunkett is old Mr. Tyler who talks of his daughter's operation during which they removed "everything" and he's also Tommy, the station porter who's called up to extricate Mrs. Rooney from the limo. Leanna Brodie portrays the holier-than-thou Miss Fitt and Jerry, the young boy who finally tells Mrs. Rooney why the train was late. One mystery is solved; another one surfaces.
Beckett believed theatre should reflect life: there's always a beginning and an end. What happens in between is terrifyingly, sometimes joyously, random. It meanders – as does All That Fall. But so evocatively, so charmingly, so sweet-and-sourly does the play take its course, I wished it would never end.