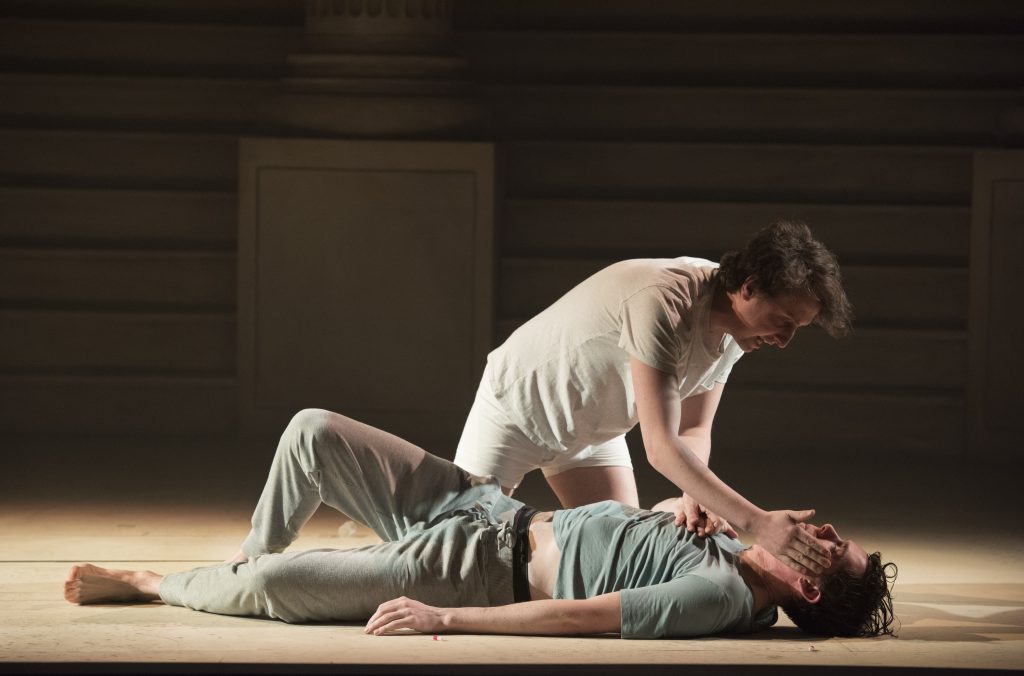 At The Stanley until April 23, 2017
604-687-1644/artsclub.com
THIS REVIEW WILL APPEAR IN THE THURSDAY, APRIL 6, 2017 PRINT EDITION OF THE WESTENDER
Posted March 31, 2017
Big, big, big. Under the direction of award-winning Kim Collier (co-founder of the Electric Company Theatre and winner of the prestigious Siminovitch Prize for Directing), Angels in America: Part One, written by American playwright Tony Kushner, is epic. From Ken MacKenzie's grand Hall of Justice set with its five towering Greco-Roman columns and steep flight of stairs, to the final image of an angel descending from on high, lights flashing accompanied by thunderous sound, there's nothing about this Arts Club production that says 'small'. The show takes three hours with two intermissions to complete and that's just Part One. Part Two: Perestroika comes to The Stanley in the fall.
And yet, stripped to its essentials, Angels in America is about love struggling to survive in America in the Reagan-era, AIDS-afflicted mid-1980s. Two love stories run in tandem: the story of homosexual lovers Louis (Ryan Beil)) and Prior (Damien Atkins), and Mormon couple Joe (Craig Erickson) and his wife Harper (Celine Stubel).
Biblical in its proportions, Angels in America has a satanic figure at its heart: Roy M. Cohn, henchman to Joseph McCarthy and J. Edgar Hoover. Cohn, who dismissed rumours he was a homosexual, said just because he liked having sex with men did not make him a homosexual. Brian Markinson's Cohn is cocksure, brash, bombastic, manipulative and not even superficially charming. If America was a Garden of Eden prior to the 1980s, Cohn was certainly the snake.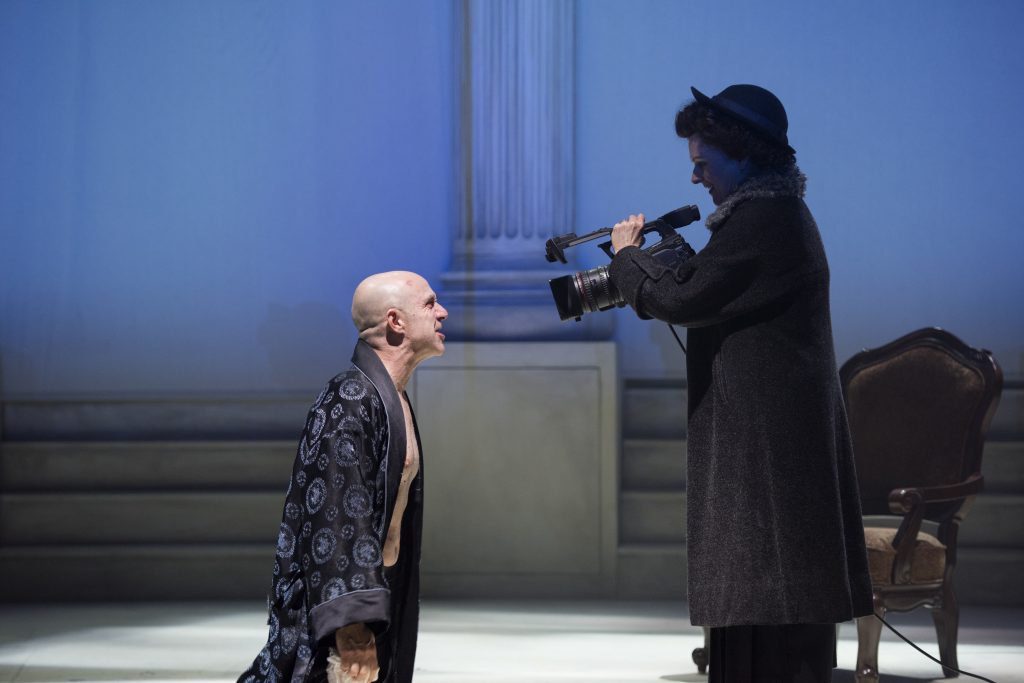 But America wasn't the Garden of Eden and the American Dream was already turning into a nightmare.
The play is subtitled A Gay Fantasia on National Themes and it does bog down in several lengthy polemics that might be better read than spoken. Beil, who is otherwise rivetting in his portrayal of guilt-stricken Louis, delivers the long, intellectually smug discourses on national themes – like justice – that are his character's self-protection against reality. Prior, having been abandoned by Louis, says to his friend Belize, "I loved his anguish. Watching him stick his head up his asshole and eat his guts out over some relatively minor moral conundrum – it was the best show in town".
As for fantasia, we are spectators to the Valium-induced hallucinations of Harper and the feverish nightmares of Prior. Sometimes, their fantasy lives intersect, leaving them – and us – curious as to how this can be.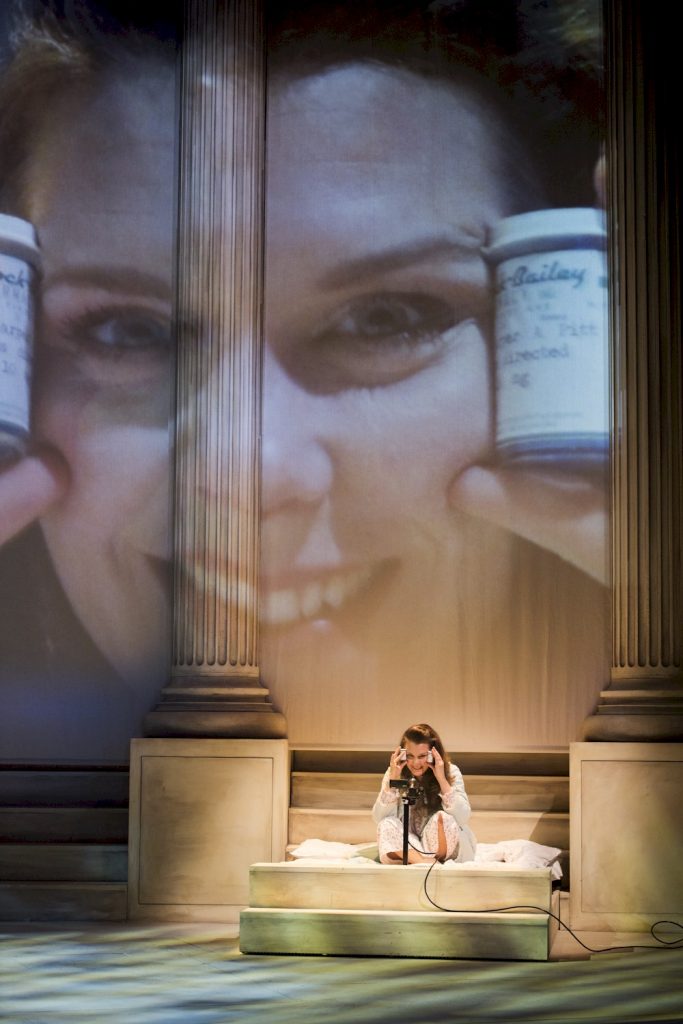 Atkins' portrayal of the terrified Prior, sick, weak and fouling himself, is gut-wrenching. Prior's little glimmers of humour are just that and Atkins delivers them with sweet simplicity. While it is easy to be critical of Louis, Beil gives such a multi-faceted portrayal, it's impossible to dismiss him. Who wouldn't want to run away rather than watch their lover die such a painful, filthy death?
Celine Stubel, as Harper, is so open and transparent, you imagine you can see straight through her baggy cardigan to her wounded heart. Her rumpled knee socks and fluffy slippers add another child-like quality. And yet, for all her seeming naiveté, it is Harper who understands love and wants it with a hunger that is palpable.
The terror of AIDS has waned over the years with the development of anti-viral drugs. But under President Trump (who was, as a young man, mentored by Roy Cohn), America is entering upon another era of intolerance, paranoia and persecution. It is a plague, bristling with 'alternate truths' of a different but no less dangerous kind.
Prophetically, Kushner (writing the play in 1993) puts words into the mouth of a nameless, homeless woman in Act 3: "In the new century I think we will all be insane." That new century is now. Insanity, at least south of the border, is the chicken – not the American eagle – that has come home to roost.