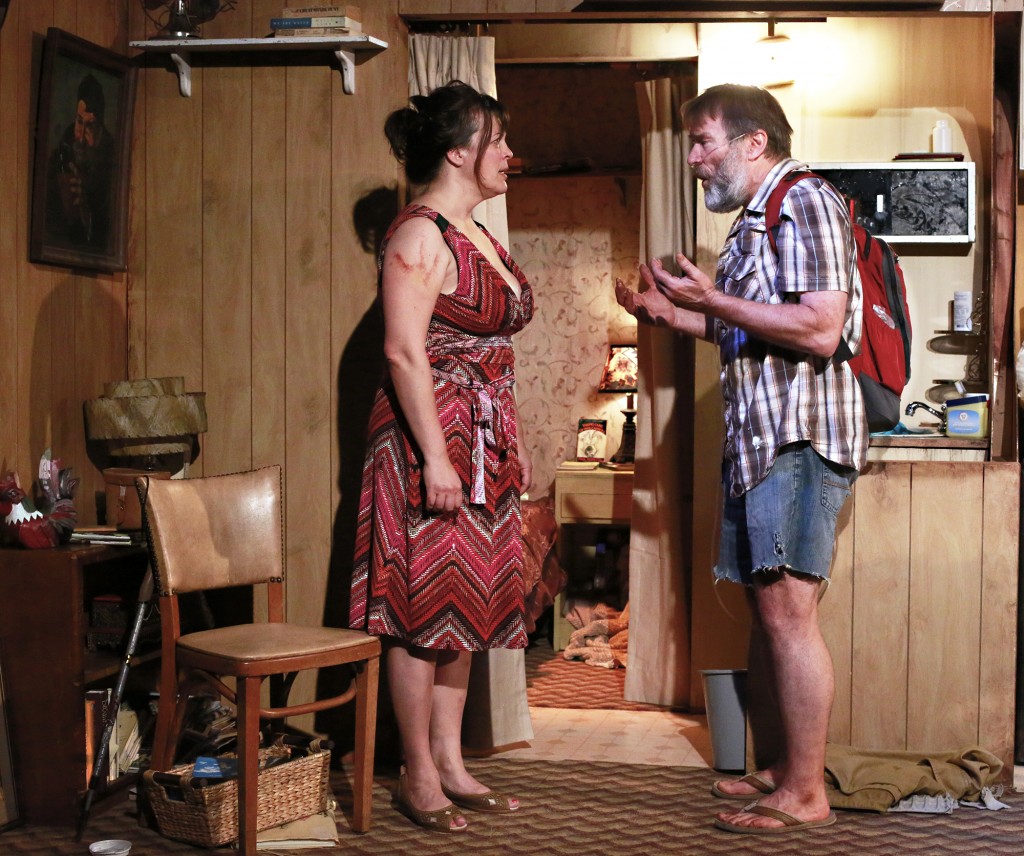 At the Performing Arts Lodge (PAL) until October 10, 2015
1-877-840-0457/ ticketstonight.ca
Posted September 27, 2015
Ulysses (Daryl Shuttleworth) was so drunk on that night twenty years ago that he can't remember why his wife Emma (Lucia Frangione) took off with their five-year-old son Sam and never came back. Until this night. She turns up with bruises all over her arms and three good-looking pieces of luggage to Ulysses' grungy trailer: clothes and junk all over the floor, counters cluttered with dirty dishes, dog-pee stains on the carpet and a fridge full of rotting meat he bought at a Dollar Store. She finds Ulysses naked, but for an apron and a backpack in which he carries an oxygen supply connected by surgical tubing to his nose. A large bandage, slightly bloody, on his bare chest indicates recent surgery.
And she finds him unfriendly. Why did she take Sam and leave? Really? He can't remember?
Written by American playwright Sharr White and directed by Christy Webb, Annapurna is a slice-of-life, who-dunnit or, more to the point, what-did-he-do? And, besides a pretty strong suspicion these two might make peace with each other, that's what drives Annapurna, which, we find out refers to a climber who made one terrible, careless mistake on his descent that forever changed his life. So we're back to: what did Ulysses do?
We find out. More or less.
Who are these two characters? We are supposed to believe that Ulysses is a writer, a poet and a former English professor until the booze lost him his job. Emma, it seems, had publishing dreams of her own that got dashed after years of putting up with Ulysses. After she left, she married a community college English teacher. And she has been teaching high school English. So many English teachers.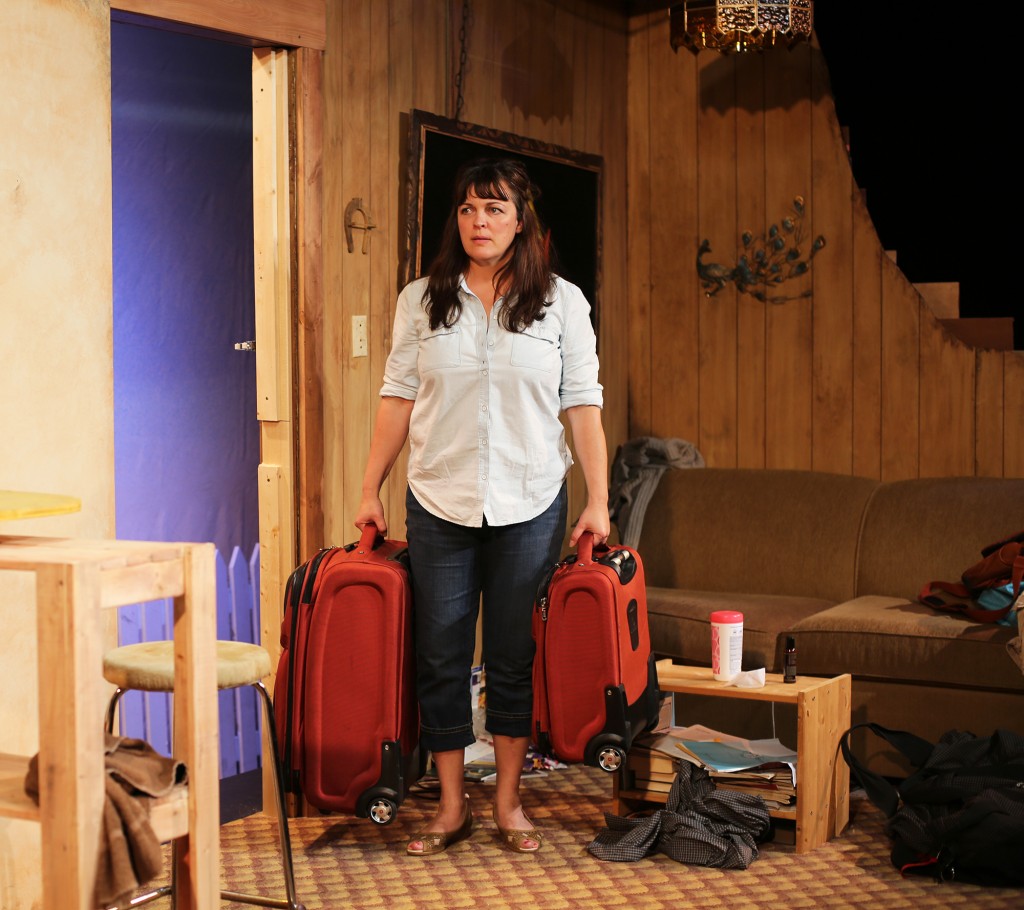 But somehow, in this production, Emma and Ulysses don't seem like English teachers. Call me snobby but the constant dropping of the final 'g' on all the present participles makes me wonder. Writin'. Drinkin'. Leavin'. Neither of these two seems to be particularly literate and that takes some of the credibility out of this play. It's only at the end of the play when Ulysses begins to recite some of his epic poem that we get a glimmer of who he might be – or who he used to be. But it comes as a bit of a surprise.
And there are other credibility gaps, too. Thousands of letters written by Ulysses to his son have been withheld by Emma's mother and only recently discovered by Emma. And why does Sam believe they were purposely withheld by his mother so that he now hates her?
Too many questions.
Yet we like these two and do hope they find some joy in what appears to be his last few weeks. Frangione, as always, is luscious, warm and motherly. Who wouldn't want to die in the soft arms of someone like her? Making avocado, mustard and anchovy sandwiches. Cleaning up the joint. Holding us to her breast when we lament our failings. Over her career, Frangione has played Sex Kitten, Sex Queen and Loving Mother – sometimes at the same time – with tremendous success.
Daryl Shuttleworth's Ulysses is puckish, mischievous, always wise-cracking. Bare-assed for part of the time, Shuttleworth is comfortable in his skin and he gets laughs with Ulysses' smart-ass retorts. "I know why I stopped drinking. I woke up and it was a week later than the night before." Too bad he wasn't able to make that determination before Emma fled with Sam. As performed, Ulysses – despite his quick, sharp humour – isn't particularly likable. But having spent my childhood with an alcoholic father, I seldom find drunks charming.
Glenn MacDonald's set is so scuzzy, the housewife in me wanted to start cleaning up. And I swear we could all smell that rotten meat or imagine maggots when the fridge door opened. The very wide stage was an interesting choice; it felt, at times, like watching a tennis match. A more enclosed performance area might been better.
At ninety minutes, Annapurna flies past quickly. Presented by Christy Webb Productions in collaboration with Railtown Cultural Eclective, Annapurna is in the well-trodden genre of "Can't live with him/can't live without him". By the end of the play, it looks like Ulysses and Emma will manage to be together without killing each other for what little time they have together.