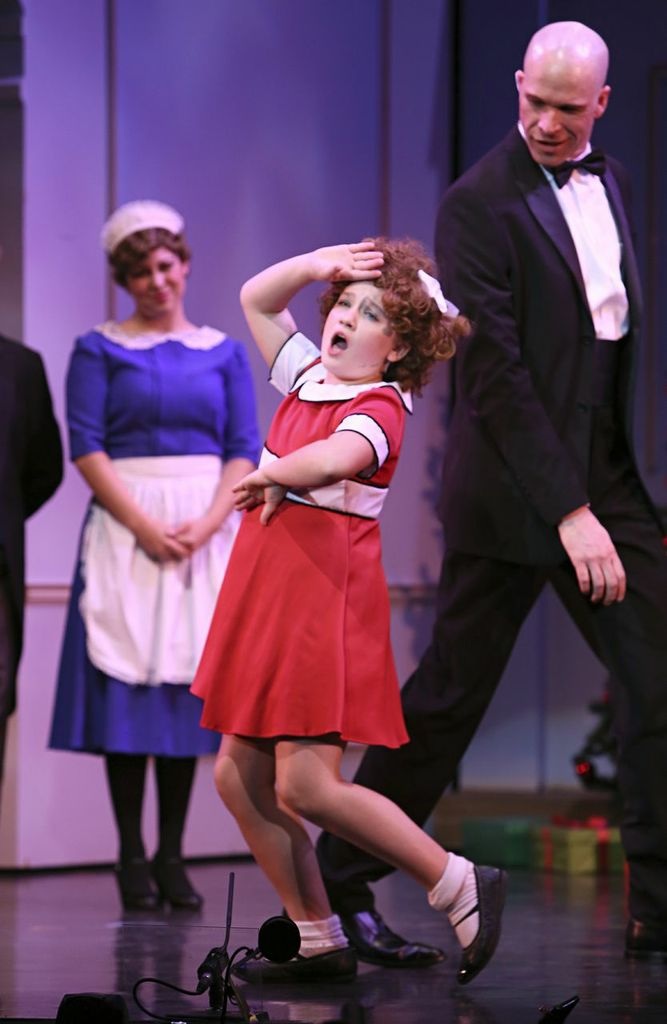 At Massey Theatre
604-521-5050/masseytheatre.com
Posted April 13, 2014
There are some very big pipes on some very small girls at New Westminster's Massey Theatre right now. One of these little girls – Jaime MacLean, who plays Molly – is only eight but she can belt with the best of them. Lucy Gill (Lizzy), hailing from Squamish, is only nine. And another just happens to be my grandniece Avril Brigden (scrappy Pepper and Annie understudy) who just turned eleven and who always puts out 150%.
Avril's not alone in that energy output category, however; directing for Royal City Musical Theatre Company, Valerie Easton gets that from the entire cast of thirty – including Nike, an adorable, well-behaved, long-haired daschund/Sheltie cross that, judging from the onstage doggie cookies he gets to keep him on track, is bound to put on a few pounds over the two-week run. None of the eight young girls who play the orphans looks to be over twelve or thirteen and yet there's evident professionalism; some of them have already been performing for years.
Not to burst any bubbles, life on the stage can be, as the song goes, a "Hard Knock Life'. There's not a whole lot of professional musical theatre happening in Vancouver so if any of these thirty non-professionals (only two are Equity performers) expect to make a living, they will have to keep their suitcases ready to leave town and hit the road. Who can afford to pay a cast that large these days? Or pay a twenty-piece orchestra? Or build the beautiful set pieces that this show has?
The number of venues to accommodate these big shows is dwindling. The Vancouver Playhouse closed in 2012. The Ford Theatre, built at a cost of $27 million, subsequently sold for $7.8 million and was renamed the Vancouver Centre for the Performing Arts. The new name did nothing to keep the theatre afloat and it sold again in September 2013 to Westside Church.
And now, Massey Theatre, seating just over twelve hundred, is about to be demolished. Built in 1949 as the largest theatre in British Columbia at the time, it needs $18.2 million in upgrades; $20 million has been raised for a new building. A recent report in the Georgia Straight stated, "Areas of concern included poor seismic resistance, asbestos, PCBs, lead, mercury, and stored chemicals, as well as electrical problems and a need for mechanical upgrades, including a new rooftop air-handling unit." The new theatre, seating one thousand, will be built on the same site but the agreement is yet to be signed and there are issues around a burial ground over which the Massey was built. Happily, some of the design elements of the Massey will be incorporated into the new building.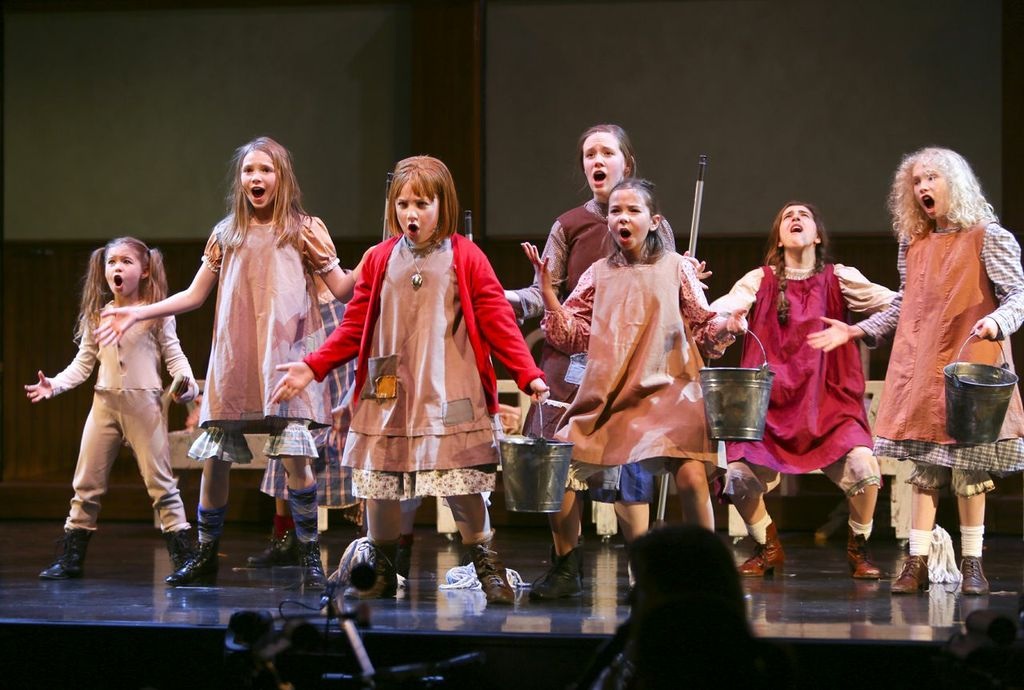 "Meanwhile", the Straight article continues, "the city is developing a flexible 350-seat nonproscenium theatre in the Anvil Centre in downtown New Westminster on Columbia Street. This facility will also include conference and meeting facilities, a civic art gallery, the city's museum and archives, and the Canadian Lacrosse Hall of Fame." But in the interim, shows like Annie with its big cast and a production crew of almost fifty – including carpenters, costumers and painters – are all dressed up with nowhere to go.
You so seldom get to enjoy a big orchestra (musical direction by James Bryson) and handsome, multiple-location sets (by Omanie Elias) in these days of restraint so enjoy it while it's here. And enjoy it you will even if you never read the comic strip Little Orphan Annie, created in 1894 by Harold Gray, or have seen Annie (book by Thomas Meehan, music by Charles Strouse and lyrics by Martin Charnin) many times before. This is a lively production with twelve-year-old Julia MacLean as Annie. How these youngsters develop such confidence so early is amazing. Perky little MacLean never missed a beat on opening night and she packs a big voice into a tiny frame. Teamed up with Steve Maddock, who plays billionaire Oliver Warbucks, she brings this feisty, straight-talking redhead to life. Annie escapes the clutches of the orphanage matron Miss Hannigan (Caitlin Clugston) and gets to see how the other half lives when 'Daddy' Warbucks brings Annie to his fabulous Fifth Avenue home for Christmas.
The role of Miss Hannigan is always an audience favourite and this was the case on opening night, too. Clugston's got a definite flair for comedy but, for my money, could take it down a peg.
Annie is great family entertainment; expect sold houses. With all those kids, adults and that cute dog in the show, a lot of tickets will be sold to family, friends and neighbours. If Nike has a veterinarian, I'm guessing the dog's doctor and the entire clinic will want to see the show. And, if Nike's owners get Canada Post door-to-door delivery, their mailman will probably want to see the show, too.
Once the Massey comes down, there will be little opportunity for a few years to see big shows like this in New Westminster. But don't forget Theatre under the Stars. Shrek opens on July 15 and a remount of the dynamite Legally Blonde ("a hoot in hot pink"), also directed and choreographed by Valerie Easton, opens on July 16.