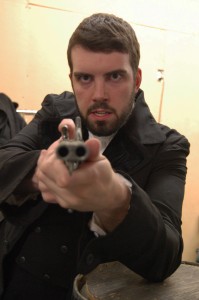 At Performance Works until April 13
604-629-8849/VancouverTix.com
Posted on April 6, 2013
You might have thought composer/lyricist Stephen Sondheim was having a pipedream when he envisioned a musical based on assassins who targeted US Presidents. But Assassins went on to win a load of awards and now Pipedream Theatre Project is realizing a dream of its own as it presents Assassins on the Performance Works stage.
Directed by April Green, this production is a crazily ambitious undertaking for what is a non-professional company with a lot of Capilano University graduates.
But the show – put together on a shoestring – is all heart. And it's a wicked, wicked idea that Sondheim let fly in 1990 off-Broadway: a musical featuring the gathered 'ghosts' of presidential assassins or would-be assassins from John Wilkes Booth (Alex Nicoll) to John Hinckley Jr. (Ben Bilodeau). That's a dozen or so killers or would-be killers including Charles Guiteau (Cameron Dunster) who killed President Garfield; Leon Czolgosz (Dane Warren) who offed McKinley; Giuseppe Zangara (Kurt Schindelka) who tried to kill Franklin D. Roosevelt but missed and killed Chicago Mayor Cermak instead; Lee Harvey Oswald (Nikolai Witschl) who succeeded in killing Kennedy; Samuel Byck (Alex Dafoe) who failed spectacularly in an attempt to highjack a plane and crash it into the White House, hopefully killing Nixon in the process. Nixon survived; Byck did not. And Squeaky Fromme (Missy Cross) and Sara-Jane Moore (Keri Smith) who both tried and failed to kill Ford.
If it sounds like a whole load of history – it is. But it's trademark Sondheim with interesting rhythms and darkly funny lyrics so you get a good dose of entertainment with your American History lesson.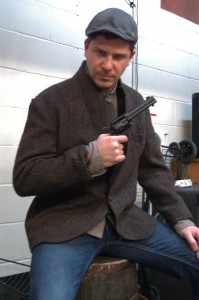 Assassins open in a nightmarish carnival setting with The Proprietor (Matt Hume) offering guns for sale to the ghosts of the assassins who wander through. "Hey, pal, feelin' blue?/Don't know what to do?/Hey, pal, I mean you, yeah/C'mere and kill a president", he sings. One by one they all purchase guns and go on to sing The Gun Song: "And all you have to do/Is squeeze your little finger/Ease your little finger back/You can change the world."
Victor Hunter is the plaid-shirted hick, The Balladeer, who weaves it all together. He has one of the best voices in the show – able to hold his own over the six-piece backstage band (under the musical direction of Kerry O'Donovan) that overwhelms some of the weaker singers. Dane Warren, as the Polish factory worker Czolgosz, also has a strong voice and good command over Sondheim's difficult transitions. The music varies with each presidential era: musical hall, barbershop, revival and more.
Assassins is a darkly funny exposé of the American dream with unemployment, poverty, corruption, exploitation of the workers and inequality high on the list of reasons to go after the President. But in the long run, the assassinations didn't change anything, the Balladeer sings: "And it didn't help the workers/And it didn't heal the country/And it didn't make them listen/And they never said, "We're Sorry"". And all those assassins are still waiting for the medals they thought would be theirs.
At curtain, Sondheim suggests there are more assassins out there as the ensemble, guns raised, ironically sings, "Everybody's got the right to their dreams." Well, not all dreams.
This production is Pipedream Theatre Project's dream. Not fully realized but heartfelt and deeply committed. It ain't Carousel and for that we can be truly grateful.