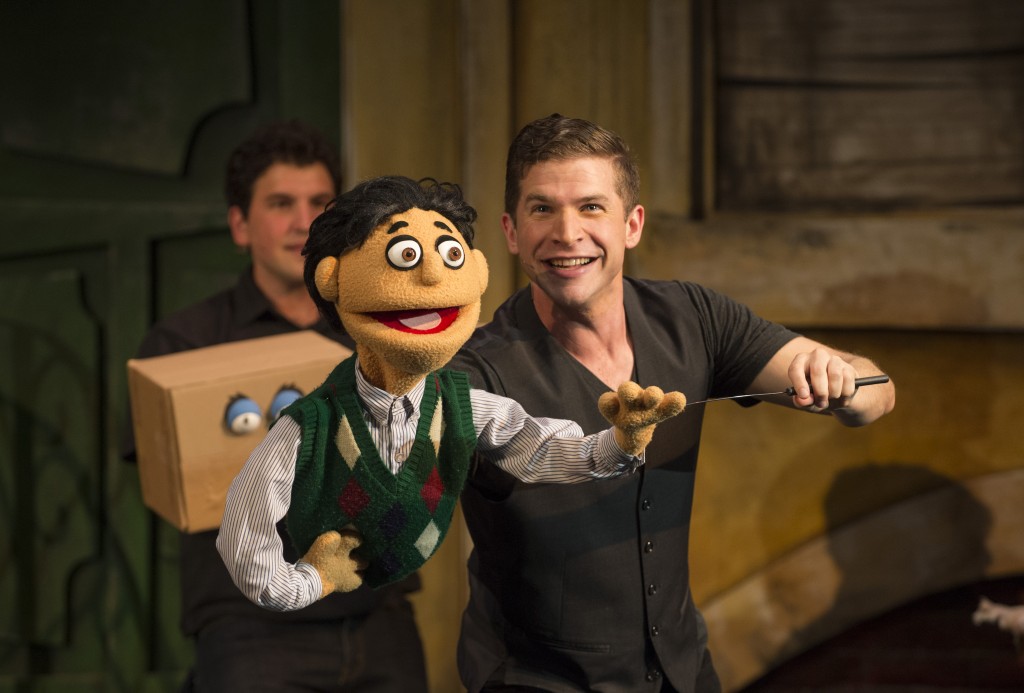 At the Arts Club Granville Island Stage until January 3, 2015
604-687-1644/artsclub.com
Posted November 29, 2014
It feels like the first time – only better. This production is even slicker and funnier than last season and although it's not Christmas-y, it's bound to make you ho-ho-ho like Santa. However, that jolly old fellow, being a saint, might cover his eyes when there's muppet sex going on and on and hilariously on. Don't be put off by it; it's very funny and pretty brief. If you really can't bear to watch, just shut your eyes and think of England.
Avenue Q is a Broadway musical for grownups, an adult takeoff on Sesame Street that uses puppets/muppets just like the kids' show. Created by Robert Lopez and Jeff Marx back in 2002, it went on to win three Tony Awards in 2003 and now tours internationally. The puppet handlers, in contrast to Sesame Street, are fully visible and some of the show's tremendous appeal is watching how, for example, Lucy T. Slut becomes an extension of performer Kayla Dunbar; when Lucy sashays, Dunbar does, too. And when Lucy flings her blond curly locks around, Dunbar's hair is flying around, too. Seeing the show for the second time, I was much more aware of the skill of the puppeteers. It's hard to say where the performer ends and the puppet begins. And it's a workout; under Peter Jorgensen's direction, seven actors sing, dance and handle nine puppets. There are twenty-one sing-able songs and you will definitely leave the theatre with an earworm that goes, "It's sucks to be me/It really sucks to be me".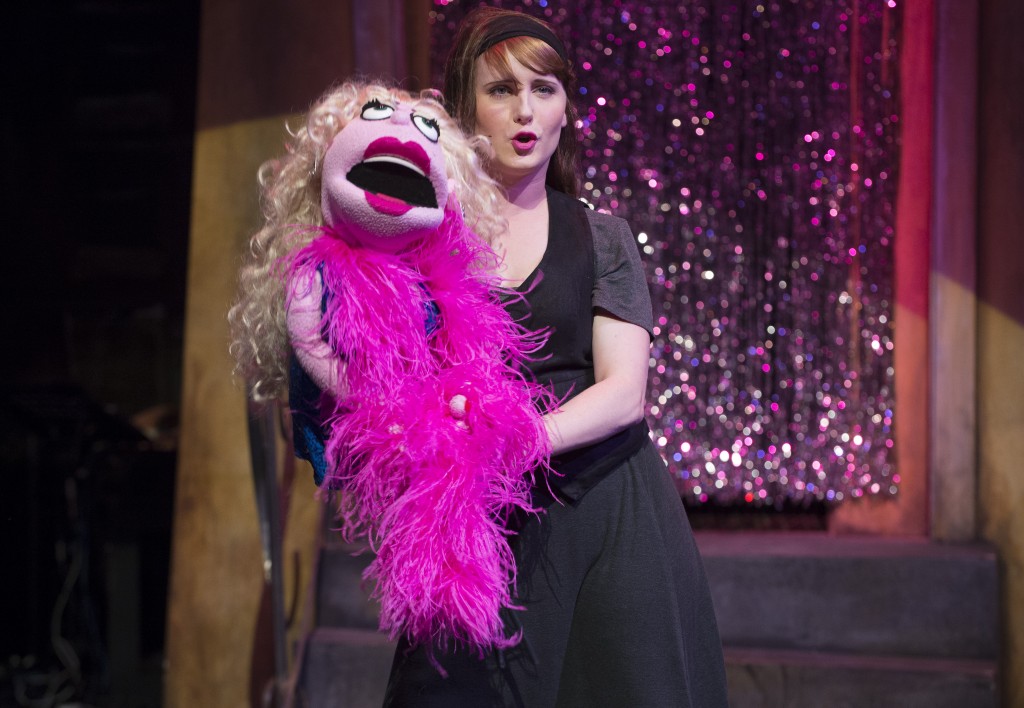 Princeton, manipulated by boyish, tremendously appealing Jeremy Crittenden, has just graduated with a BA in English. But he can't find a job, can't pay his bills and can't find an affordable place to live except down on multi-cultural, down-on-its-luck Avenue Q, rendered with wonky, cartoonish apartment buildings by set designer Marshall McMahen. There, Princeton meets plain-Jane kindergarten assistant Kate Monster (Kayla Dunbar who also handles Lucy), Nicky and Trekkie Monster (Nick Fontaine), Mrs.Thistletwat (Jeny Cassady) and humans Brian (Andy Toth), Christmas Eve (Selina Wong, a little sparkplug with big pipes) and Gary Coleman (Evangelia Kambites). Coleman, btw, was a child star that petered out in adulthood.
Avenue Q is clever: it knocks the stuffing out of Broadway musicals with their often-smarmy lyrics. Songs like "Everyone's A Little Bit Racist", "The Internet Is For Porn" ("Grab your dick/And double click") and "I'm Not Wearing Any Underwear" will have you chortling. And yet it celebrates the genre at the same time.
From the press release – because I couldn't describe it any better – Avenue Q touches on "raucous sexual congress, failed childhood stardom, excessive drinking . . . cute creatures doing bad things . . . getting laid off, finding your purpose . . . homosexuality, racism, pornography, masturbation, interracial marriage, interspecies relationships (monsters and humans) . . . coming out of the closet, coming out of your apartment . . . coming out of your shell, and recycling". In other words, there's something for everyone.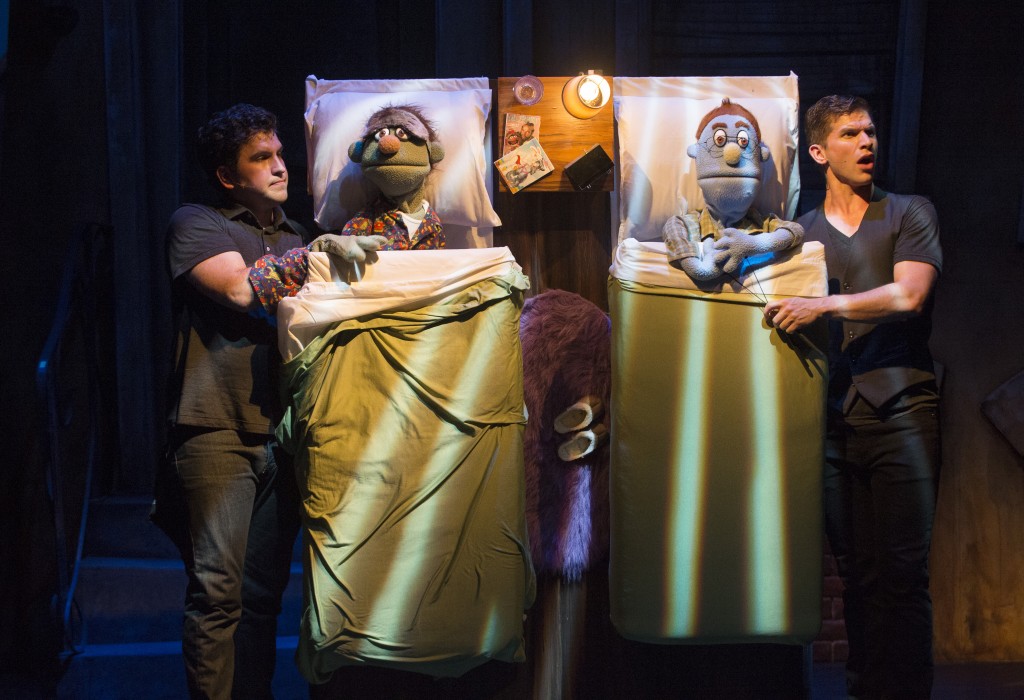 The facts behind New Yorker Rick Lyon's puppet design are interesting: some of the puppets are worth $10,000, built and rented out all over the world by Lyon. 'Rehearsal puppets' are provided before the cast gets to handle the real deals. Theatre companies can build their own but there's a lot involved: weight, facial expression, durability; renting only makes sense.
Avenue Q lyrics are smart; the voices are note perfect; the three-piece band, under the musical direction of Sean Boynton, goes to beat the band.
This show sold out last season; it will probably sell out again. It's a little bit raunchy, a whole lot funny and even better than the first time.
Do not take the kiddies; they might try some of that "raucous sexual congress" at home and get put on Santa's naughty list.