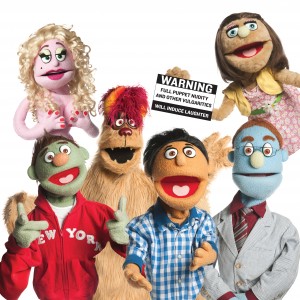 At the Arts Club Granville Island Stage until August 3
604-687-1644/artsclub.com
Posted June 28, 2013
With Marshal McMahen's cartoony set of off-kilter, shambled tenement buildings and tipped-over trash can, Avenue Q looks a lot like Sesame Street. And music and lyrics by Robert Lopez and Jeff Marx sound a lot like Sesame Street at first but titles like "It Sucks To Be Me", "I'm Not Wearing Underwear Today" and "Everyone's A Little Bit Racist" soon let you know you're not in Jim Henson-land. Puppets Rod and Nicky behave like Bert and Ernie, and Trekkie Monster is a riff on Cookie Monster. But Trekkie's passion is not for cookies but for Internet porn. With an extended scene featuring puppets Kate and Princeton having it off every which way, Avenue Q could be subtitled The Kama Sutra for Puppets. Don't even think of taking the kiddies.
Not really my cup of tea but this is a terrific production under the capable direction of Peter Jorgensen. All the voices are exceptional. Evangelia Kambites, as Gary Coleman, knocks it out of the park with "Schadenfreude". And if a puppet can make you take her seriously, Kate (Kayla Dunbar) might with "There's a Fine, Fine Line". The onstage, four-piece band, under the direction of Sean Bayntun, is lively and robust.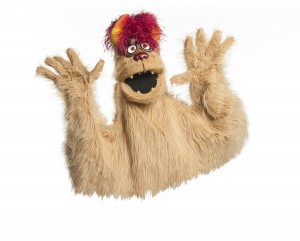 As in Sesame Street, there's a mix of humans and puppets; in addition to Kambites as Coleman, Andy Toth is Brian and Shannon Chan-Kent is Christmas Eve. The puppeteers, including Scott Bellis, Jeny Cassady, Kayla Dunbar and Andrew MacDonald-Smith work wonders with the way they handle the mix of single-rod, double-rod and live-hands puppets. For a complete description of these types of puppets, check out http://en.wikipedia.org/wiki/Avenue_Q. It's a real eye-opener into what looks like such a simple craft.
There's no attempt to hide the puppet handlers and, in fact, the body language of the puppeteer is critical to the development of each puppet's character. Dunbar, for example, is all sassy and raunchy and lewd when she's working Lucy, the slut. But her movements are shy and awkward when she's handling Kate.
A little-known feature of this 2004 Tony Award "Triple Crown" winner (Best Musical, Best Book and Best Score) is that the puppets are made by original Broadway cast member Rick Lyon and the puppets go with the rights to the show. Avenue Q is rehearsed with 'rehearsal puppets' and, once the show is up and running, the 'real deal' puppets are used. Puppeteers wear gloves to extend the life of the puppets and each, according to Wikipedia, is worth $10,000. There are waivers and insurance policies involved.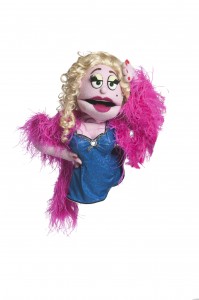 From Wikipedia: "Lyon's company, Lyon Puppets, continues to build and maintain the puppets used in all North American productions, and several of the international productions, including those from England, Australia, Mexico, Argentina and Brazil, while supervising the construction of those from the Finnish and Swedish productions. Their unusually sturdy construction, with double-stitching, reinforced seams, steel boning, and custom fake fur and feathers, is necessitated by the rigors of an eight-shows-per-week performance schedule."
But it's not just the puppets that must be unusually sturdy. This is a workout for arms, legs and especially vocal chords. Scott Bellis, for example voices deep, growly Trekkie Monster as well as high-voiced Bad Idea Bear and Nicky, whose voice is more or less normal. But while Bellis is voicing these characters, he's also executing director Jorgensen's choreography and bursting into song. Usually performing on the Bard stage at this time of year, Bellis appears to be having the time of his life singing, dancing and playing with puppets. Stellar as indecisive, hounded King John last year at Bard, he's porn-loving Trekkie this year on the Arts Club Granville stage. What a life.
What a show. The guy beside me almost fell out of his seat laughing. Not my favourite kind of theatre but I know a good production when I see one.