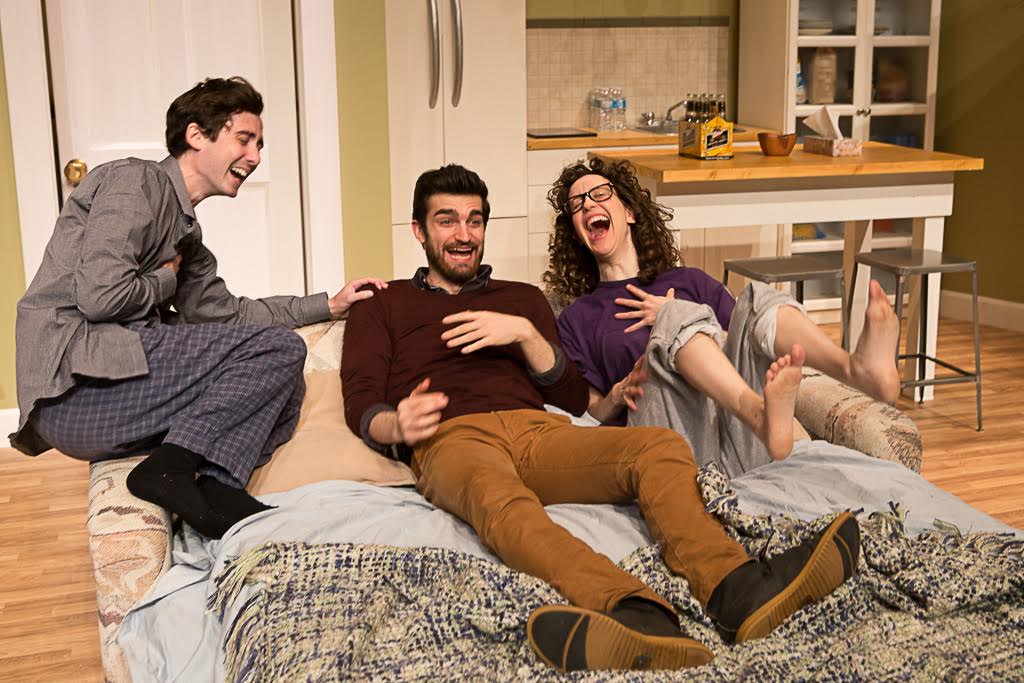 At the Norman Rothstein Theatre (Jewish Community Centre) until November 21, 2015
604-684-2787/ticketstonight.com
Posted November 19, 2015
Make your Will. Do it now. Otherwise, your loved ones will snarl and bicker and fight like a pack of hyenas over your 'things'.
That's what's going on in Bad Jews, written by Joshua Harmon and directed by Jay Brazeau. Their beloved grandfather – "Poppy" – has just died and grandchildren Liam (Alex Rose), Jonah (Amitai Marmorstein) and Daphna, a.k.a. Diana (Goldie Hoffman) are thrown together in a studio apartment for a few days while the family sits shiva. What both Liam and his cousin Daphna desperately want is Poppy's chai (meaning 'life'), a gold medallion that he managed to keep safe throughout his concentration camp internment during the Holocaust. Jonah just wants to be left out of the argument but Liam (a self-proclaimed "bad Jew") and Daphna, (a "super-Jew" and "rabbi in the making" according to Liam), go at it hammer and tongs. It's not pretty and, frankly, not all that funny despite the reviews in the New York Times ("crackles with energy") and the London Times ("Hilariously, exquisitely edgy"). If you find the disdainful bitching of two selfish, self-absorbed young adults funny, you'll find it amusing.
Sniping includes Daphna hurling insults at Liam because he failed to arrive in time for the funeral (he dropped his cellphone while skiing at Aspen with new, non-Jewish girlfriend); Daphna mocking Liam and Jonah about their parents' affluence; Daphna bitching at Liam about never coming to visit her (why would he? She hates him.); Daphna complaining about Liam's failure to observe Passover; Daphna taking digs at Liam about his string of "shiksa" girlfriends including Melody (Kayla Dunbar) whom he has brought to the apartment.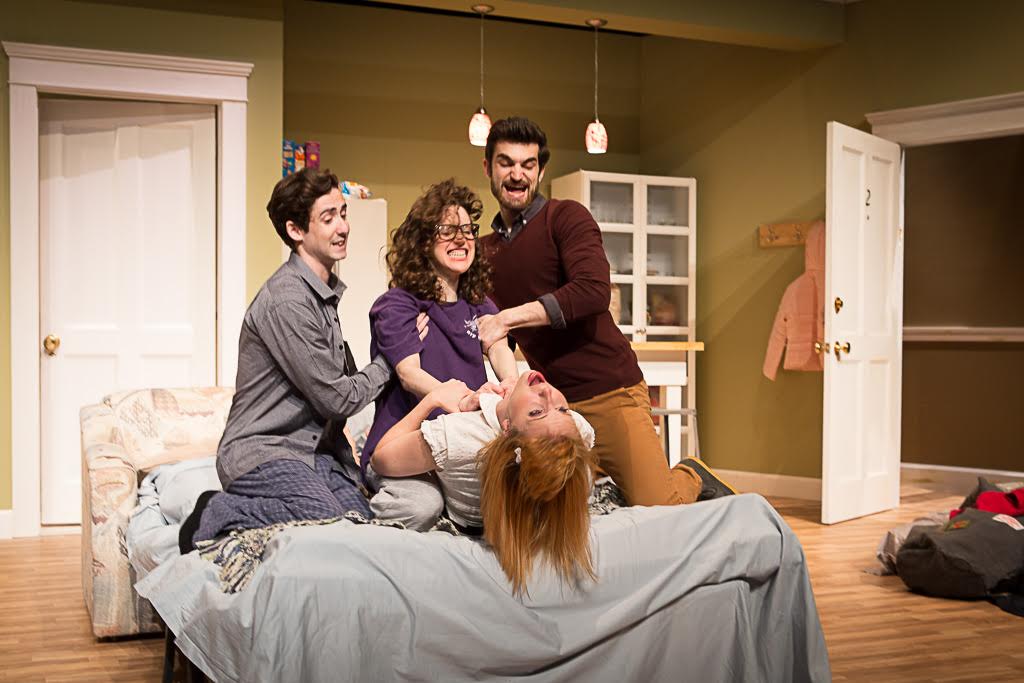 You get the picture: Daphna is a drama queen who is critical of everyone with the possible exception of Poppy and now she wants his chai. She's a motor mouth that you just wish would shut up for a while.
Daphna is matched by Alex Rose (Liam) who goes off on a hyperventilating, extended rant of his own that brought applause the night I attended. They are formidable warriors in this fight over Poppy's cherished possession.
It's an energetic, show-offy role and Goldie Hoffman is certainly up to the task. She's all sound and fury, hands and crazy hair flying. But I just don't know how you make this character likeable. She's just such a bitch. If we knew why she's so screwed up, it might help.
Daphna's snarling extends to strawberry blonde, sweet Melody, who works for a non-profit organization for underprivileged kids but trained as an opera singer. Liam met Melody online and that, of course, is more fuel for Daphna. When Daphna insists that Melody sing something, Dunbar breaks into a vibrato-heavy parody of "Summertime". It's tricky: the performance has to be not off-key, serious, emotional, earnest and quivery but Dunbar pulls it off. Or course, the moment Melody goes into the bathroom, Jonah, Daphna and even Liam, who is preparing to propose tonight to Melody, fall all over themselves laughing. These are nasty people.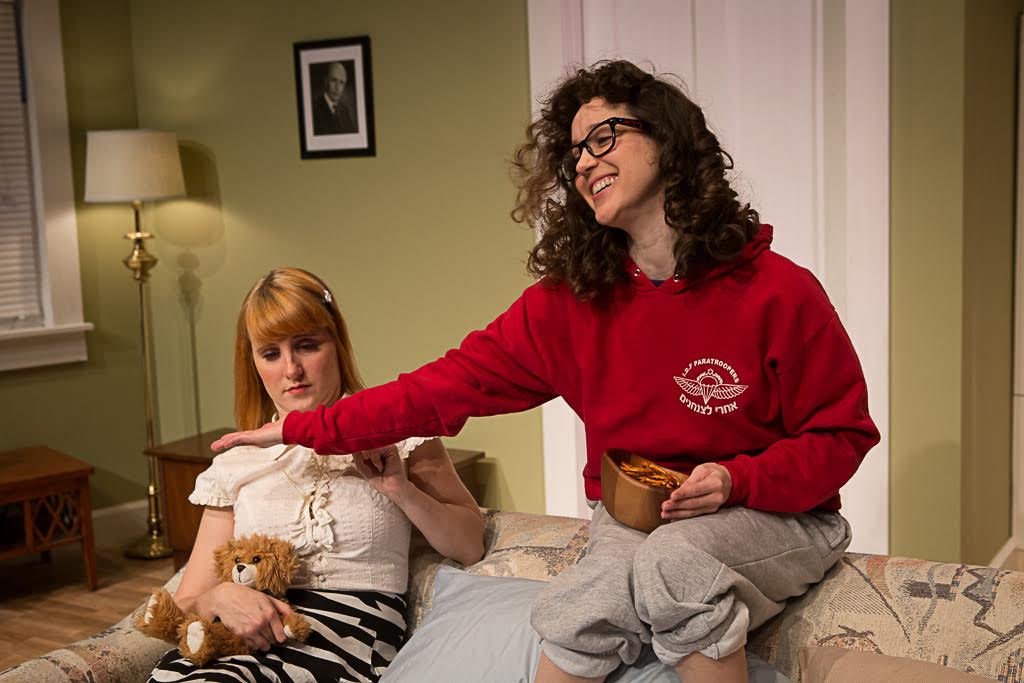 Amitai Marmorstein is pretty much out of the action throughout. As Jonah he looks absolutely pained, chagrined at the behaviour of the others. If he could crawl into the woodwork, he would.
Saving the best until last, Jonah suddenly brings Bad Jews home. It's a stunning revelation that makes the play finally worthwhile. But it's a long time to wait for something meaningful unless you're entertained by an evening of bad-natured verbal sparring that, yes, erupts into hair pulling and fisticuffs. Perhaps if you have a Daphna-like person in your family and you love her nevertheless, Bad Jews might strike you as excruciatingly funny.