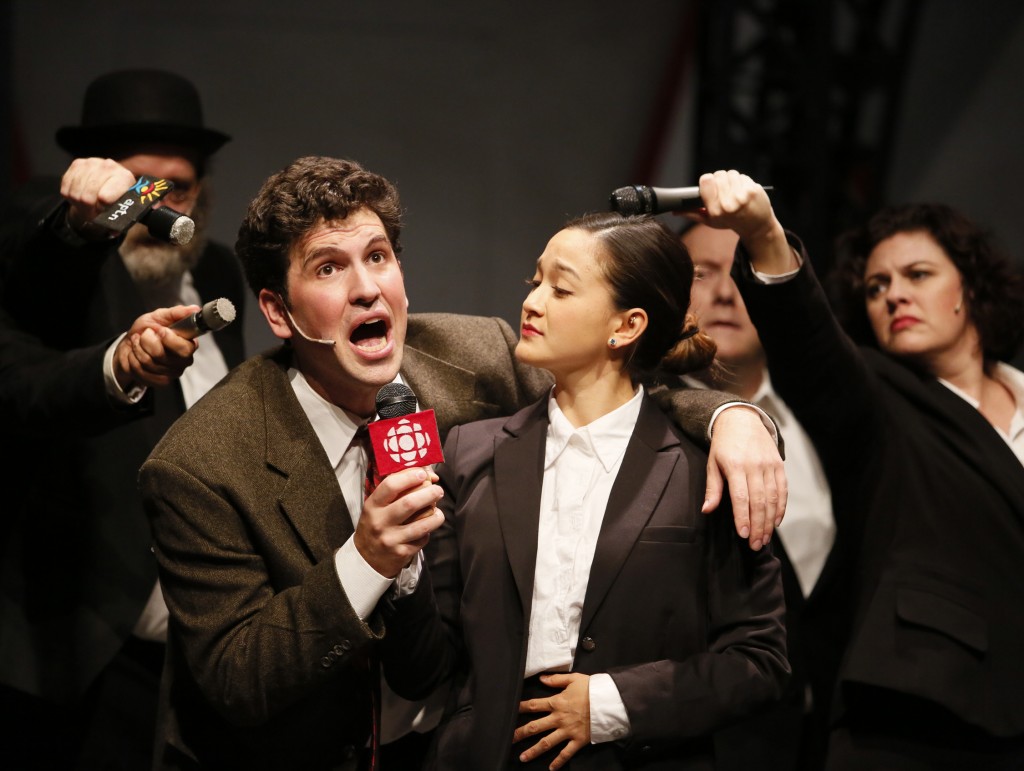 At York Theatre until October 3, 2015
604-251-1363/tickets.thecultch.com
Posted September 21, 2015
When the curtain came down on opening night of Best Laid Plans, a sparkling new Canadian musical, I was all ready to go to the polling booth. Like right now. But, oh, for a hero like the musical's Angus McLintock (Andrew Wheeler), a Scotch-swilling Scot, a professor weary of teaching English For Engineers, who once elected is willing – nay, eager – to vote against his/her own party. Lives there such a politician on the glorious and free Canadian horizon?
Commissioned by Touchstone Theatre and Patrick Street Productions, The Best Laid Plans is based on Terry Fallis's novel, winner of the Stephen Leacock Medal for Humour in 2006. It has taken four years for Vern Thiessen (book), Anton Lipovetsky and Benjamin Elliott (music and lyrics), dramaturg Katrina Dunn and director Peter Jorgensen to get this rollicking show up just before the federal election. That wasn't originally the plan, although when it looked possible for it to squeak in just under the wire, I imagine they hurried hard. It could scarcely be more timely. Or more fun.
For reasons involving an unfaithful girlfriend, young Daniel Addison (engaging Nick Fontaine who really carries the show), tries to extricate himself as a political party strategist and speech writer by putting forward a candidate who is bound to lose in the upcoming election. He persuades reluctant McLintock (Andrew Wheeler) to run by agreeing there will be no boulevard signs, no leaflets, no photographs, no debates, and no radio or TV appearances. Furthermore, Daniel promises McLintock that he's unelectable and that he will lose against the tremendously popular ruling party incumbent, Eric Cameron (Gordon Roberts). What's in it for McLintock? He gets out of teaching English to engineering students with their obsession talk about "sex, sex, sex and beer" for at least a semester.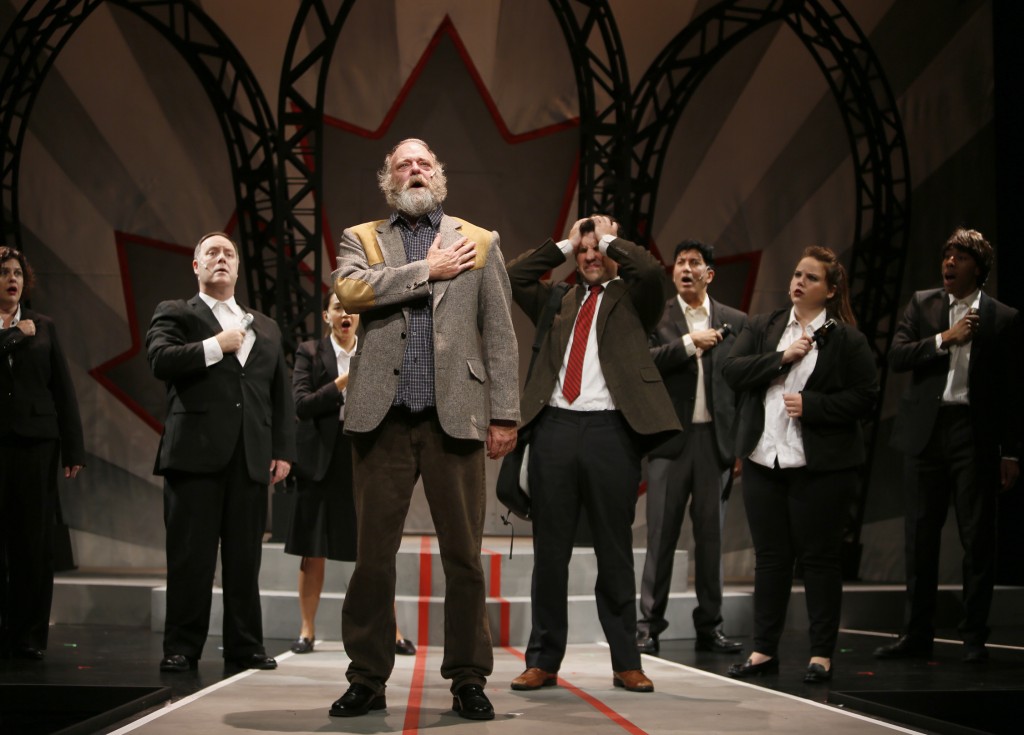 But we all know what happens to best laid plans. They gang aft agley, eh?
Thiessen has only only slightly updated Fallis's original, including two punk rockers that, in this production, are two characters of indeterminate sex (played by Steffanie Davis and Hal Wesley Rogers) who sing about the shortcomings of a "Binary World."
But it's the same old, same old in question period with the government and the opposition banging desks, rudely interrupting each other and, generally, behaving like brats while the Speaker (Davis, again) hollers at them to come to order.
The story is fun but the performances really make this show. Wheeler, who so successfully portrayed Stephen Harper in PROUD back in March 2015, once again shows amazing versatility as the fuzzy-bearded, 'r'-rolling Scot. He turns the show on its head with the hauntingly sad, "The Other Side", an ode to McLintock's deceased wife, a writer and staunch feminist. Indeed, it is a reference to the government closing down the office of the Status of Women that's a catalyst for the story's denouement.
Veterans Patti Allan (as the sharp-tongued geriatric Muriel Parkinson) and Katey Wright (as the vague and indecisive leader of the opposition) can always be relied on to flesh out a character. Shannon Chan-Kent is Daniel's manipulative, nasty girlfriend Rachel and Meaghan Chenosky is Daniel's smart, law student, spoken-word poet girlfriend Lindsay. Gordon Roberts brings the house down when his character experiences a diaper-clad, soother-sucking lapse in judgment. Completing the cast is Zahf Paroo.
The music, provided by five musicians under the musical direction of Jonathan Monro, is varied and singable. And everyone in this show can really sing.
It's a lot of fun with material that we can all relate to as real time electioneering goes on and on. Promises are being made that cannot possibly materialize – and we all know it. And who really knows who's 'Ready' or 'Just Not Ready'.
If you're ready for more fun than a debate, this is a great way to put all the politicking into perspective.