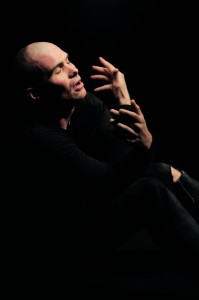 At the Vancity Culture Lab at The Cultch until May 26
604-251-1363/tickets.thecultch.com
Posted May 22, 2013
Tour de force is the phrase that comes to mind when considering Jon Lachlan Stewart's performance in Big Shot. Written and performed by Stewart as part of Upintheair Theatre's rEvolver Festival and directed by Georgina Beaty, Big Shot is poetry in motion. The language is sometimes beautiful, sometimes brutal, always poetic and musical; one whole scene is done entirely in Japanese. Much of it is in the up-speak dialogue of a movie-addicted, father-abandoned boy. And on May 24, Stewart will perform Big Shot in French. Multi-cultural. Multi lingual. So very Vancouver.
This is one of those shows that blows you away with its performance. Wow, look what he's doing now: he's a rehabbed heroine addict. Ho-ly, he's amazing: he's an elderly Japanese computer engineer turned Davie Street flower seller. Look: he's Gloria, a chain-smoking, unhappy wife and mother. Such spectacular performance is not always a good thing because while you're focused on how fantastically versatile and skilled the performer is, the story may be slipping away from you or, in this case, you may be losing track of what's real and what's just a pitch for an action movie.
And reality does slip sideways in Big Shot. But not all the way to the end. Depending on how clever you are, threads connecting the characters begin to appear and by the conclusion, Stewart has wrapped it all up – with two possible endings. One is what really happened (maybe); and the other is (probably) how The Boy thinks a filmmaker could spin it.
The pivotal character, The Boy, wishes life were more like an action movie, that it had more surprises, that it would "screw you up a little – in a good way." And he does get swept up into some action when an officious security guard on SkyTrain shoots a guy who can't find his ticket after being pickpocketed by a disillusioned immigrant.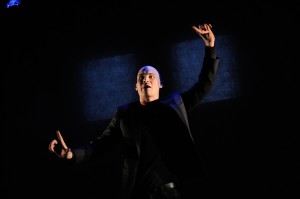 Stewart is an extraordinarily dynamic performer with a face and body that cross age and gender boundaries with style and ease. He's a dancer, a poet, a philosopher. While The Boy mocks "in-de-pen-dent films" that are so "arty", Big Shot itself is art in motion with fabulous lighting by Cory Sincennes and evocative sound design by Dave Clarke.
Stewart's theatre company Surreal SoReal Theatre was founded in 2004 and certainly this show celebrates both the surreal and the so real. Its characters are grittily real; we know these characters, we've met them on SkyTrain, in the downtown eastside, on Davie Street and at Silvercity. But Big Shot is also surreal: which of the endings is real? Or, more to the point, which of the conclusions would we prefer and what does that say about us? The Boy as a witness or The Boy as a victim?
I left the Vancity Culture Lab somewhat mystified as to what had really happened although the opening line, "I've got a good one" should have kept me grounded. I was, however, completely dazzled by Stewart's use of the space and his virtuosity as a writer/performer. Big Shot has been garnering raves all across the country. You can see it in English or in French and you don't even need to speak Japanese; it's all in context.
Check out the video at http://www.youtube.com/watch?v=WzHOsW4GF18