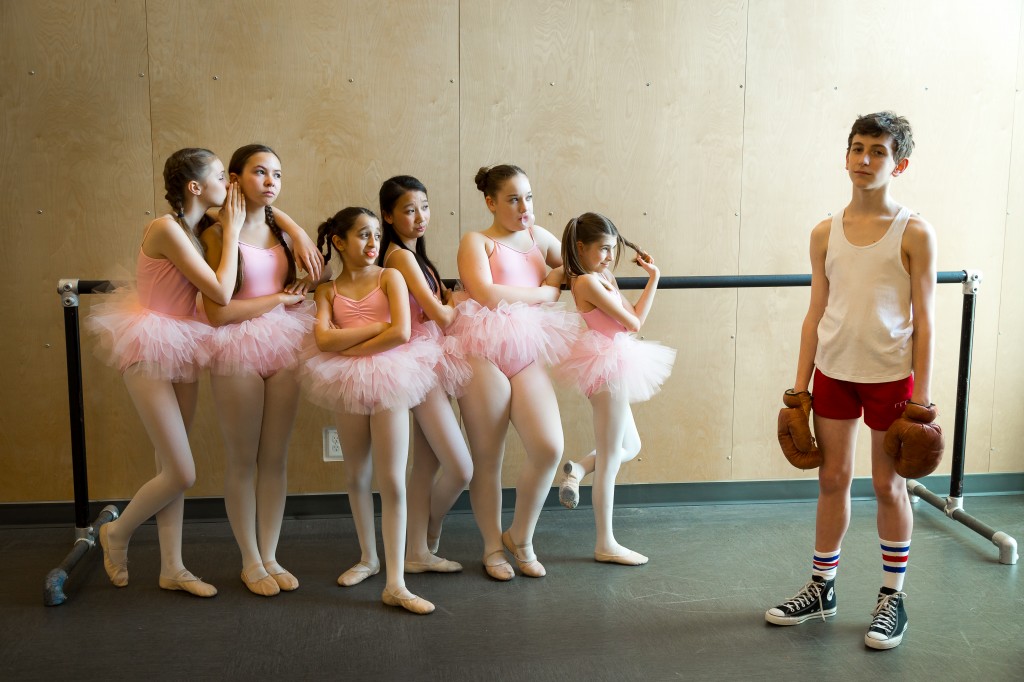 At The Stanley until July 10, 2016. Held over until July 17, 2016.
604-687-1644/artsclub.com
Posted May 20, 2016
As the curtain rose on opening night of Billy Elliot, I was actually choked up knowing how excited a handful of youngsters on the Stanley stage were. Some of them were making their Arts Club debut (and probably their professional debut) that night. They're reaching the top of the Vancouver theatre scene before their thirteenth, fourteenth, fifteenth or sixteenth birthday. What a rush.
One of those young performers is Avril Brigden, my nephew's thirteen-year-old daughter who plays Susan, one of the ballet school students of tough but big-hearted teacher Mrs. Wilkinson (Caitriona Murphy). So I have an inside track on this excitement and commitment: eight performances/week for eight or nine weeks plus school every weekday until their summer holiday. It's a good thing they're so young; they're going to need stamina.
Youthful as they are, these youngsters' professionalism is impressive. Grade eight student Nolan Fahey is Billy, the son of a striking coal miner  (Warren Kimmel). Fahey is a triple threat: he's very natural on stage, has a sweet voice and is a beautiful dancer. Self-taught gymnastics add immeasurably to his dancing; his leaps and aerials seem to defy gravity. He floats. Valerie Easton has choreographed exciting material for him and he takes it in long, leggy stride. Absolutely outstanding are Billy's Angry Dance in Act 1, his joyful dance at his audition ("I'm Free") and the dance he does while shadowed by his future self (beautifully danced by Matthew Cluff) in Act 2. As Billy, Fahey is nerdy and very sweet; best of all, he's calm and centred. It's astonishing in one so young.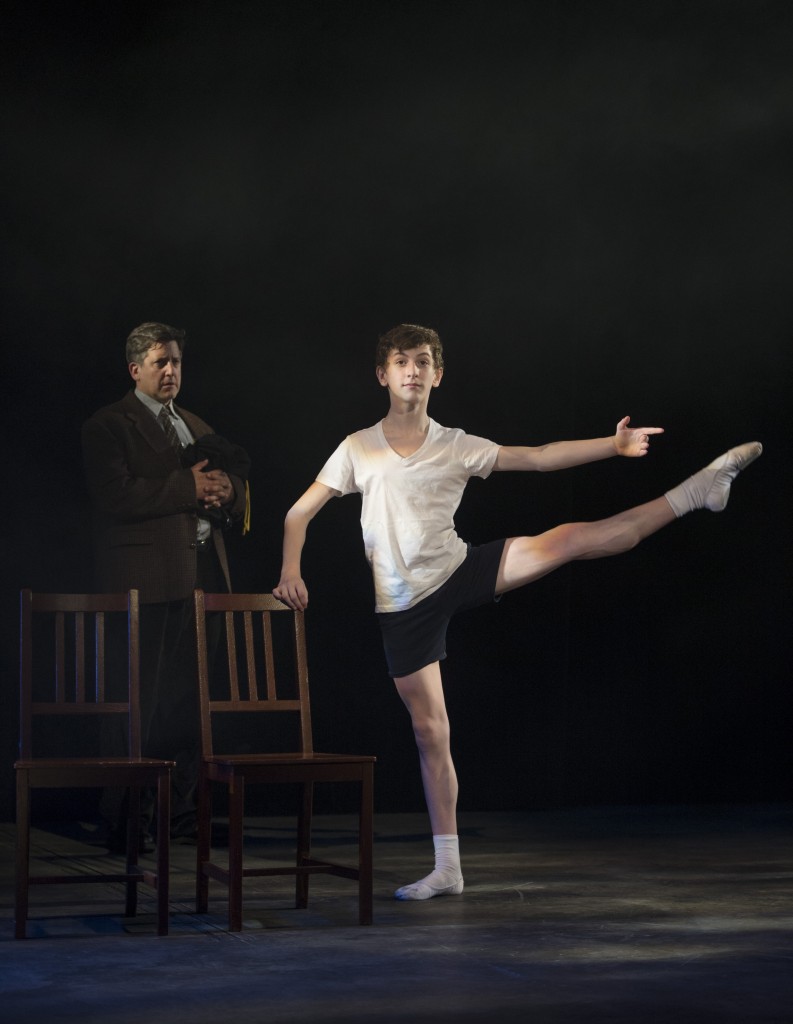 Also amazingly confident on stage is Valin Shinyei as Billy's pal Michael. Shinyei, who turned fifteen a week ago, already has huge comedic, crowd-pleasing chops. His cross-dressing scene with Fahey brings the house down.
What's not to love about a story about a boy in a coal-mining town during the Thatcher regime? In 1984, in rough and tumble, northeastern England's County Durham, no fathers wanted their boys to be so-called 'poufs'. But Billy would rather dance than box, much to his father's chagrin. When Billy's father and the other miners go on strike against the company there are confrontations with the police (with some terrific choreography featuring miners, cops and little ballet student girls in pink tutus. The juxtaposition of elements is both frightening and lovely.) While the families struggle with increasing deprivation, Billy secretly continues to dream of auditioning for the Royal Ballet in spite of his father and hot-tempered, coal-mining brother (Danny Balkwill).
Barbara Pollard is terrific as Billy's floozy, abrasive old grandma who initially scoffs at Billy's aspirations but, with the mining industry fast closing down, she comes around.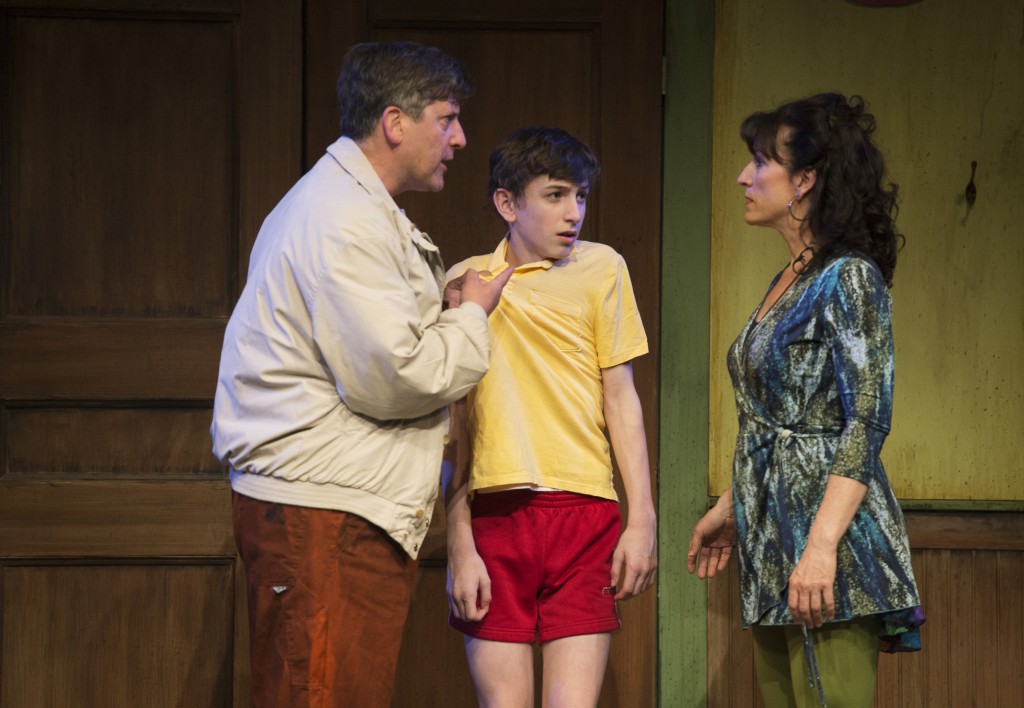 First a movie and then a musical (with music by Sir Elton John), Billy Elliot: The Musical has less overt reference to homosexuality than the film but the myth that men who love ballet are gay is exploded here, too.
Ted Roberts provides various settings that include the working class interior of Billy's house and the interior of the Miner's Welfare Hall. Particularly effective lighting is provided by Marsha Sibthorpe when the defeated strikers return to work, headlamps ablaze as the elevator takes them down into the soul-sucking pit. Alison Green puts all the little girls (Jordyn Bennett, Avril Brigden, Kristi Low, Julia MacLean, Arta Negahban and Taylor Dianne Robinson) in various tutus, the men in work clothes and uniforms. Under Ken Cormier's musical direction, a six-piece orchestra provides the music.
Directed by Bill Millerd, Billy Elliot is undeniably and unabashedly heart-warming; seeing these young performers on the cusp of their careers tugs at the heartstrings. With such hard work and so little money ahead of them why do they do it? Applause? Standing ovations? Fun? With Billy Elliot: The Musical there will be plenty of all that before the show closes.