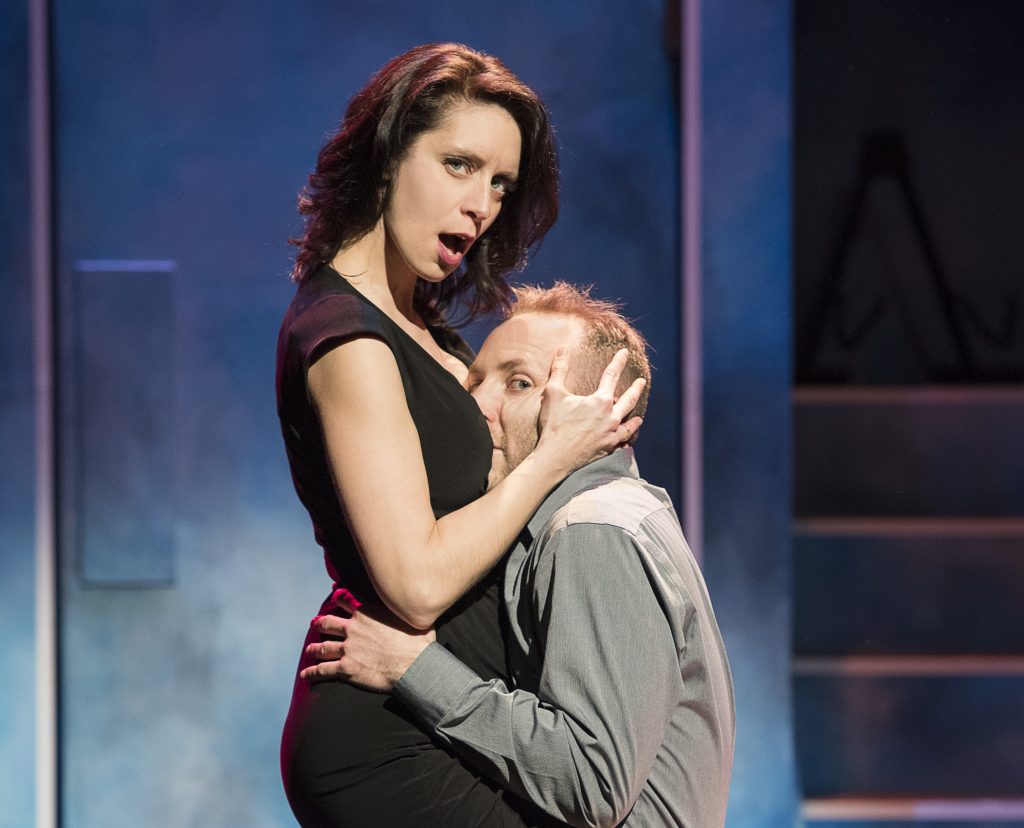 At the Arts Club Granville Island Stage until July 29, 2017
Tickets from $29 at artsclub.com or 604-687-1644
Posted June 23, 2017
THIS REVIEW WILL APPEAR IN THE JUNE 29, 2017 EDITION OF THE WESTENDER.
"We need to talk". Four little words that almost always mean there's trouble in paradise. For Canadian writers/actors Annabel Fitzsimmons, Alison Lawrence and Mary Francis Moore it meant they were about to get dumped.
What better way to get over a broken heart than to get together with other 'dumpees', write a play, then a book, then turn the play and the book into a smash hit musical? Could revenge be sweeter than selling out theatres from London to New York and Toronto? Don't just get even, get rich.
Director/choreographer Valerie Easton casts three of Vancouver's most talented, most energetic (imagine singing "I'm Gonna Make You Love Me" while lifting weights and doing 'planks') and best female voices in town: Cailin Stadnyk, Lauren Bowler and Katrina Reynolds. And who said women aren't funny? These three had the opening night audiences howling with laughter.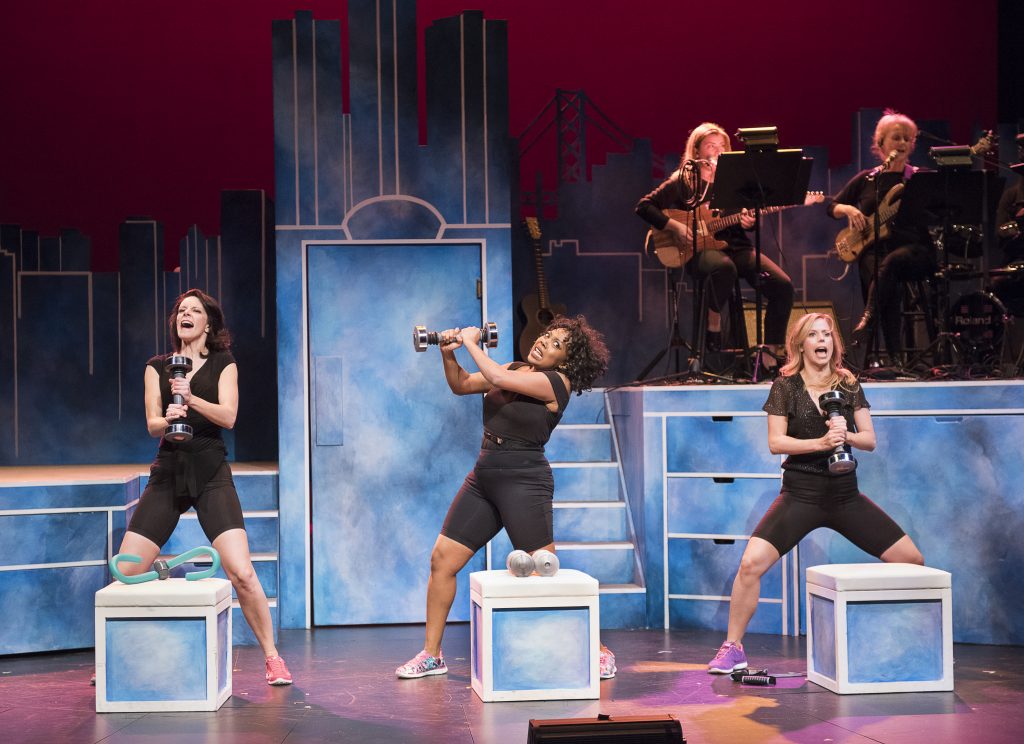 Obviously, breakup isn't a laugh riot and as 'C', Stadnyk gives the show one of its rare moments of poignancy when her character explains to her child that "Daddy" isn't happy and wouldn't it be better to see daddy "sometimes" – when he's happy – than "all the time" – when he's unhappy?
But Bittergirl is not there to be poignant and the moment passes quickly.
The show uses almost two-dozen 'found' songs from the 60s and 70s including "And Then He Kissed Me", "Mama Said" "Love Hurts" and "Be My Baby" backed by an all-girl, smoking hot band (Madeleine Elkins, Linda Kidder, Diane Lines and Monica Sumulong) elevated upstage. The songs – in the style of Mama Mia! – slots the songs into the story where they make sense. Director/choreographer Easton keeps 'A', 'B' and 'C' moving and grooving – it's a major workout. The show starts with all three in little black dresses but, wondering if being more fit might have kept the relationship sizzling, they hit the gym, tucking their black dresses into black spandex workout shorts and working up a sweat. Stadnyk's impressive comedic chops, providing funny stuff throughout, is especially hilarious in this scene as 'C', breathless, lacks coordination and can't keep up. What she does with a resistance band looks more like pleasuring her lady parts than working out.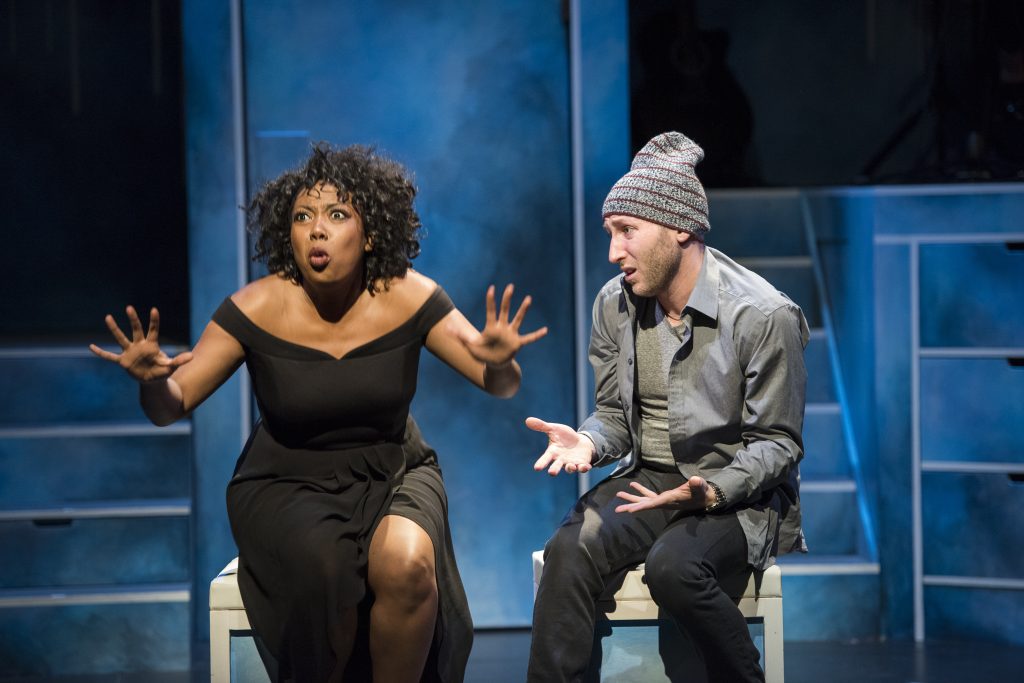 Josh Epstein plays 'D' the 'dumper' to all three and he delivers the lamest lines women through history have heard a million times. There are groans in the audience as he says, "I love you. I'm just not in love with you", or "You'll always be my best friend" (yeah, right), or dimwittedly, "I dunno, I just lost my magic."
And the women, predictably, ask themselves – before digging into the bag of chips and knocking back booze – if being thinner might have saved the relationship or wearing better underwear or looking more like their sister. Their friends can't understand it, and toss out vacuous platitudes like, "Everything happens for a reason" and "You were the perfect couple." Oh, give us a break.
Epstein, as always, is hilarious and if the show isn't already rocking, he takes it higher with his dynamite voice and sexy little moves. He's the heartbreaker you love to hate but just can't because he's just so darned cute.
Carmen Alatorre does costumes from the little black dress through spandex, spa robes and prison garb to sparkle plenty.
Ted Roberts provides a blue cityscape set, lit by Robert Sondergaard.
While most of Bittergirl: The Musical rings true it strikes an awkward chord when the women, briefly, turn against each other. But it's short-lived; their relationship gets back on track and the show ends on a big, big note when 'C' tells them to "suck in your stomach. Stand up straight. And make your arms look thin". Bittergirl: The Musical ends on a loud and proud medley finale that includes "I Will Survive". No doubt about it.