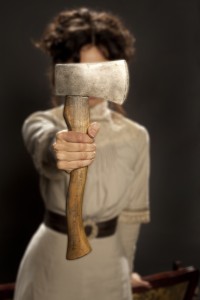 At Frederic Wood Theatre until April 6
604-822-2678/ theatre.ubc.ca
Posted on March 29, 2013
"Did you, Lizzie?" "Lizzie, did you?" One hundred and twenty years later, we're still asking the question Lizzie Borden's sister Emma repeatedly asked her over the years – even after Lizzie had been acquitted of the murder of their father and stepmother.
Young girls still chant as they skip rope, "Lizzie Borden took an axe/And gave her mother forty whacks/When she saw what she had done/She gave her father forty-one". The real facts are that on August 4, 1892 in Fall River, Massachusetts, someone dealt Abigail (Abby) Borden, Lizzie Borden's stepmother, eighteen or nineteen blows to the skull and eleven blows to the head of Andrew Borden. A hatchet was later found in the basement but was not confirmed as the murder weapon. Headlines at the time suggested a drunken farm hand or Bridget Sullivan, the family maid who, that extremely hot day in August, had been ordered by the demanding Mrs. Borden to wash the windows. But it was eventually Lizzie who stood trial and was acquitted. She and Emma, benefiting from Andrew Borden's considerable estate, moved into a better part of Fall River but Lizzie was viewed as a pariah and subsequently ostracized.
Written in 1980, Blood Relations is Canadian playwright Sharon Pollock's most frequently produced play and for good reason: it's a theatrical, psychological thriller with a small 'f' feminist angle. Lizzie, at thirty-four, was an unemployed – and unemployable – unmarried woman living at home with her wealthy but penny-pinching father, her manipulative stepmother and her sister Emma. She had no prospects and was adamant in her refusal to marry a man of her father's choosing. When Andrew Borden started giving away his property to Abby and her relatives, the writing was on the wall for Lizzie and Emma: they would live out their lives on a pittance stingily doled out by Abby after their father's death.
Directed by MFA directing candidate Jennette White, this UBC Department of Theatre and Film production is handsome and capably directed. The set is simple: a few pieces of furniture framed by what at first appears to be bars of a birdcage – a very apt metaphor for Lizzie's existence – but later opens to becomes the bare bones of a parlour interior. Projections – sometimes realistic (a blue sky), sometimes not (red, like blood, spreading) – are displayed above and behind the set.
It's an intriguing tale made more so by Pollock's invention of the Actress (probably based on Lizzie Borden's actress friend Nance O'Neil). At Lizzie's insistence, the Actress (portrayed by Mercedes de la Zerda) and Lizzie (Courtney Shields) do some role switching: in the play-within-the-play, Actress takes Lizzie's role while Lizzie portrays the maid Bridget Sullivan. There are, of course, times when Shields is simply Lizzie and de la Zerda is the Actress. This does make for some confusion although the tipoff is Bridget's Irish accent. Still, you have to be on your toes.
No confusion regarding Naomi Vogt as Abby Borden: she's as large as an armada in full sail and just as determined. Conniving Harry (Abby's brother) is convincingly played by Joel Garner and weak-willed Emma is portrayed by Georgia Beaty. Matt Reznek is Dr. Patrick, a married physician who shows more than a doctor/patient interest in Lizzie. Kenton Klassen is the sometimes fatherly, more often the unmovable Andrew Borden and Alen Dominguez provides the cameo appearances of the Defense.
I first saw Blood Relations in the early 80s during Edinburgh's Fringe Festival and I remember being really impressed; I loved Pollock's clever twist at the end. I don't know if this UBC production is actually longer or whether the pacing is a little slower but it feels longer. And in the Scottish production, there wasn't so much a sense of Lizzie becoming deranged as becoming stronger and more cunning; the feminist in me prefers that perspective.
Theatre at UBC always provides an extensive and really informative theatre guide/program. This one contains an excellent excerpt from Dr. Sherrill Grace's "Making Theatre: A Life of Sharon Pollock"; director's notes; production history; bibliography; and historical context. These guides are always well-worth reading.
While no one would condone Lizzie taking a hatchet to her relatives, Sharon Pollock's take on the infamous Borden case persuades you to believe Lizzie had a couple of well-understood, easy-to-relate-to motives: money and the independence it buys. More to the point Blood Relations questions whether we ever really know who did what.