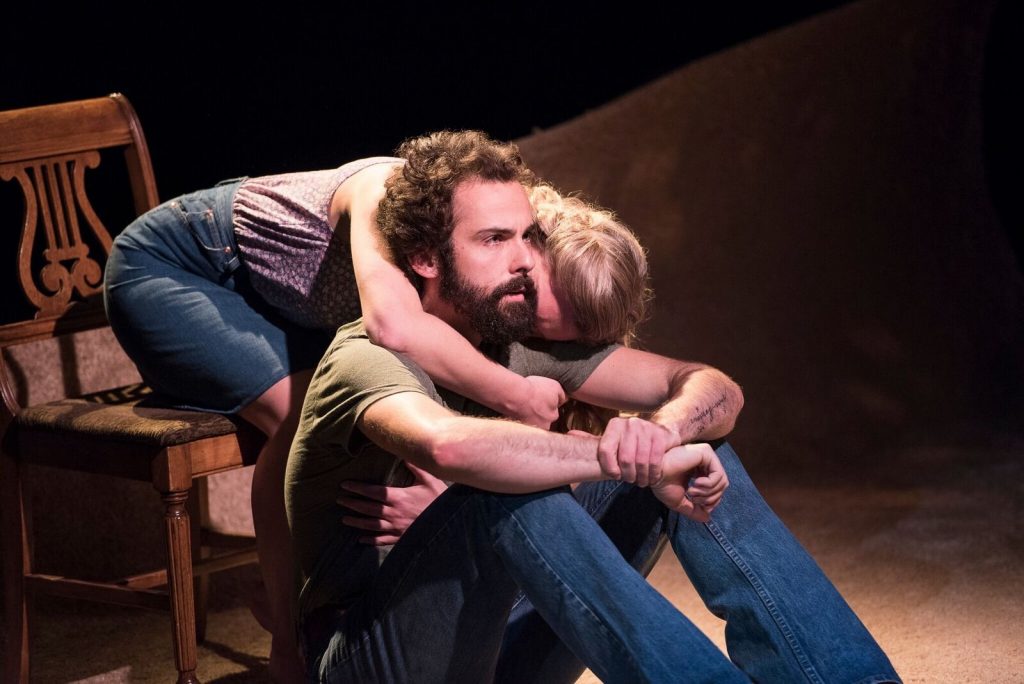 At Studio 16 until March 11, 2017. All shows sold out except an added 4PM matinee on Saturday, March 11
604-736-2616 /seizieme.ca
Posted March 6, 2017
Michel Tremblay considers Bonjour, là, bonjour to be his best work. "In Bonjour, là, bonjour, I apprehended the most of what I wanted to do in the theatre—to take out everything that is not strictly necessary." Reading the script, I found it pared down to its elegant bones: no indication of how old the characters are or how they are related to each other. Not a single stage direction. Sometimes, on the printed page, it's not immediately clear as to who is speaking to whom. Scenes overlap. It's a challenge but Gilles Poulin-Denis, directing for Théâtre la Seizième, puts it together brilliantly. I didn't simply like this production; I loved it.
Bonjour, là, bonjour was first performed in 1974 at the National Arts Centre in Ottawa, directed by André Brassard, and in English in 1975 at Toronto's Tarragon Theatre, directed by Bill Glassco. How does the play hold up after forty-three years? Brilliantly.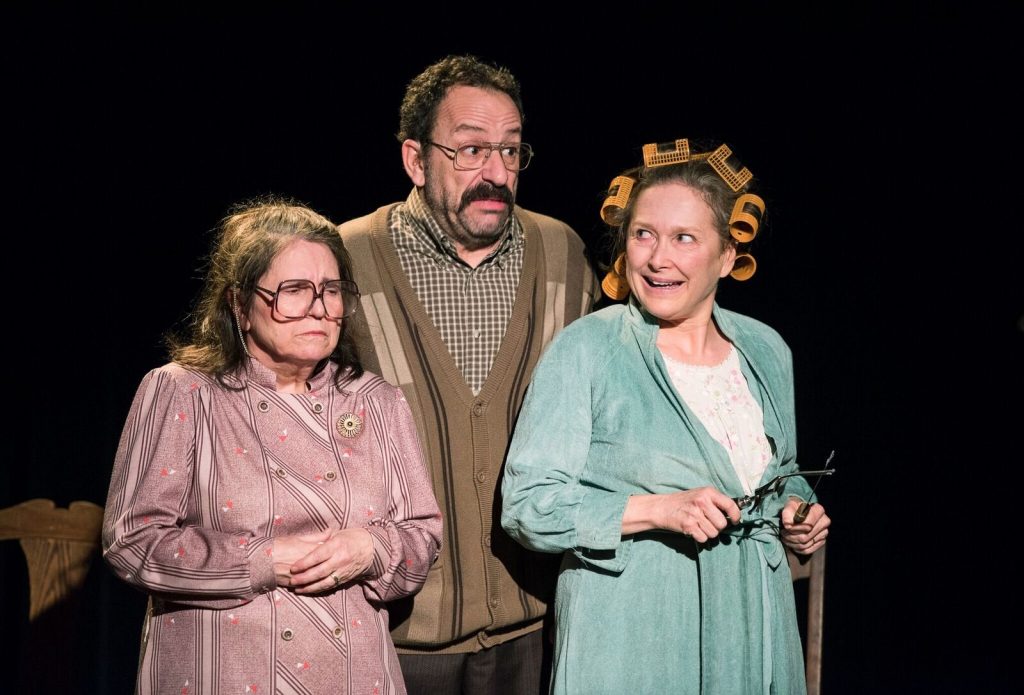 Written like a symphony, thirty-one scenes are titled 'Solo', 'Duet', 'Trio', 'Quartet', 'Quintet' or 'Octet' – corresponding to the number of actors involved in the scene. But within each scene, there might be two 'groupings' with the dialogue delivered and overlapping in two different places on stage. The overall effect is symphonic with melodic lines blending and separating. Amazingly, it is intriguing, not confusing.
As with all of Tremblay's work, the source material is family. In Bonjour, là, bonjour, Serge (Vincent Leblanc-Beaudoin), the darling of his four sisters and his two old aunties, returns home after three months in Paris. None of the family has ever been past Montreal's Guy and Dorchester so Serge's return after his European adventure is momentous: was he sick on the plane, were the girls pretty, is Paris shaped like an onion. As the questions are posed, growing hostility between Aunt Charlotte (Thérèse Champagne) and Aunt Gilberte (Leanna Brodie) surfaces. They snipe away at each other, unheard by Serge's father Armand (Joey Lespérance) who is almost deaf.
As Serge reunites with his sisters, the constantly hungry Denise (Annie Lefebvre) and perpetually depressed and medicated Monique (Émilie Leclerc), the situation becomes obvious: Serge has been petted, indulged and adored beyond what is wholesome his entire life. All the women try to lay claim to him, sniping away at each other and pleading with Serge to be his favourite.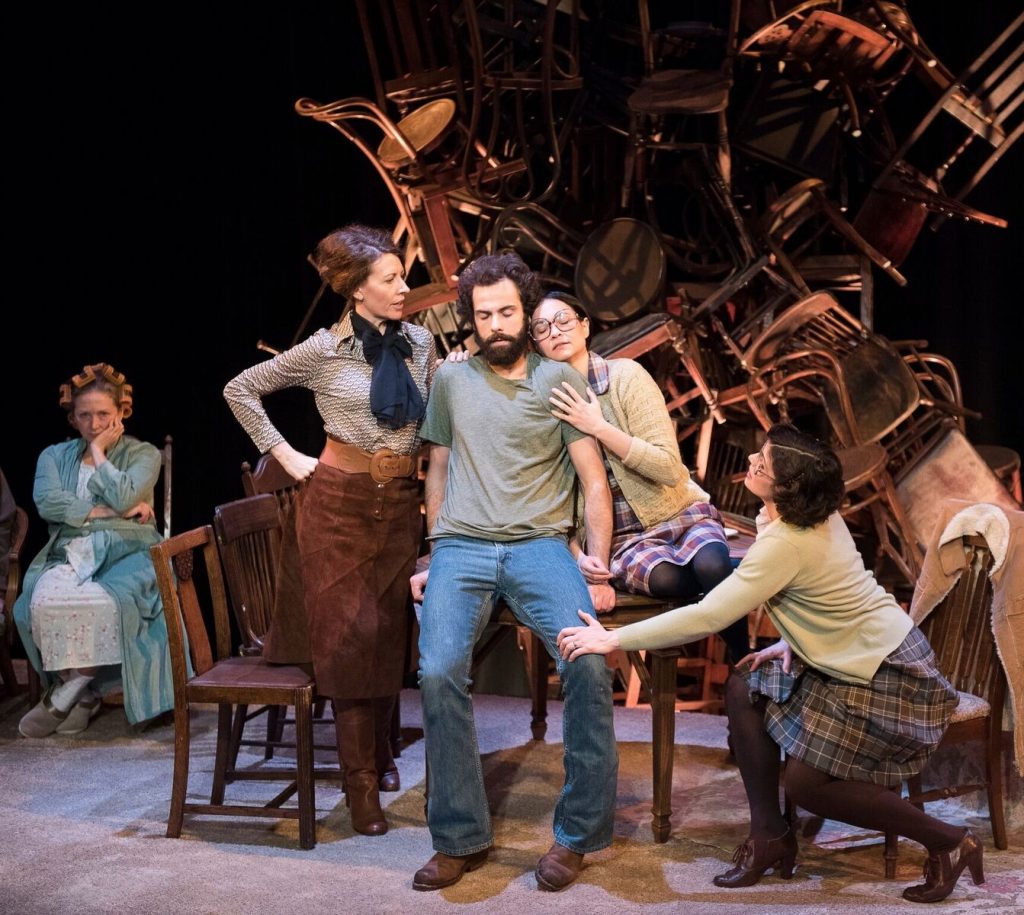 There is a secret at the heart of Bonjour, là, bonjour that is slowly, delicately revealed. Although there have been very subtle suggestions throughout, it is Serge's oldest sister Lucienne (Lyne Barnabé), married to an anglais physician and living in Montreal's affluent Westmount, who eventually confronts Serge.
Stunning set design by Drew Facey features a floor-to-ceiling, random stack of old wooden chairs.
At times the play is quite funny as these unsophisticated characters quibble away, but melancholy is the pervasive tone. Director Poulin-Denis stages an absolutely breathtaking scene between Serge and Nicole (Siona Gareau-Brennan), underscored by Bach's "Erbarme Dich" from St. Matthew's Passion. While Tremblay gives no indication as to how this scene should be played, director Poulin-Denis makes it unforgettably lovely.
In French with English surtitles on Tuesdays, Thursdays and Saturdays, the show is sold out with the exception of the March 11 matinee at 4PM.