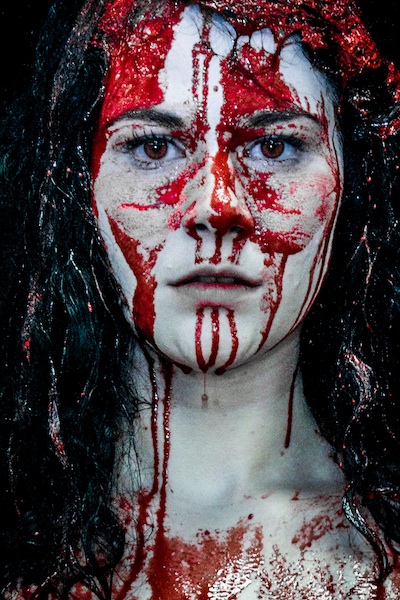 At Jericho Arts Centre until October 25, 2014
www.ticketstonight.ca
Posted October 19, 2014
Pig's blood. You know there's going to be pig's blood even if you didn't see the movie. Carrie, the shy misfit who exacts revenge on her tormentors, just keeps going and going and going; she's right up there with Frankenstein and Dracula as an iconic cult figure. Carrie first surfaced as Carrietta (Carrie) N. White, the main character in Stephen King's first novel (1974), but she quickly surfaced again in the 1976 film starring Sissy Spacek and Piper Laurie.
Lawrence D. Cohen, the film's screenwriter, then partnered with Michael Gore (yes, that's his real name) to create the musical, which, surprisingly, was first, produced by the Royal Shakespeare Company in Stratford-upon-Avon, England, in 1988. From Wikipedia: "The production was plagued with script and technical problems. The crew was unable to douse [Carrie] with fake blood without causing her microphone to malfunction". Rewrite followed rewrite. The star resigned after nearly being decapitated by a set piece but was persuaded to stay on until a replacement could be found.
Undaunted, Carrie The Musical opened on Broadway later in 1988; curtain calls were received with "a raucous mixture of cheers and boos." It closed after sixteen previews and five performances and is considered one of the most expensive musical theatre disasters of all time.
In 2012, Carrie The Musical, heavily rewritten, was revived for Broadway where it only ran for a month but it's creators said they had achieved what they set out to do: "to rescue Carrie from oblivion and to give her new life".
Carrie is back. And she's taking sweet – bloody sweet – revenge night after night at the Jericho Arts Centre.
This Fighting Chance Production (in association with Nathan Gardner and Danny Brooke and Renegade Arts Company) has a cast of fourteen, a production team of twenty and a live five-piece orchestra, under conductor/keyboardist Caitlin Hayes, making it a big show in a small space. That works well for this all-but-one non-professional cast and crew. Ryan Mooney, artistic director of Fighting Chance Productions directs, and, much as he did with his production of Spring Awakening, focuses on teenage angst: fitting in, looking cool and dealing with peer pressure. Teenagers will really 'get' this show.
Grace Newson's choreography is angular and sharply well-executed; the set, a surround of canvasses on which CARRIE is repeatedly scrawled, is obviously low in production value but it works; and staging the show alley-style with shallow banks of seats on the east and west sides of the theatre makes for in-your-face intimacy.
The songs are not memorable but they're accessible: most of the time you can hear the words and the music isn't out of reach of these young singers. The night I went, however, a number of performers were a bit off their mark and occasionally the orchestra was too loud for a singer with a small voice to make herself heard.
Ranae Miller, as Carrie, is the star of this production: her Carrie is so tentative, so shy and so full of longing it makes your heart ache. Miller's voice is clear and clean from the moment she sings "Carrie", after being called "Scary Carrie" by her schoolmates, to the penultimate closing number, "The Destruction". Riley Qualtieri is an engaging, openhearted Tommy Ross who, although Sue's boyfriend, agrees to take Carrie to the prom as a way of making up for the vicious bullying by his classmates.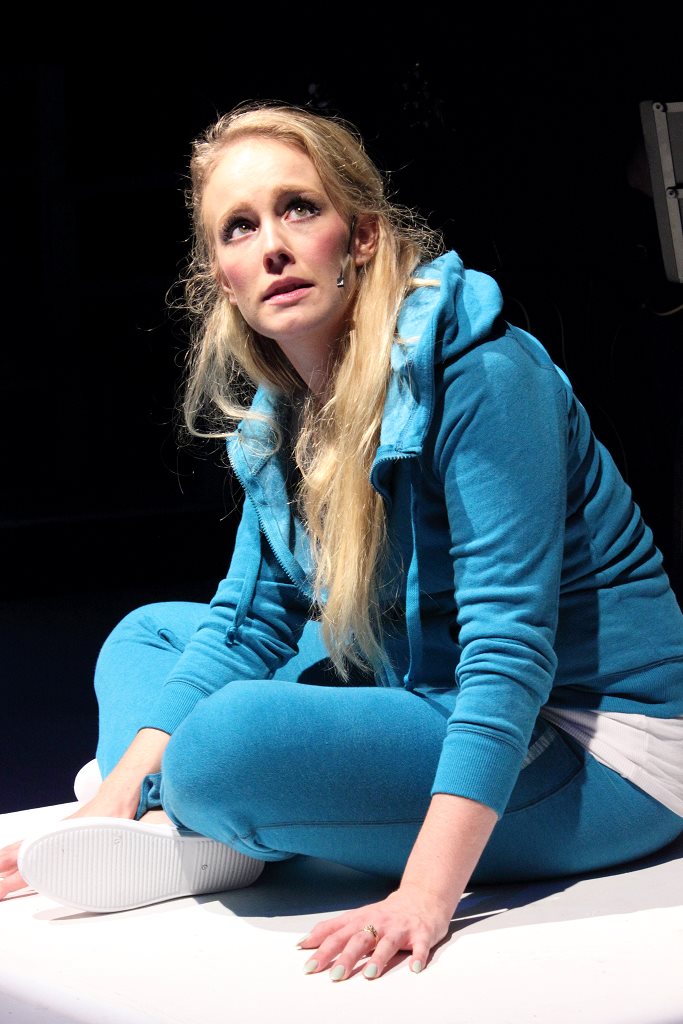 The musical begins and ends with Sue (Tegan Verheul) in an interrogation room following the bloodbath at the prom. Verheul, a lovely soprano, is very appealing as the decent, guilt-plagued teenager who takes a stand against Carrie's attackers led by Chris (Emily Canavan, who really rocks the Arts Centre with songs like "The World According to Chris").
Always troublesome are roles like Carrie's mother Margaret (Sabrina Prada). A religious fanatic who claims she only wants the best for her daughter, it's hard to see how shoving a knife into Carrie is in the child's best interest. "When There's No One", a song Margaret sings to attempt to keep Carrie from the prom should be a tear jerker – and for some, perhaps it is – but it's such a wank, I suspect we're all relieved when Carrie turns her telekinetic powers against dear old mom and goes to the front door where Tommy waits, bracelet corsage in hand and quite overwhelmed to see how beautiful Carrie really is.
A lovely surprise is Keri Smith as Miss Gardiner, the girls' gym teacher. One of the best songs of the show is "Unsuspecting Hearts", beautifully sung by Smith and Miller.
It's a curious musical, no doubt about it. But teenagers should love it and, right before Hallowe'en, it's a great time to see it. Beware the pig's blood.