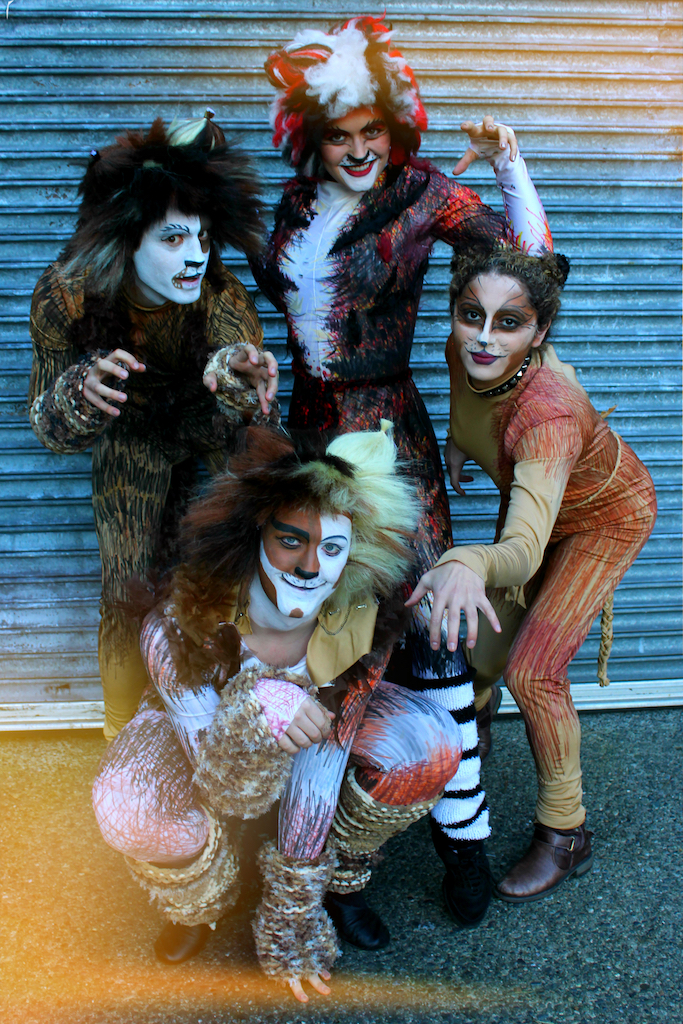 At the Jericho Arts Centre until March 12, 2016
ticketstonight.ca/cash or credit card at the door
Sold out Saturday, March 5 and Sunday, March 6
Posted March 5, 2016
As Ryan Mooney, Cats director and Fighting Chance Productions' artistic director writes in his program notes, "What is it about this odd show?" Odd, indeed. With no spoken dialogue and a plot that as skinny as a junkyard dog, Cats – written and composed by Andrew Lloyd Webber – has exceeded many times over the nine lives accorded to felines.
Based on T.S. Eliot's Old Possum's Book of Practical Cats (that's an odd duck, too), Cats opened in London in 1981 and ran for twenty-one years and opened on Broadway the following year, running for eighteen years. Cats has been translated into more than a ten languages, including countries where cats appear on restaurant menus.
The overture is exhilarating, backed up by a big-sound orchestra of five under the musical direction of Adam Da Ros. That's followed by the opening number "Jellicle Songs For Jellicle Cats" and then "The Naming of Cats", at which point it becomes obvious that narrative is not the strong suit of this strange musical. (From Wikipedia: "Due to the Eliot estate asserting that they write no script and only use the original poems as the text, the musical had no identified plot during the rehearsal process, causing many actors to be confused about what they were actually doing.")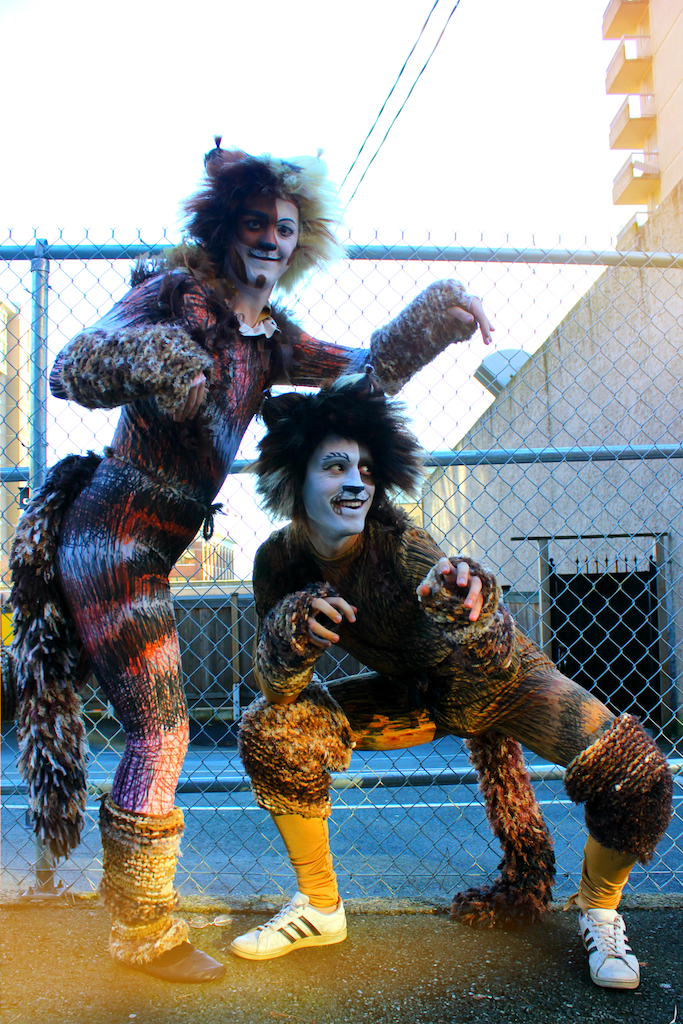 Eventually a plot does emerge: this is the night when an old cat known as Old Deuteronomy (Doug Thoms) chooses one cat from the tribe of street cats – the Jellicle cats – to cross over to the Heaviside to be reborn. Who will it be? Naturally, we'd bet the litter box on raggedy old Grizabella (Lisa Ricketts), a former glamour queen now arthritic, pathetic and scorned by all. Thoms and Ricketts are vocal powerhouses and try as you may, when Ricketts sings the show's only memorable song, "Memory", she really gets to you. Poor puss. Whatever you call it, it's the scrapyard for Grizabella but not before we see her younger self (Lyndsey Britten) dance what is undoubtedly the most beautiful, most balletic number in the show.
But with little story to sink your claws into, why does Webber's Cat keep coming back?
Choreography. Costumes. Energy.
Choreography by Rachael Carlson is terrific: with almost twenty 'cats' on the intimate Jericho stage all singing and dancing, the effect is almost-Broadway. And Carlson has choreographed individual performers according to their cat's qualities. Victoria, The White Cat (Hannah Gauthier), for example, dances elegantly; Munkustrap (Ian Backstrom) moves energetically and confidently; and Skimbleshanks (Damon Bradley Jang) dances like a working-class, go-get-'em sort of cat.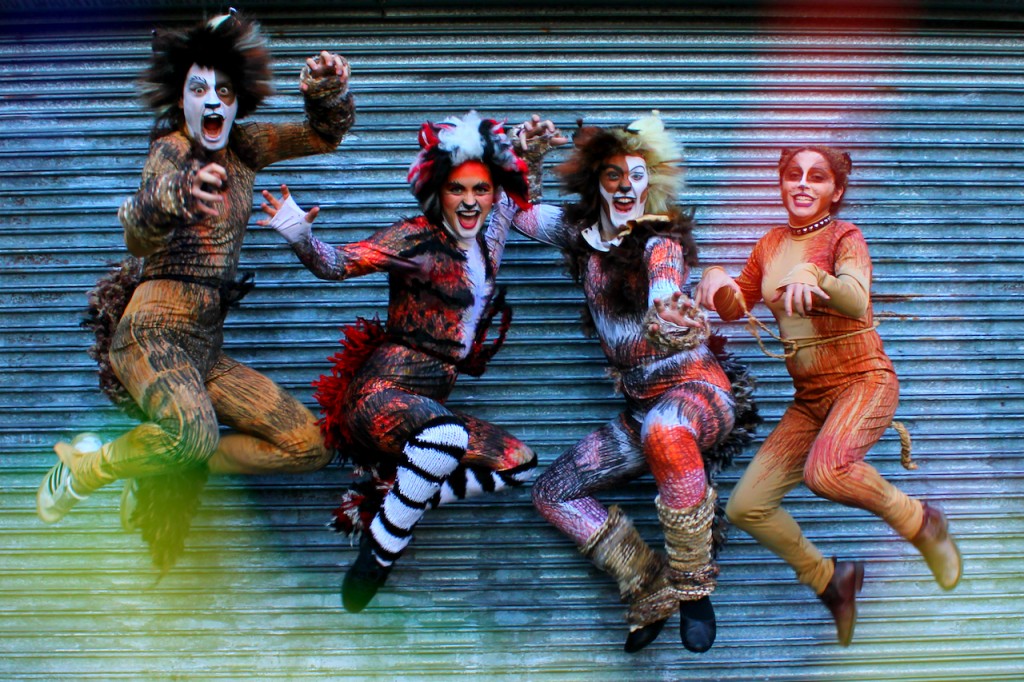 On what is always a shoestring for these not-quite-professional productions, Fairlith Harvey creates an almost Cirque du Soleil look with meters of printed of spandex, feathered or furry headpieces and soft velvety leg-warmers; all but two (twin cats Mungojerrie and Rumpleteazer, played by Lucia Forward and Amanda Lau) are completely different, layered and textured. Director Mooney, in a move I've not seen before, has the performers mingle with the audience in the lobby after the show, encouraging patrons to take selfies with his still-in-costume cats. It virtually turns every one of those photos into a marketing tool when the photos are viewed by friends and family. Smart guy, smart idea.
Against the slimmest of plots, not very memorable songs (with the exception of the earworm "Memory"), and a cast of characters whose names largely get lost in the shuffle, this show succeeds – and it does – on sheer enthusiasm. This cast is having the time of its life, it shows and it's as contagious as feline infectious peritonitis – only much more fun.
Hints of the T.S. Eliot whose Four Quartets we struggled through (but learned to love) crop up in the existential "Moments of Happiness" but this is definitely Eliot-lite and entertaining. As Albert Schweitzer said, "There are two means of refuge from the misery of life — music and cats." Who knew Andrew Lloyd Webber and Albert Schweitzer scratched at the same scratching post?