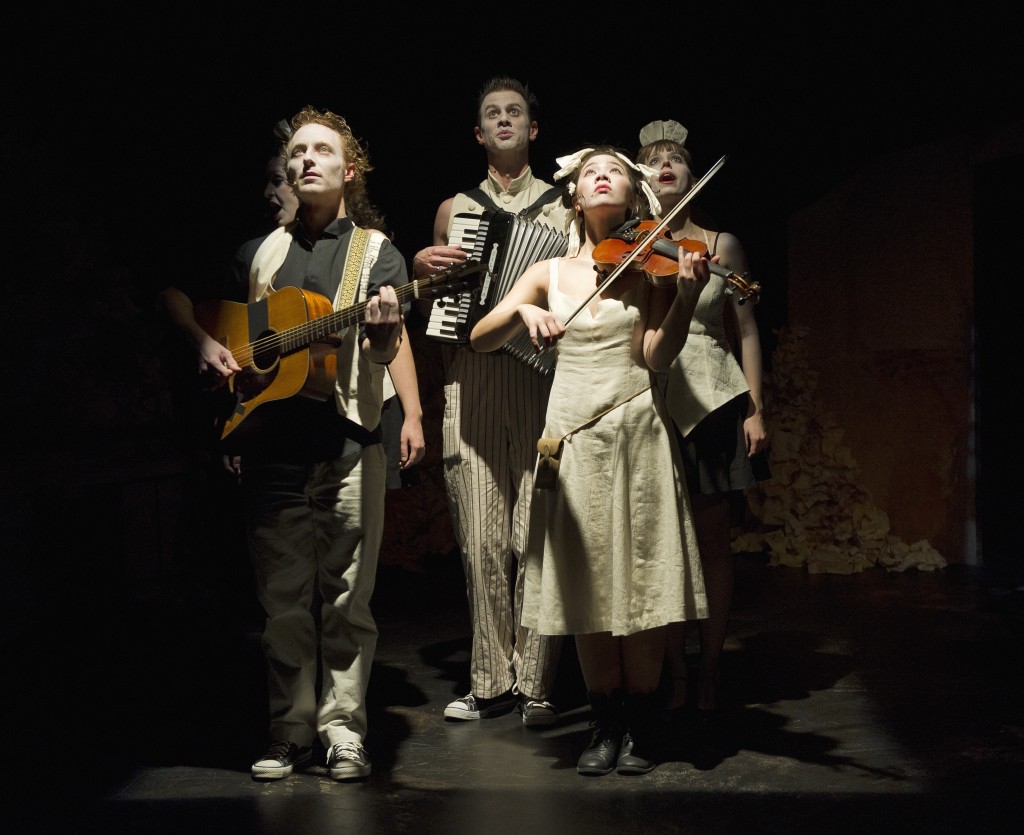 Arts Club on Tour  until March 15, 2014
www.artsclub.com for venues, dates and ticket information
Posted February 18, 2014
This review originally appeared in The Courier following the première of The Chelsea Hotel at The Firehall Arts Centre in February 2012. Kayvon Kelly replaces Adrian Glynn McMorran as The Writer; Marshall McMahen's set has been modified for this touring production.
One acoustic guitar, two electric guitars, one violin, one cello, three kazoos, one banjo, one ukulele, one bass, one accordion, one keyboard and a set of drums. Six performers. One minute Rachel Aberle and Lauren Bowler are belting out a song and the next, Aberle sits astride the cello and Bowler has moved over to the keyboard; instruments are passed back and forth between performers like canapés at a wedding reception. Conceived and directed by Tracey Power, there's a ton of talent in this Firehall Arts Centre production of Chelsea Hotel, an evening of Leonard Cohen songs with a through-line of lovers crumpled up and tossed aside like so many first drafts.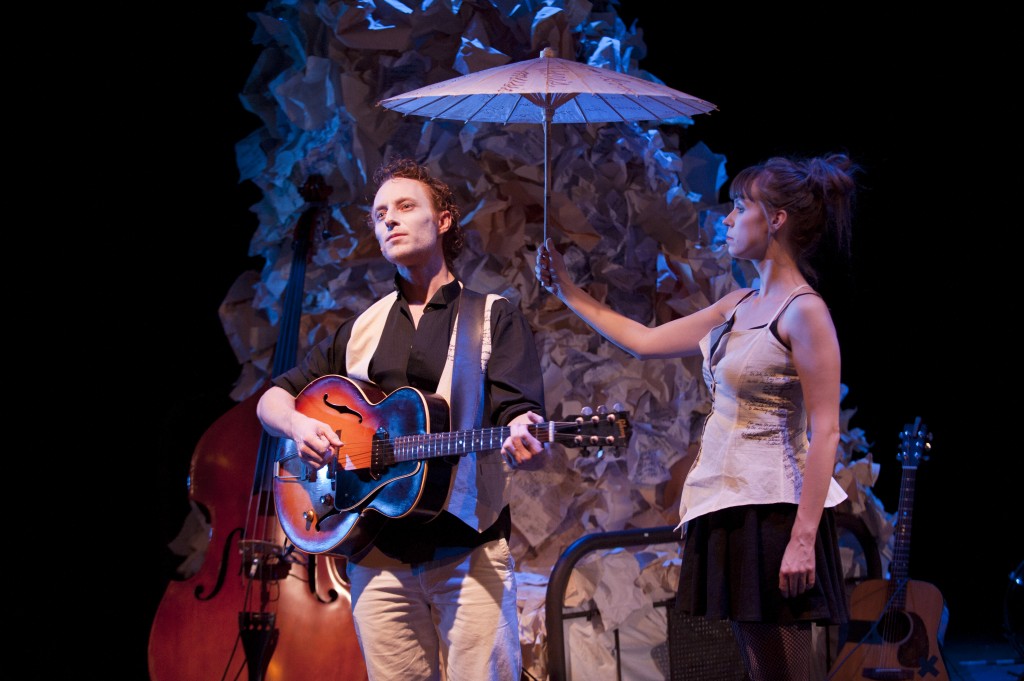 Adrian Glynn McMorran is The Writer, hunched over his desk in his Chelsea Hotel room that set designer Marshall McMahen almost obliterates with scrunched up paper. It's probably "four in the morning/the end of December", as the song goes, when The Writer, working at his notebook with a bottle of scotch at hand, is visited by muses: two Sisters of Mercy (Aberle and Bowler) and three whiteface, clown like yet slightly sinister characters: The Bellhop (Benjamin Elliott), The Woman (beguiling Marlene Ginader) and Sideman (Steve Charles).
Ex-lovers drift through Cohen's songs that come thick and fast in a continuous stream. Some songs are 'rocked out' (possibly because these performers are under thirty) and at least one – like "I'm Your Man" – pokes fun at Cohen by being sung by women.
I was sent hurtling back to my own thirties when I, like every woman in Canada, fell in love with Leonard Cohen. An almost overwhelming nostalgia for time past grabbed me but was sent packing by Bowler's bracing call-to-arms, "First We Take Manhattan" which, according to Cohen, he doesn't really understand either but, as he said, "It sounds good."
Chelsea Hotel doesn't just sound good; it sounds – and looks – great.