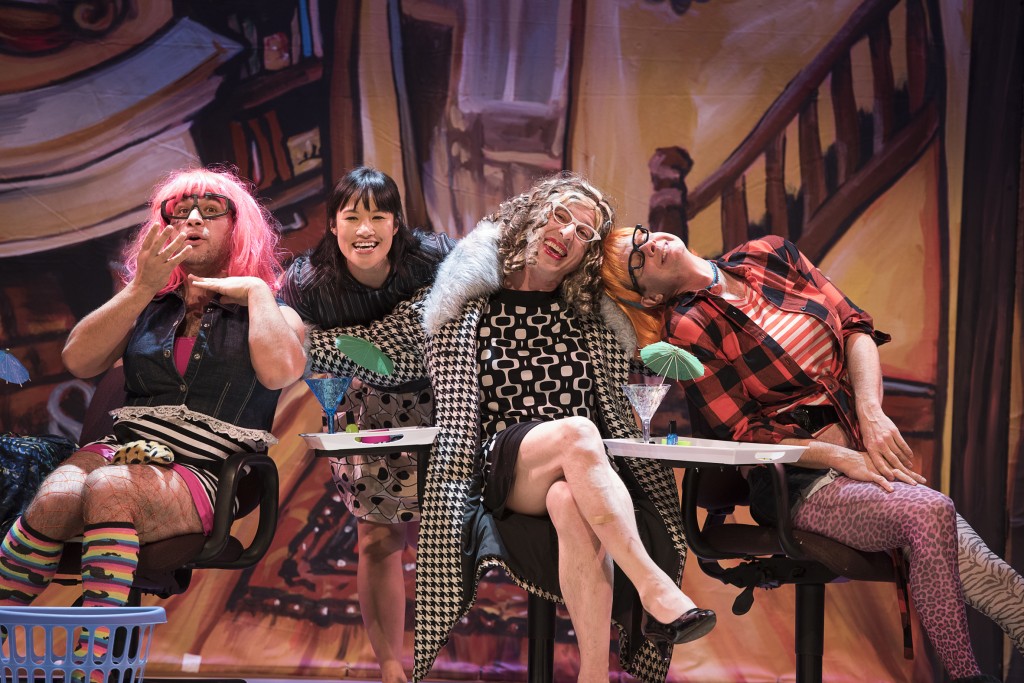 At the York Theatre until December 28, 2014
604-251-1363/thecultch.com
Posted December 8, 2014
If you're looking for fun-filled family entertainment, look no further than the York Theatre where the second annual Christmas panto is happening. You can boo, you can cheer, you can holler, "Look behind you!" or "Oh no, you don't!" It's rowdy, it's musical, it's a heap of fun for the kids and, best of all, writer Charlie Demers jam-packs it with so many digs at current affairs (look out, Kinder Morgan, Mike Duffy and BC Ferries) that it's a hoot-and-a-half for grownups, too. Bonus: you can get a 'Cinder Ale' at the concession.
Musical director/composer Veda Hille sets things in motion at the keyboard with an original little ditty: "Hello/My name is Veda/I will be your orchestra tonight." She goes on to sing the best 'thank-our-sponsors-turn-off-your-cellphones-don't-take-any-pictures' message, (punctuated with a poker-faced, "Hurrah") ever heard on a Vancouver stage. Musical numbers (more than two dozen), choreographed by Tracey Power, range from We Are Family and Making It Work to Shake It Off and Nothing Compares 2 U. All over the lovely, crazy place.
Advised by Len Til (get it?) that 90% of the world is "under-panto-ed", the audience is urged to really get into it and make a lot of noise. Raise a joyful sound for those unfortunate souls who don't have a panto to go to.
It's a wild romp through the familiar story – sometimes barely recognizable but always entertaining: Ella's momma (a yoga instructor) dies; dad (works for the SPCA) marries a nasty old broad with two even nastier daughters who, once Ella is covered in the dirt after cleaning up the house (on Fraser Street) after this sloppy family, start calling her Cinder-Ella. There's a ball – and, you bet, there are many jokes about 'balls' – and a Prince (who's kinda weird and jumpy), a glass slipper (that fits but is "loose enough to fall off on the stairs") and a happily-ever-after ending. What more could you ask?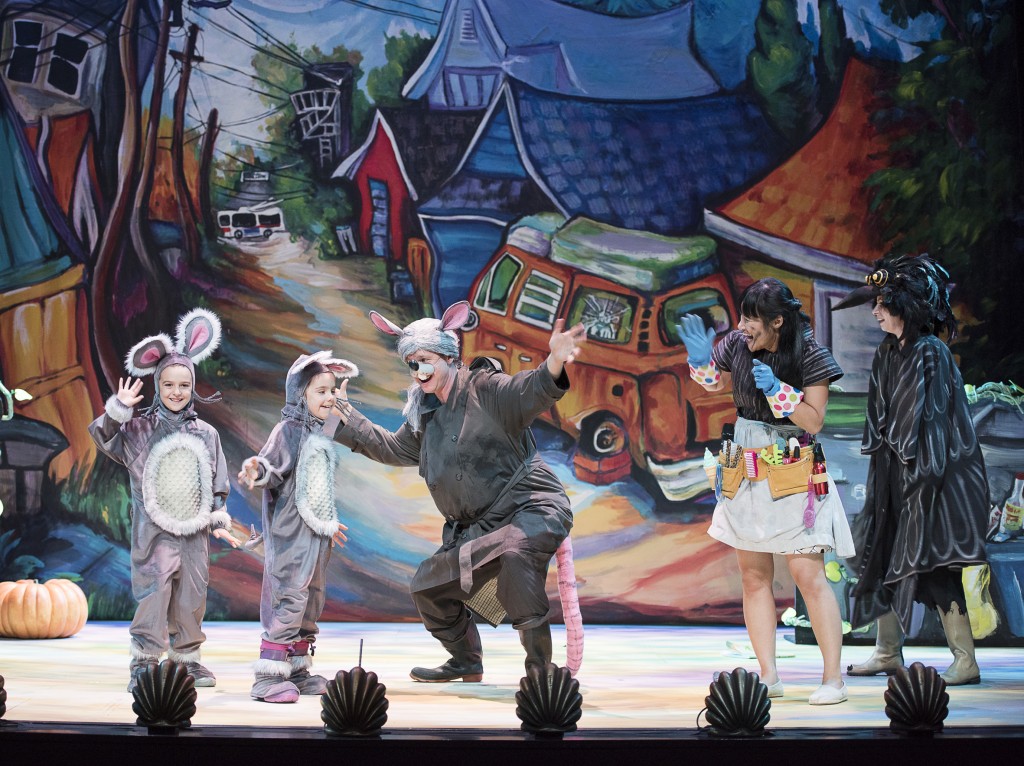 Well, you could ask for – and get – a set design by Pam Johnson with fantastic, cartoony painted backdrops by Laura Zerebeski. (The original paintings are in the lobby and I'd die to have the one that is Zerebeski's own back alley in East Van).  Or you could ask for – and get – terrific costumes by Marina Szijarto. Wait 'til you see the outfit on Cinderella's fairy godmother. Un-bloody-believable.
Amiel Gladstone directs this creative chaos on Commercial and makes a cast of eight look and sound like eighty. The incomparable Dawn Petten is everything from a beaked and squawking Crow to Prince Grumpy; James Long and Josh Drebit have seven or eight roles between them including the very, very ugly stepsisters. Allan Zinyk plays a bunch of roles including – wait for it – a naked, fig leaf-wearing David Suzuki. (I'm not making this up; it's all Charlie Demers doing.)
Donna Soares is Ella and, man, can she play the saxophone. I'll bet you didn't even know that Cinderella played the sax, did you?
Add in the two little scene-stealing toddlers (different each night) as mice and what do you have? Cinderella: An East Van Panto. Let's hear the applause. I can't hear you.
Presented by Theatre Replacement and The Cultch, this is really fun. The theatre is large and comfortable; the lobby is small so do buy your intermission goodies before the show starts. Chances aren't good that you'll reach the head of the line before the show goes back in.
There's singing and dancing: Donna Soares soars; Jamie Long is long on funny; Josh Drebit is dagnabbit silly; we'd all love to pet Dawn Petten; and Zinyk is Zinyk is Zinyk, Mr. Vancouver Funnyman. Say no more.
Oh, there is more: an ensemble, comprised of Bailey Soleil Creed, Sean Sonier (over six feet tall, hairy-legged and male) and Alexandra Wever, dance in tutus and gowns, throughout.
If you're feeling "under-panto-ed" – or even if you're not – check this Cinderella out. It's a giggle for the young, the young at heart and even the just plain grumpy. Shout it out: "Hurrah". Louder, I still can't hear you.