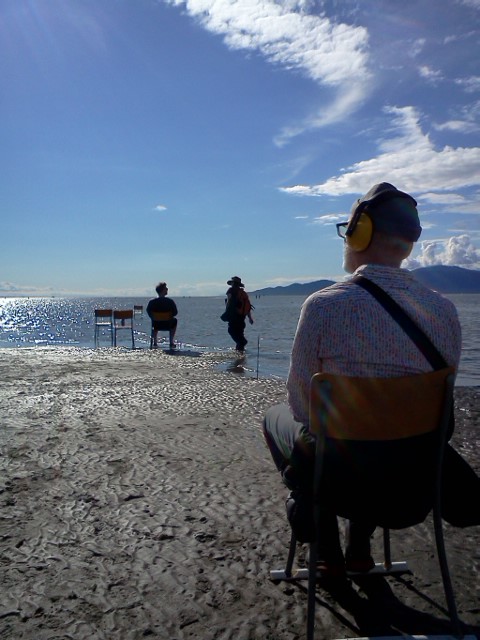 At Spanish Banks, June 21-30, at low tide
Tickets from $15 at leakyheaven.ca
Posted June 20, 2017
There is nothing I can say that won't diminish the unique experience that is Cinerama. Be intrepid. Expect and be open to anything; after all, this is the same company that brought us Revolutions, Steppenwolf and Der Wink – all of which left us somewhat bewildered but wildly intrigued and led to lengthy, animated discussion afterwards.
The first two items in Fight With a Stick's mandate says it all: 1. To create hybrid performances for a hybrid audience (audience members that are as curious about the visual arts, sound arts, film, video, and digital arts as they are about conventional theatre art). 2. To create immersive performances that encourage encounters with self and with difference. (Immersive, in the case of Cinerama, means getting wet.)
There's no story, no plot, no actors. No one – including the audience of about 20 – speaks. It's so wonderfully quiet except for some very subtle recorded sounds of the turning screws of freighters and distant trains.
Without going into any specifics, here's the arc of my Cinerama experience from start to finish:
Hmm, this is beautiful and kind of zen
Mmm: sun, sea, cumulous clouds, sound of lapping water
What's happening now?
Uh-oh, don't want my butt to get wet
So zen
Uh-oh, the tide is really coming in fast
Intrigued
Bored
Intrigued again
Relief and laughter
Conversation and speculation lasting days and days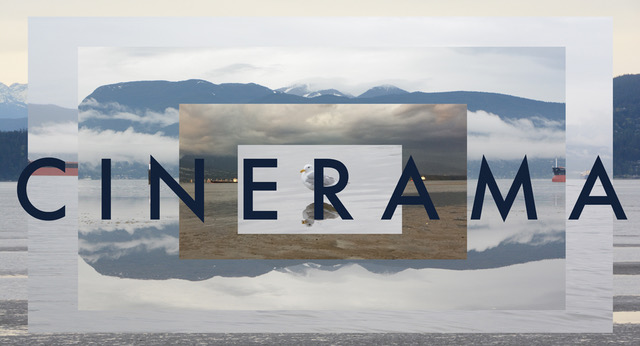 Tips: go barefoot or wear tevas. Water may go over your boots, making them kind of useless. If the weather is foul, dress warmly and wear rain gear. Better yet, pick a sunny day or evening and be prepared to space out and have your perceptions totally messed with.
The imagination and creative energy of the people behind Cinerama – Steven Hill (director) and Alex Lazaridis Ferguson (philosopher of scenography and spatial dramaturg) – is mind-blowing. All the info you need is at leakyheaven.ca. Times change every day according to the tides; some performances are mid-day.
Are you intrepid and 'hybrid' enough for Cinerama? Take a chance!