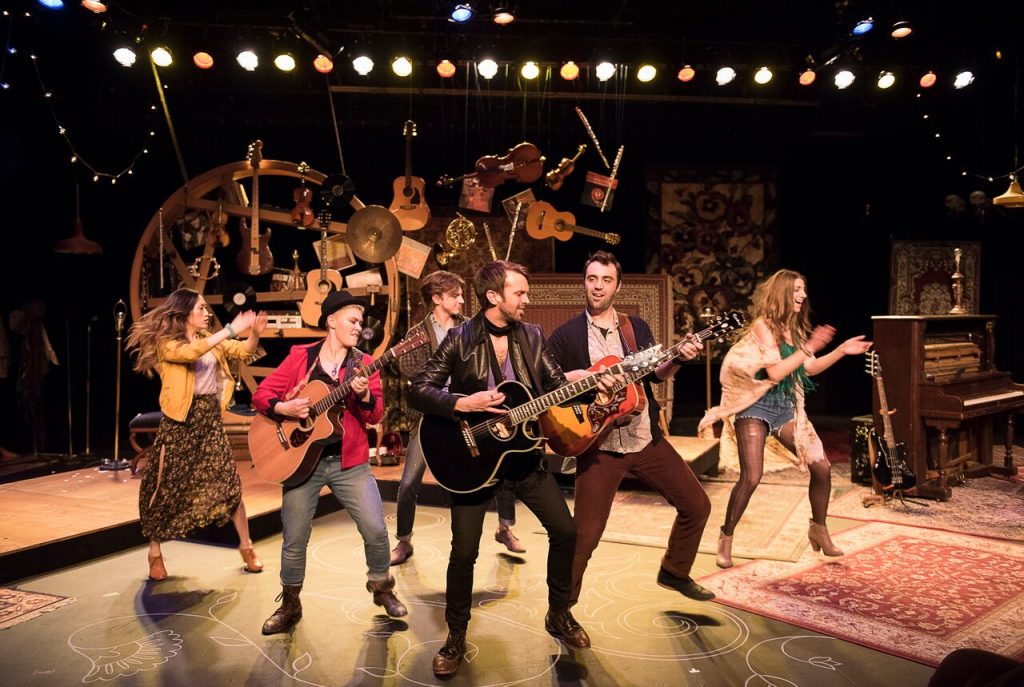 At The Firehall Arts Centre until May 20, 2017
604-689-0926/firehallartscentre.ca
Posted May 4, 2017
The set is huge, spanning the entire width of the Firehall stage and it's packed with guitars, violins, ukuleles, a trumpet, a French horn, tambourines. Two upright pianos. A keyboard. Drums. Patterned carpets, comfy upholstered furniture. Set designer Carolyn Rapanos has really gone all out.
All this lovely sprawl just barely contains the huge amount of talent that plays on that stage. All young, all multi-talented, this sextet of musicians/performers is having the time of its life – each performer moving effortlessly from instrument to instrument. Kimmy Choi, for example, plays a sweet violin as well as a mean piano and keyboards. When she teams up literally back-to-back with Rowen Kahn – piano and keyboard facing each other across a meter of space – they really have fun: both on one piano; Choi on piano/Cohen on keyboard; Choi and Kahn with one hand on the piano, the other hand on keyboard; straddling the space. It's just so playful. And it's infectious; opening night audience was high on the energy and enthusiasm.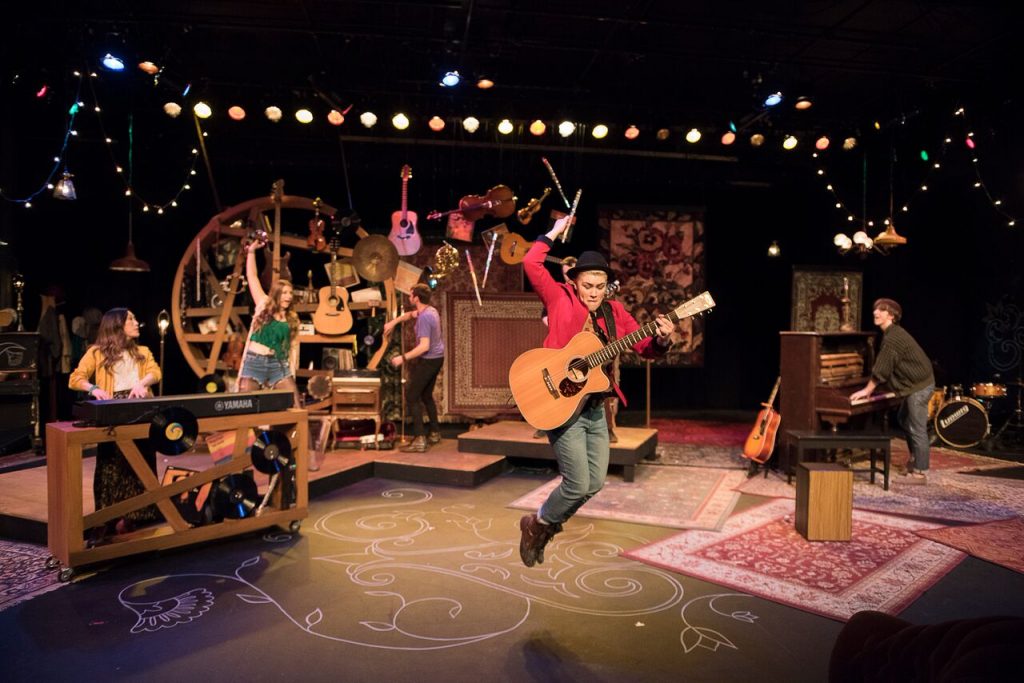 Co-created and co-directed by Andrew Cohen and Anna Kuman and produced by the Firehall Theatre Society, this world premiere of the Circle Game gives a musical nod to Mitchell's transition from 60s girlishness ("Chelsea Morning", for example) to her later more melancholy, pensive songs ("River"). It is definitely not a bio-musical; tall, leggy, long-haired Adriana Ravalli, in cutoffs, net stockings and a fringed vest, is the closest it comes to having a character on stage that is remotely like Mitchell. In Act 2, Ravalli dons the trademark big, black, floppy hat. Dynamic, punkish Sara Vickruck is definitely not intended to be Mitchell, nor is Choi. It's all about capturing the essence.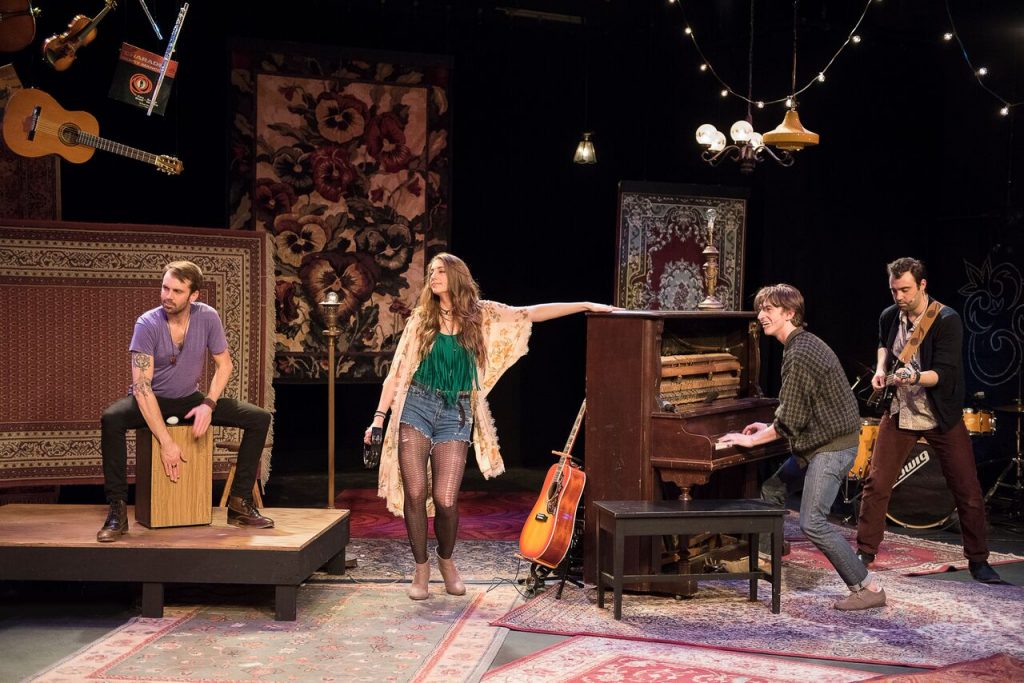 For those of us – especially women – who became adults in the 60s, Mitchell was an icon; she was a freethinking, free-living, free-loving breakaway from earlier stereotypes of women's place in the world. We definitely did not want to grow up to be our mothers.
And so, with the opening notes of "Free Man in Paris", I longed for the 'real' Joni Mitchell; I wanted so badly for it to be exactly the same as it was. But here's the quote from Mitchell that gives this super-talented bunch of musicians license: "That's one thing that's always, like, been a difference between, like, the performing arts, and being a painter . . . but you know, nobody ever, nobody ever said to Van Gogh, 'Paint a Starry Night again, man!' You know? He painted it and that was it." If I want Joni Mitchell to remain Joni Mitchell, locked in time, I'll have to go to my CDs.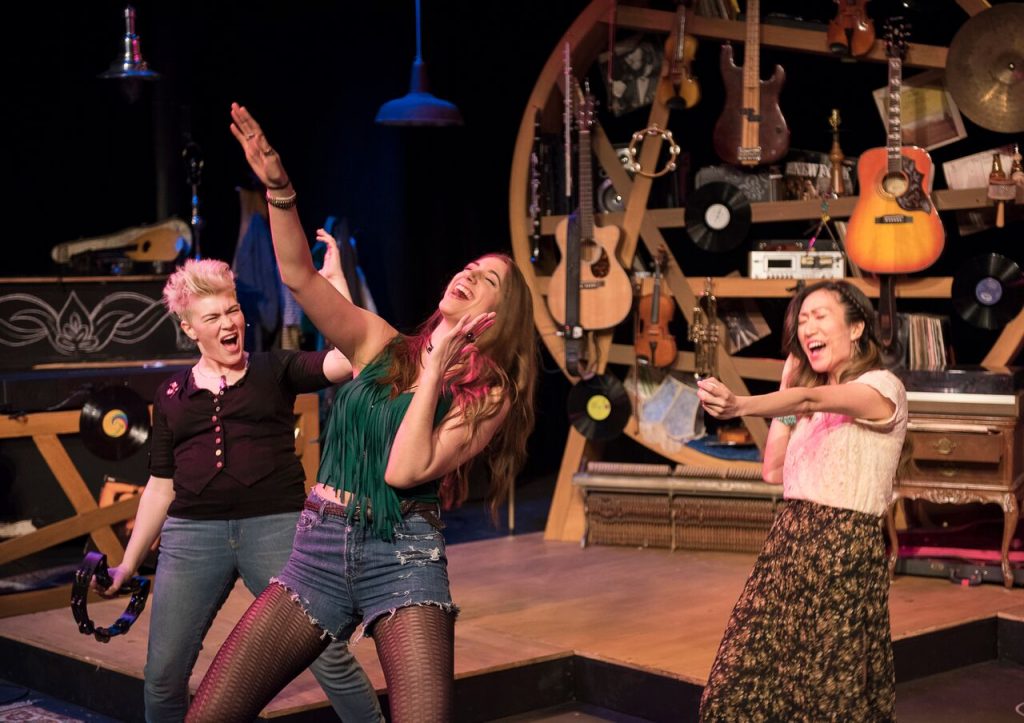 And so I had a sort of epiphany: "The seasons, they go round and round" and the wheel has turned. Adriana Ravalli, Sara Vickruck, Kimmy Choi, David Cohen, Scott Perrie and Rowan Kahn (absolutely dazzling on keyboards) have taken Mitchell's music and lyrics and made them their own. With medleys and reprises, I lost count of the number of songs they covered but it would have to be close to twenty including all the classics – "Big Yellow Taxi", "Chelsea Morning", "A Case of You" and "Both Sides Now." They jazzed the songs up; they syncopated them.
Circle Game left me nostalgic for the 60s, for the feeling it was all 'happening', that we were going to save the world. But the creators of and performers in Circle Game are, in their own right, "stardust", they are "golden" and there is tremendous delight in seeing and hearing them shake it up, grab it, sing it, dance to it and celebrate what Rolling Stone called, "one of the greatest songwriters ever". In the words of Joni Mitchell, "something's lost and something's gained" in this reimagining and, as the song goes, "we can't return we can only look/Behind from where we came/And go round and round and round/In the circle game."
AllMusic claims, "When the dust settles, Joni Mitchell may stand as the most important and influential female recording artist of the late 20th century". It's a tribute to Mitchell that these young artists can still feel the magic of her music and the power of her lyrics. It's a joyful celebration.