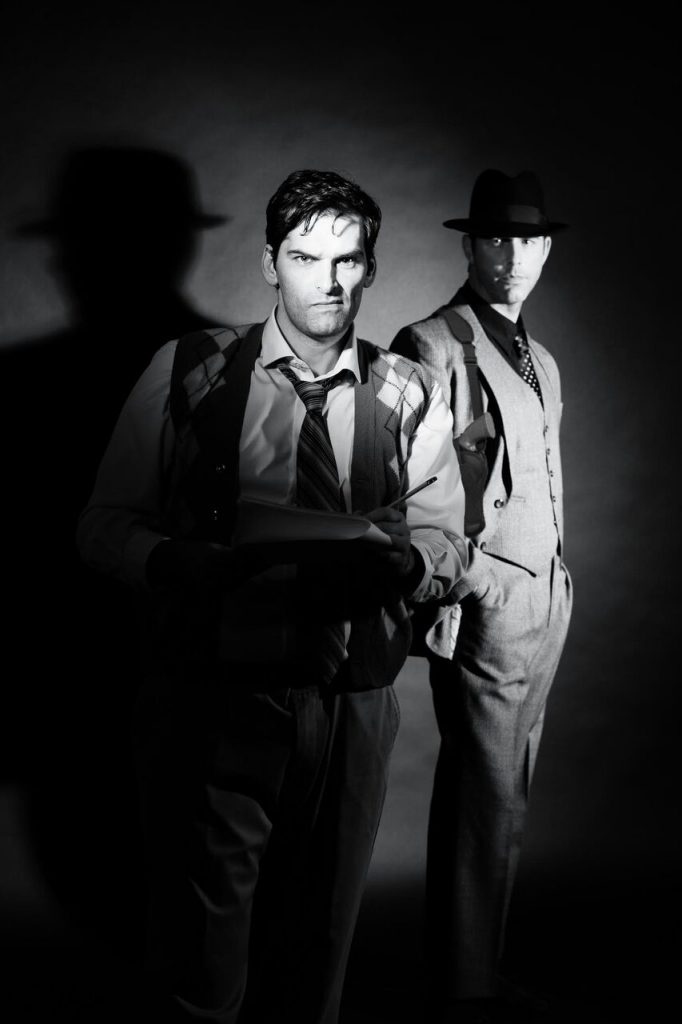 At Performance Works until July 17, 2017
brownpapertickets.com
Posted July 10, 2017
City of Angels, the musical, is so meta-theatrically clever it almost gets itself tied in knots: two simultaneous plots, a cast of more than two dozen – all but two of which are double cast, making it seem like fifty characters – a live, five-piece band, three fight choreographers, two video projection designers and enough furniture (constantly being moved around) to fill a fifteen hundred square foot apartment. And it's a whole lot of film noir fun.
This is a monumentally ambitious inaugural production for the PIT (Putting It Together) Collective – a group of local theatre artists – who launched an Indiegogo campaign to cover its production costs. Some of these performers we've seen before on various Vancouver stages or on film or TV while some are brand new faces. The driving forces behind the collective and this production are director Jennifer Copping and co-producers Christopher Shyer and Michelle Harrison. Apparently, Copping has worn an unbelievable number of hats – including playing the dual roles of Oolie and Donna – to bring the dream alive.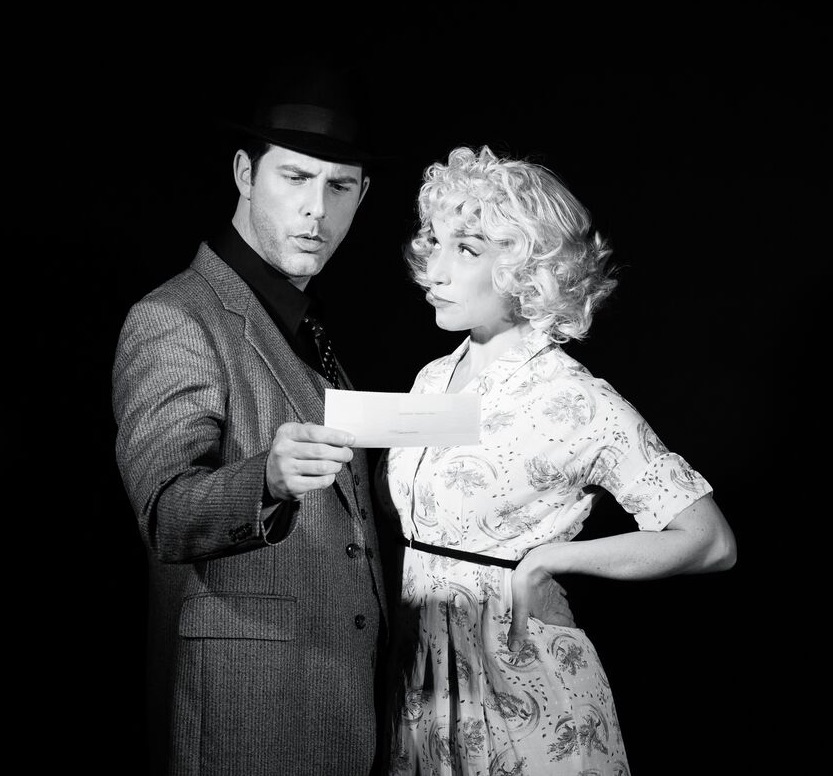 With music by Cy Coleman, lyrics by David Zippel and book by Larry Gelbart, City of Angels premiered on Broadway in 1989 and ran for almost nine hundred performances, winning a combined fourteen Tony and Drama Desk awards and mostly rave reviews.
City of Angels has two concurrent plots. In the 'Hollywood' part, novelist Stine (Donal Thoms-Cappello) gets the green light from film producer Buddy Fidler (Paul Herbert) to turn his novel City of Angels into a film. Buddy keeps demanding rewrites, continues to muck about with Stine's plot, sleeps with the ingénue and, generally, makes Stine's life miserable. The other plot – the 'movie' – is the making of the b/w; film noir sendup film in which cop-turned-private-eye Stone (Michael Lomenda) is hired by the femme fatale Alaura Kingsley (Crystal Balint) to find her missing stepdaughter Mallory Kingsley (very foxy Miranda MacDougall). While Stine labours at his typewriter over the countless rewrites, the 'movie' action we see unfolding on one end of the alley setup in Performance Works sometimes stops, even rewinds as Stine xxxxxs out a line of dialogue and makes the revision. People that get shot in the 'movie' don't always stay shot as the rewrites – at Buddy's insistence – go on endlessly.
And, eventually, the inevitable happens: a character from the film 'crosses the line' and takes over Stine's typewriter to give it a better ending.
It's damnably clever and, of course, it's full of those wonderfully inventive film noir lines like "L.A. is like a pretty girl with the clap" or "She has a body that makes Venus de Milo look all thumbs". Stone worries if he takes the missing girl case, he's setting himself up for "a blackjack facial." And you have to love Buddy's condescending comment, "Flashbacks are a thing of the past."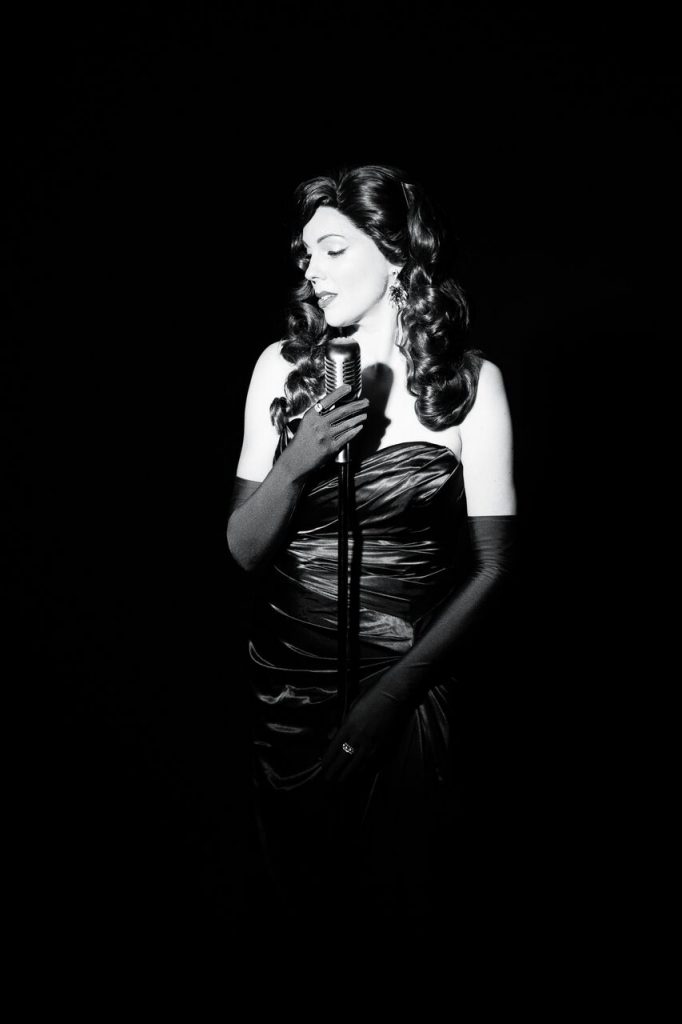 There is so much talent on this stage and so much happening, it's hard to know where to start but let's go with Caitlin Clugston who doubles as Stine's wife Gabby and Stone's ex-fiancée Bobbi. Clugston, in a strapless, body-hugging gown, knocks the ball out of the park with "With Every Breath I Take". Tim Perez is a hoot singing and Latin dancing as Lt. Munoz, Stone's former partner on the police force. Paul Herbert is Irwin S. Irving, a movie mogul in the 'movie' as well as Buddy Fidler, a movie producer in the in the 'Hollywood' cast; you can see how easy it is to get lost. Lomenda, as Stone, totally embraces the private dick style while Thoms-Cappello does a fine job of the beleaguered writer, struggling to make a buck but at the risk of losing his soul in the process.
Act 1 moves more quickly than Act 2, which bogs down a little with the Jimmy Power story coming in. And it's a full three hours long with, I've been told, some not-so-great sitelines. As well, the alley staging means the performers have their backs to one whole section of the audience half of the time.
But along the way it's a fun ride with some fab costumes (the white, off-the-shoulder dress on Alaura, for example, by Stephanie Kong), projections by Corwin Ferguson and Joel Grinke, perfectly moody, film noir-ish lighting by Darren Hales and a truckload of talent.