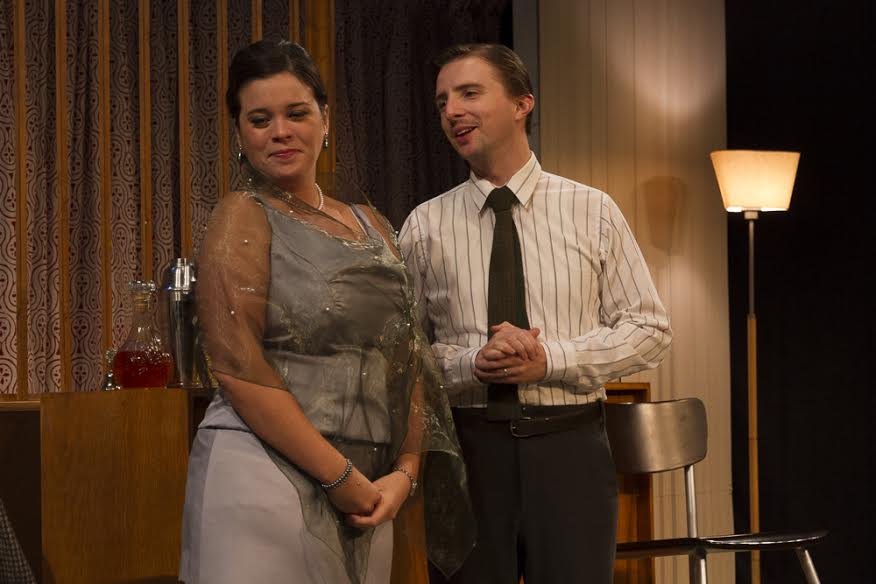 At Studio 1398 until November 30
brownpapertickets.com
Posted November 20, 2013
We've all been to parties where nothing seems to gel. Maybe, god help us, we've even given a few. In Stewart Lemoine's play, Pam has been giving them for years. Why does she do it?
Middle-class Pam wants so much to be more than middle class and throwing these once-a-month 'soirées' is one way she thinks she can climb the social ladder. But her parties have her guests climbing the walls.
Putting on the ritz, Pam hires a maid (Georgia Beaty) to serve canapés while husband Julius (Sebastien Archibald) serves drinks with tiny umbrellas in them. Her brother Leon (Brent Hirose) gets a dirty look from Pam when he greets one of the guests with a casual, "Hi ya". No one seems to know anyone. Julius, for example, assumes the guest who introduces herself as Miss Dallas (Yoshié Bancroft), is a beauty queen from The Lone Star State. There's Lily (Joanna Williams), an actress with a huge 60s-style bouffant hairdo, who's so insecure she keeps tugging at her tight orange dress. Lily brings her friend Estelle (Stefania Indelicato) who, when asked what she does, replies, "I'm a divorcé." That's a career? Max Powell (Daniel Deorksen), a doctor who seems to know nothing about medicine, is accompanied by his wife Denise (Elizabeth Kirkland), dressed to the nines in a floor length midnight blue ball gown, elbow-length white satin gloves, a tiara and a fox fur, fergawdsake.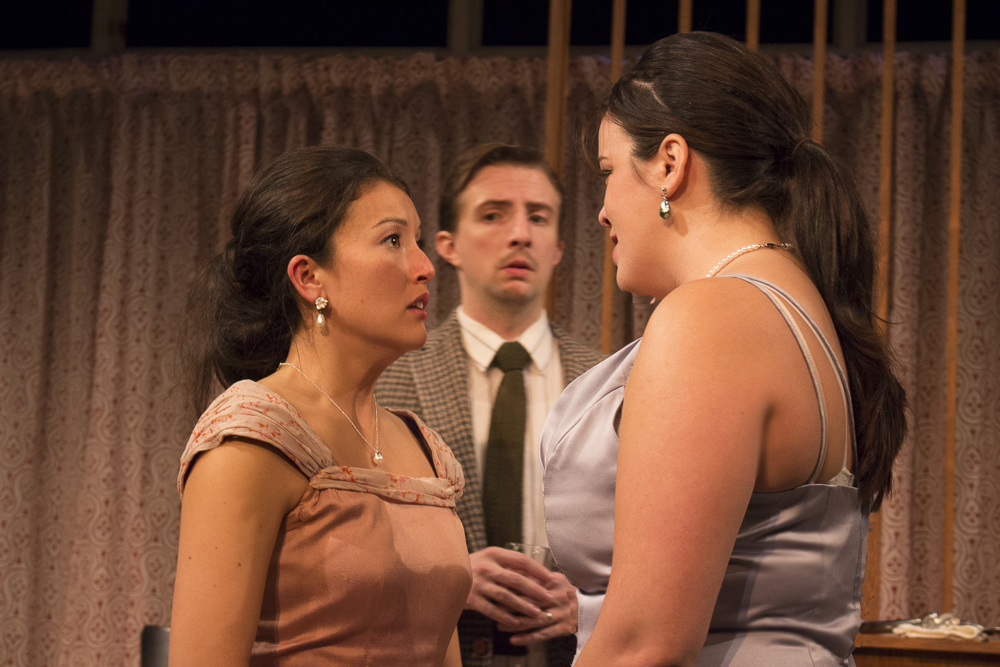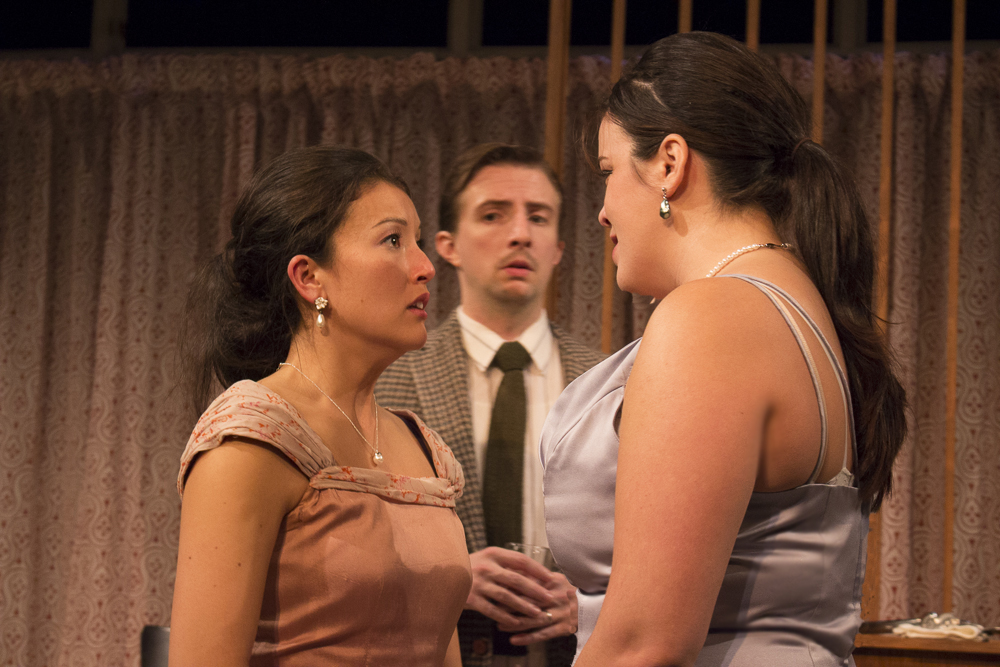 One of the guests actually is well known to the host and hostess: she's Pam's best friend Sara (Shauna Johannesen) and she brings along her husband Virgil (Anousha Alamian). Sara, totally in black right down to her fingernails, and her beret-wearing husband, look like escapees from the film industry.
At the centre of all this is, of course, Pam and Maryanne Renzetti is perfectly Pam-ish in a dove grey satiny floor length gown and pearls. She's anxious and flustery but at the same time domineering and controlling: this is going to be a good party if it kills her. And it almost does. The house is ready, the flowers are arranged, the canapés plated: it's going to be perfect. But wait 'til you see Renzetti in meltdown; she's like a one-woman, yacht club sail past with all sails billowing.
The play is packed with ridiculous situations and funny one-liners: when Virgil suggests Miss Dallas, currently appearing on stage as Cordelia in King Lear, completely alters one scene, she agrees because, as she gushes, "We've already been reviewed." At the drop of a hat, Sara and Virgil start getting it on while the others either look on, dumfounded, or don't appear to notice.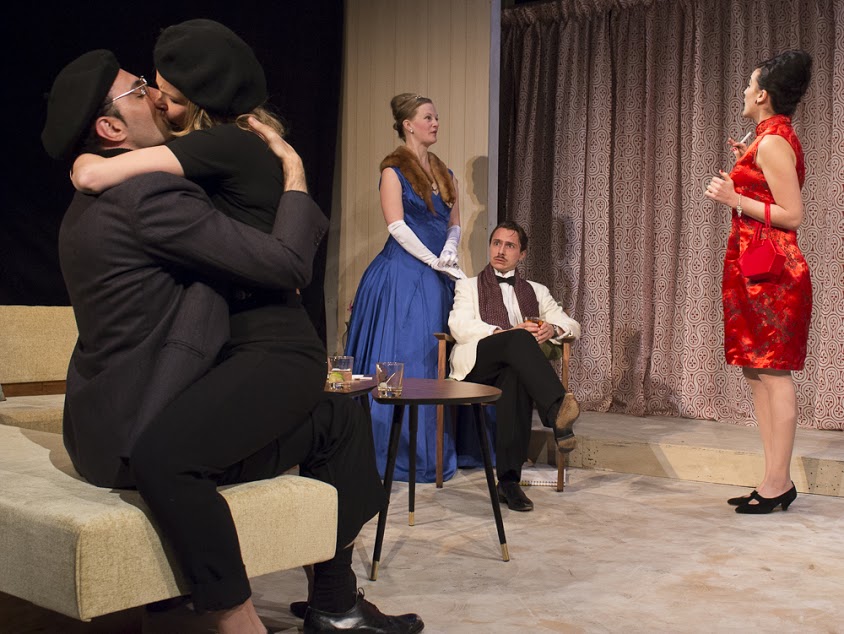 Lauchlin Johnston's  60s set, with it's little amoeba-shaped coffee tables and uncomfortable furniture, is a little tackier than I remember but perhaps I just want to forget. In my social set we were picking up antique oak dining room tables for next to nothing at The Source.
Directed by Stephen Heatley for Staircase Equity Collective, Cocktails at Pam's is all pretty silly. It's Neil Simon or Alan Ayckbourn all farced up. But to give playwright Lemoine his due, underneath the bedlam is Pam: all she wants, she says, is "stability, permanence". I hear you, Pam. With a new computer obsolete before I get it home from the Apple Store, I'd love a little stability, a little permanence. Is that too much to ask?
Not a seat left in the house the night I attended, it looks like audiences are also asking for – and getting – a good laugh.