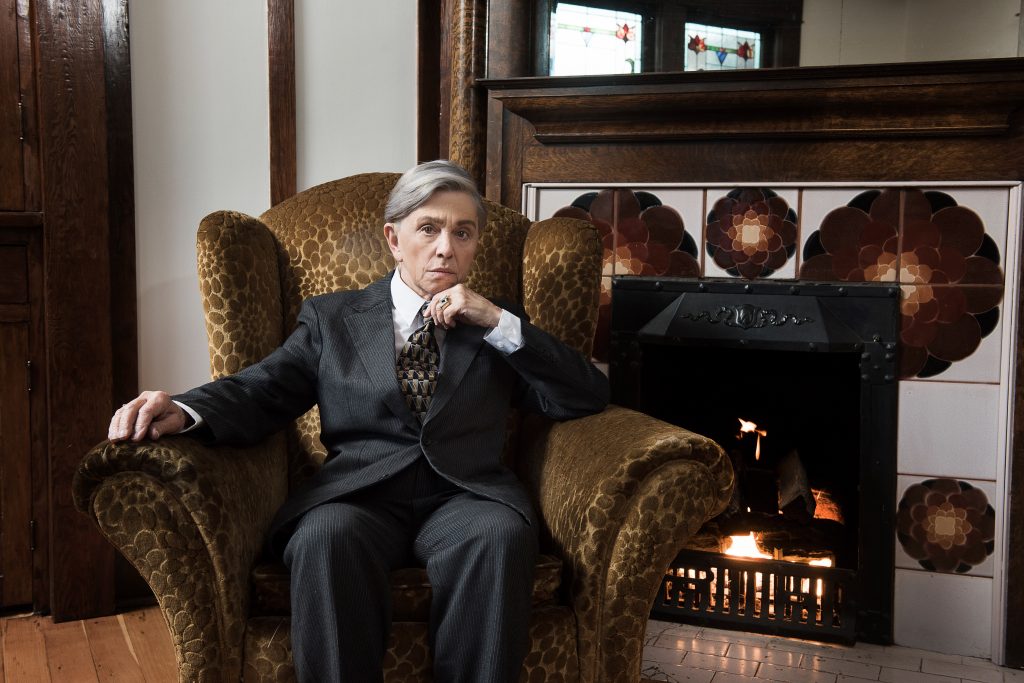 At Pacific Theatre until February 25, 2017
604-731-5518/pacifictheatre.org
Posted February 18, 2018
If you never saw Francis Ford Coppola's film The Godfather or read Mario Puzo's novel on which it is based, read the IMDb synopsis before going to Pacific Theatre to see this all-female production of David Mann's Corleone: The Shakespearean Godfather. While I was impressed by Mann's often amazingly inventive iambic pentameter throughout and the framing of novel's tale of crime, family loyalty, betrayal and murder as a Shakespearean tragedy, I was often lost as to who was who. The story is intriguing but convoluted and although efforts are made to distinguish between the characters, double casting makes it even harder to keep things straight if you don't know the story. Thankfully, Nicola Lipman is almost always Don Vito Corleone – The Godfather – and Stefania Indelicato is always Michael Corleone, Vito's son who eventually succeeds his father.
Presented by Pacific Theatre, produced by Classic Chic – who also produced the terrific all-female Glengarry Glen Ross – Corleone is impressive in so many ways. Directed by Mindy Parfitt, the staging (with set design by Heidi Wilkinson) is simple: a few chairs, a faux-tile floor and single, painted orange trees (by Omanie Elias) stage left and right. Fight direction by Josh Reynolds makes the fight scenes appear brutal and the stabbings and strangulations actual. Corina Akeson's sound design takes us from New York 40s and 50s to pastoral Sicily. And choreographer Andrea Loewen introduces us to the Corleone family right off the top with a festive wedding dance.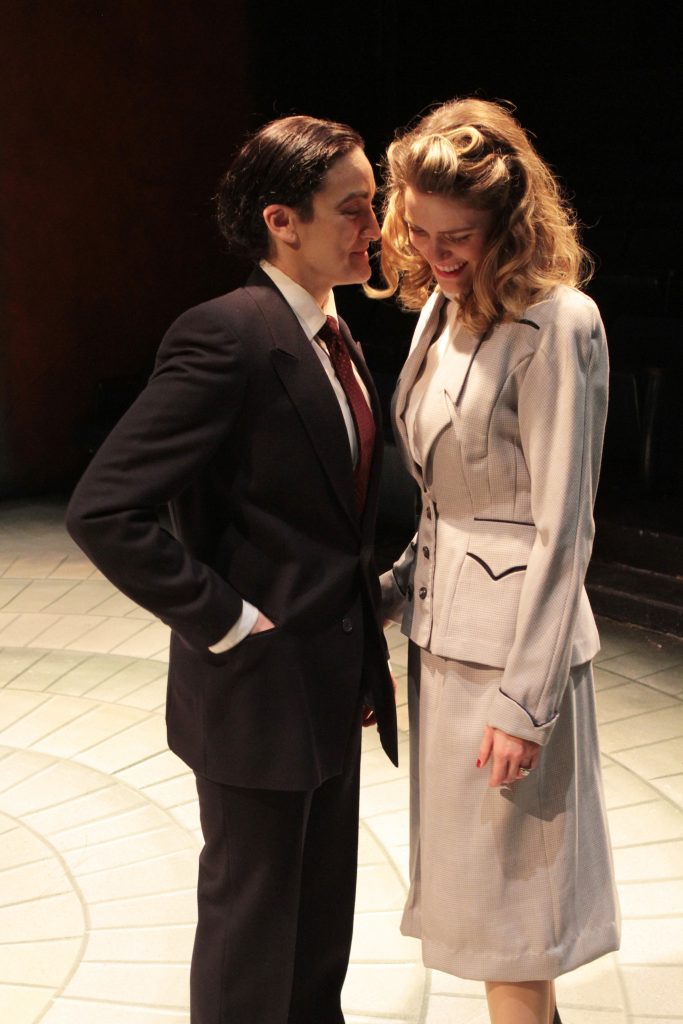 But Corleone succeeds mostly because of the excellent performances of twelve female actors playing nineteen roles, most of which are men. They are dressed as men in suits, ties, fedoras, trench coats and shiny shoes. Their hair is concealed – except when Christina Wells Campbell (as Vito's henchman Luca Brasi) briefly lets her blond curly hair down when she plays the waitress. While it is always a bit strange to see women portraying men, it soon becomes incidental.
Not having seen The Godfather, I can't compare Nicola Lipman to Marlon Brando but Lipman is fantastic as Vito in this production: small, slow-moving, deliberate and deadly. "I'll make an offer he can't refuse", Lipman delivers several times with sinister calculation and even sadness – as if Don Corleone is truly saddened to use, yet again, the threat of murder as an acceptable way of getting what he wants. And Lipman makes us understand that Vito truly wants his son Michael, a decorated war hero, to take a different path in life.
Stefania Indelicato, as Michael, begins innocently enough when Michael returns to New York with his girlfriend Kay (Kaitlin Williams) for the marriage of his sister Connie (Evelyn Chew) to Carlo (Michelle Martin). But as murder after murder occurs, Michael is drawn into the violence and Indelicato shows us her character's transition from bystander to his father's eventual successor: hard and murderous.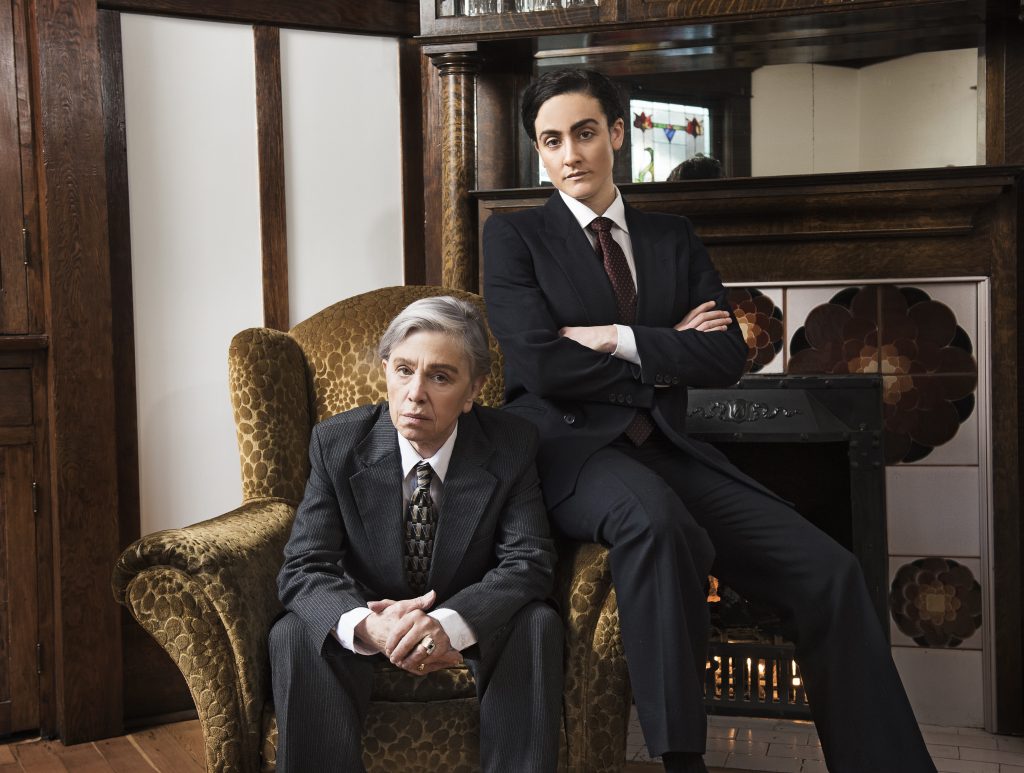 Corina Akeson's Sonny is handsome, brash and explosive while her portrayal of Johnny Fontane, the singer, is handsome, petulant and whiny. Elizabeth Kirkland as Vito's second youngest son Fredo is appropriately silly and lightweight amidst a family and an environment of violence.
Colleen Winton is especially effective as Bonasera, an aggrieved father pleading for retribution.
Mann not only creates dialogue in iambic pentameter (which, amazingly, seems normal), but he introduces a chorus (Lindsay Curl, Danielle Klaudt and Paige Louter), various soliloquys and, to some extent, a fool who massacres his well-rehearsed speech of allegiance to Vito with hilarious malapropisms.
Corleone: The Shakespearean Godfather is a clever, interesting experiment ramped up even further by the all-female casting. If you know about Corleone, his big, bad boys and you have a penchant for Shakespeare, you'll like what David Mann has done. If you have a fondness for Shakespeare and iambic pentameter but don't know about Corleone, read the synopsis and then get yourself to Pacific Theatre. Class Chic strikes again.