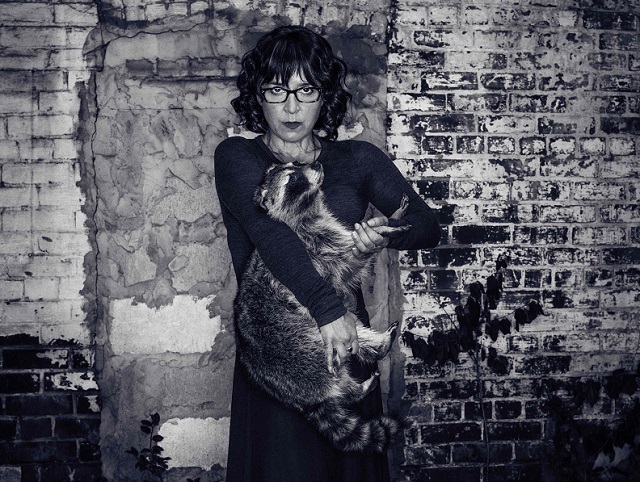 At The Fishbowl (on Granville Island) until February 18. Sold out for the rest of the run.
www.bocadellupo.com
Posted February 12, 2017
Realtors have bumped lawyers (except for her lawyer brother) into second place on the list of professionals that Toronto actor/writer Karen Hines distrusts the most. And for good reason. Hoping to buy a place with mortgage payments lower than rent, in an area similar to Vancouver's hip-ish Mount Pleasant, she bought a cute little lemon yellow "coach house" with a "crawl space" in Toronto in 2006. That little lemon yellow coach house turned out to be a big fat lemon.
Coach house: an outbuilding in which a carriage is or was kept. Crawl space: an area of limited height under a floor or roof, giving access to wiring and plumbing.
What Hines actually bought was a renovated garage, part of which – she discovered – was built on the neighbour's property. The gyprock on the kitchen walls didn't meet the floor. Parts of the house that look like wood turned out to be plastic. And then there was something dead in the crawl space that had no door, no widow, no access. The space was later found to be as little as eight to fifteen inches high. She fantasized "a skinny baby. Strap a camera on its head. Send it crawling in on a reconnaissance". The dead-thing stink, under a hot Toronto sun, was intensifying.
No one would buy it from her now – not even Danny, her realtor. He had been aware of all the flaws in the reno before she bought it because he was associated with the previous owner.
If this doesn't sound funny, it is and it isn't. Hines made her name years ago as Poschy at the Vancouver Fringe Festival; she returned as Poschy in Poschy's Lips. That's when I fell hard for her and her style of dark humour. As a bouffon, Hines oh-so-sweetly delivers blistering commentary on our consumer culture. She's never whiny, petulant or belligerent; her voice is well modulated, her diction impeccable. The writing is witty and intelligent and the performance is terrific. Hines, dressed in a classy grey/black striped, body-hugging dress, wears funky, probably expensive shoes and black stockings. Her hair is perfect, the lipstick on her perfect rosebud mouth is perfect. She makes no bones about coming from a financially comfortable family or that she has family and friends to help her through this disaster. But it worries her that many – especially millennials – do not. Decent housing is almost impossible to come by at a price most people can afford. Our 'for profit' culture is seriously screwing us.
Appropriately, Crawlspace is in The Fishbowl, a tiny venue on Cartwright Street on Granville Island. Maximum: twenty-four "owners and/or renters" ranked around two sides of the room on wooden chairs and benches. Hines sits at a desk when she's not walking around making eye contact with everyone. It is intimate. It feels like a conversation. When she talks of rats or black mold, she looks right at you. She knows your fears. She's pitch-black funny.
Presented by Boca Del Lupo Theatre as part of its Micro Performance Series, Crawlspace is sold out. That's disappointing for Vancouver theatregoers but probably a good thing for Hines. Finally free of that cute little lemon yellow house, she will be, according to CIBC, paying off debts – incurred preparing the place for re-sale – for the next seventy-two years!