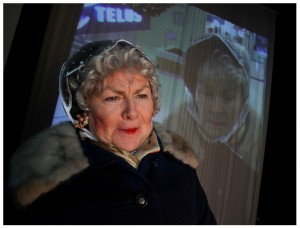 At the Firehall Arts Centre until February 17
604-689-0926/firehallartscentre.ca
Posted on February 8, 2013
"Jesus, Joseph and Mary", as Marg Delahunty would exclaim, Mary Walsh is the funniest woman from sea to sea to shining sea. Springy grey curly wig tucked under her trademark plastic kerchief, Marg is just one of Walsh's much-loved personas going back to the early days of This Hour Has Twenty-Two Minutes, a show Walsh created with Rick Mercer, Cathy Jones and Greg Thomey in 1992. Before that, she performed nationally and internationally with CODCO.
Still poking serious fun at everything that deserves to be poked, Walsh (a big-hair redhead) is a born and bred Newfoundlander but she's in our town for her one-woman show presented by the Firehall Arts Centre and Touchstone Theatre. "Cereal City" she calls Vancouver because it's full of "flakes, fruits and nuts".
Dressed in Marg's winter coat with its furry collar, Walsh starts off by talking about the weather the way all right-thinking Canadians begin a conversation. February, she says, is the "Kim Jong-il" of the calendar year and Christmas is "Our Lord's revenge for the Crucifixion".
It's a take-no-prisoners show and once she swings into her Marg, Warrior Princess and crotch-adjusting, hairy-chested, taxi driving Dakey Dunn roles, there's just no stopping her – not that we'd want to.
Young Margaret Delahunty was, according to one of the Sisters in her Catholic elementary school, "a bold and saucy girl". Well, Margaret (and/or Walsh – the lines are definitely blurred) is all grown up and she's now "an opinionated old bag" with lots of pithy, funny things to say. When Walsh sheds one set of clothes and stands there in black, body-squishing Spanx corset and bra, she confesses – with a wicked sparkle in her eye – neither she nor the nun could possibly have imagined she'd end up in her underwear in front of a crowd of strangers. She figures she could fit Cynthia Dale, Wendy Mesley and Sheila MCarthy all in her generous belly. And, oh, what she does with hockey tape – "fashion's friend" – would astonish Roberto Luongo.
Dancing With Rage is not standup comedy in the style of This Hour. And it's more than sketch comedy. Walsh strings a couple of narratives through the evening to keep it glued. One is the story of The Little Girl Who Lived Next Door To Her Family – which she reads from a big children's book, and the other interwoven story is of Delahunty who, like Walsh, has macular degeneration. In this narrative, Delahunty reveals she gave birth to a baby and gave it up for adoption when she was sixteen. Determined to lay eyes on the child before she goes blind, she sets out on a quest to find that lost baby. There are moments when she fears the child might have grown up to become Prime Minister Harper. "Gentle German Jesus", she says, horrified, if that turns out to be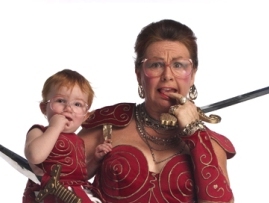 the truth.
Harper fans be warned: Delahunty/Walsh has no love for our Prime Minister. In full Margaret, Princess Warrior regalia – short red, gold-encrusted Roman warrior tunic and plastic sword from Toys R Us – she goes for our leader's jugular: "I'd like to stuff his eyeballs up his ass so he can see how big an arsehole he is" – or something very near to this. Conservatives: you've been warned.
Walsh is generous and fearless. With a big, hearty laugh, she appears to amaze and surprise herself with what she gets away with. She's a loud, bold and warm-hearted broad that says, grinning, what have I got to lose? You feel you're around a kitchen table with her; you imagine cod cheeks and screech, fiddles and spoons. There would definitely be revelry if Mary, Holy Mother of Comedy was in attendance.
No tickets were available as this review was posted but there are a few for the February 19 show in Victoria.