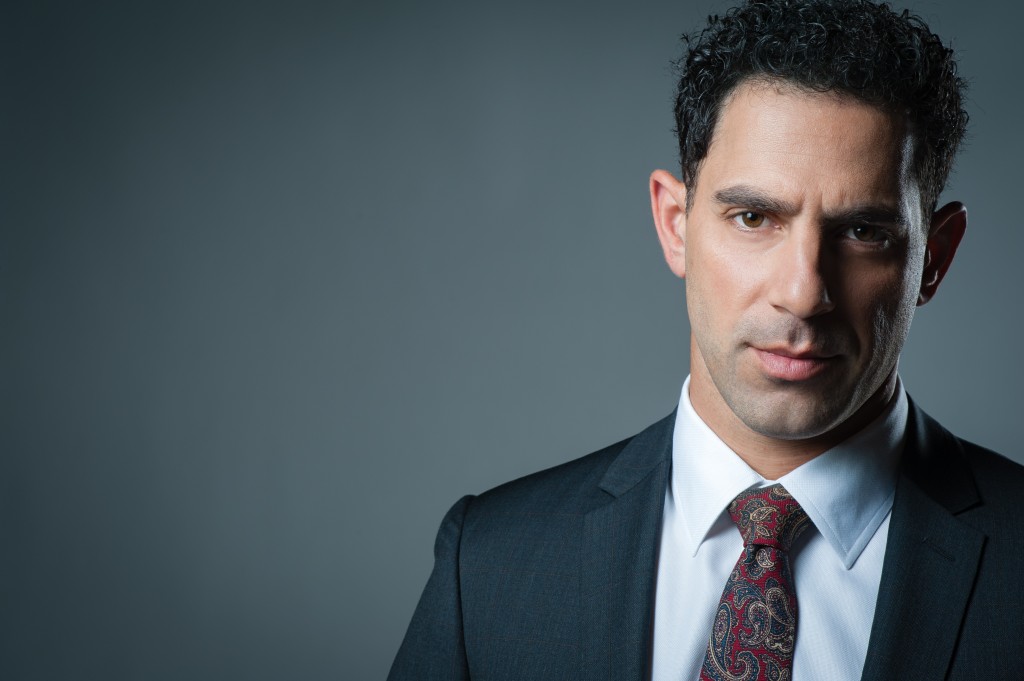 At The Stanley until October 18, 2019
604-687-1644/artsclub.com
Posted September 25, 2015
You can really sink your teeth into this 2013 Pulitzer prize-winning play written by American playwright Ayad Akhtar, directed for the Arts Club by Janet Wright.
Set in a New York Upper East Side apartment in 2011-2012, it features one of those disastrous dinner parties – the kind that, like a train wreck, are perversely interesting to watch but not much fun to be a part of. By the time these guests get around to sitting     down to their anchovy and fennel salad, they've already been and tearing shreds off each other. It will take more than a hopeful, "Bon appetit", to salvage this party.
Pork tenderloin is an interesting choice of entrées considering the party includes a Jew and a Muslim. Well, Isaac (Robert Moloney), an influential Jewish museum/art gallery curator, confesses to loving pork; and host Amir (Patrick Sabongui), a brilliant Muslim lawyer married to beautiful gentile artist Emily (Kyra Zagorsky), is an apostate. Still, fish might have been a safer choice.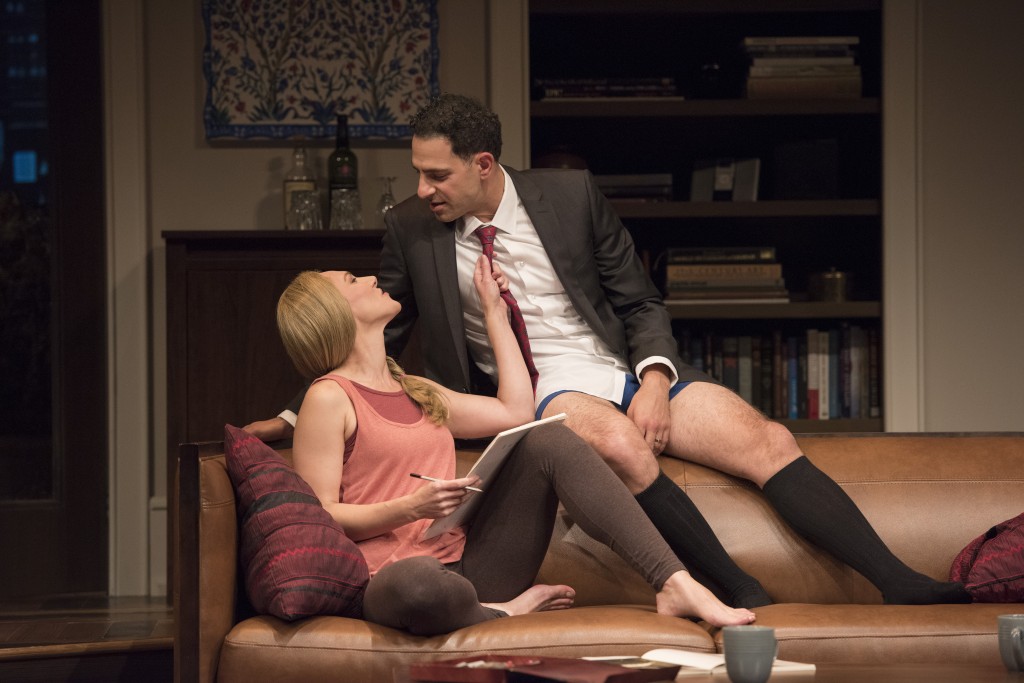 Over pre-dinner drinks, the conversation about traditional Islamic art (Emily's passion and inspiration), the Quran and the rise of terrorism – remember, this is post 9/11 – has come to the boiling point. Neither Emily nor Jory (Marci T. House), Isaac's African-American litigator wife – are able to put a lid on the heated debate between Isaac and Amir before moving to the table.
Into the mix, but not the dinner party, is Hussein (Conor Wylie), Amir's idealistic, teenaged nephew who has changed his name to Abe to avoid being seen as a Muslim. Safer to be a Jew in New York than a Muslim. He is, however, a practicing Muslim and he tries to persuade Amir to give legal advice to an old imam who is being held in prison on suspicion of aiding terrorists.
Meaty and provocative, Disgraced is a play for theatre goers who love the parry and thrust of scrappy, intelligent discussion about art, religion, cultural assimilation and the enduring and often surprising power of one's history – in this case, tribal roots. Not only are we horrified to hear that Amir felt proud following the destruction of the Twin Towers, he appears to be as shocked as we are at his admission. His Americanization is only skin deep.
In spite of the weighty subject, the playwright infuses Disgraced with humour albeit of the ironic variety. Marci T. House, as Jory, is the major source as she tosses out acid remarks throughout. Simmering with sarcasm, Jory remind Amir that, as a black American woman, she has experienced racial profiling all her life, not merely since September 2011.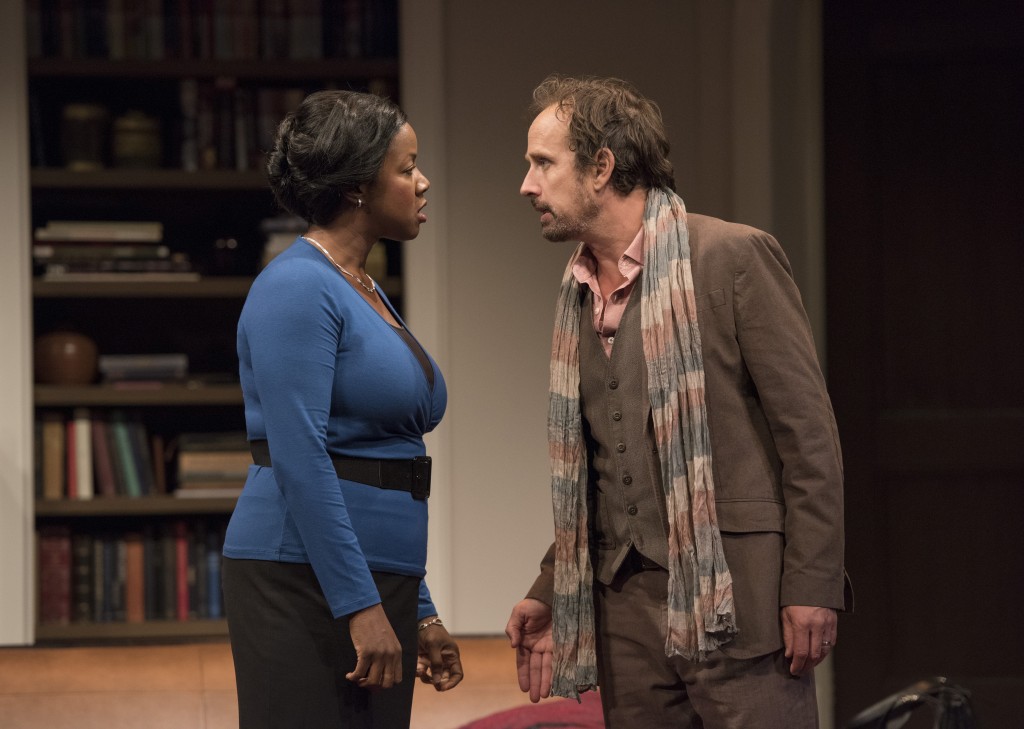 Kyra Zagorsky makes a beautiful, blonde trophy wife for Amir but one who only slowly understands the consequences of her naivety.
Conor Wylie's Hussein/Abe is fresh, eager and confused; the character, of course, has no understanding of the position Amir will put himself in should he intervene in the imam's defence and subsequently risk being viewed as a Hamas sympathizer.
Robert Moloney makes a Woody Allen-ish Isaac and a worthy antagonist to Patrick Sabongui's Amir. Indeed, it looks at one point as if Isaac and Amir will come to blows.
But at the heart of Disgraced is Sabongui, as handsome, successful Amir. With all the outward signs of success – a fancy (but in this production, not quite fancy enough) apartment, a collection of $600 shirts, lots of money, prestige in the firm and a beautiful wife, Amir – at a deep, psychological level – is aware of the compromises he has made to get to where he is: "Hide your religion if you have to", is his advice to Abe/Hussein. Sabongui captures all of Amir's certainty and confusion, self-aggrandizement and self-loathing and, eventually, his utter emptiness.
Intelligent and engrossing, Disgraced is a full-course meal and a terrific season opener for the Arts Club. I'm still chewing it over.