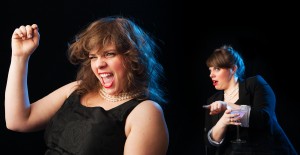 At CBC Studio 700
No more performances
Posted May 25, 2013
If the future really is going to be friendly, maybe Telus or some other big corporation would like to step up to the plate to take Dissolve on the road to every highschool in the country. Created and performed by Meghan Gardiner a decade ago as a solo show in theatre school, Dissolve has toured the continent from New York to Haida Gwaii but the problem – date rape – has not gone away. It needs to be in the schools as well as in the theatres. Every teenaged girl and boy – straight or gay – needs to know what this play is about.
Dissolve is not really about date rape; date rape suggests, at the very least, consent to go on a date and what happens after that – well, stuff happens is the way the courts often see it. This solo show, performed by Emmelia Gordon and directed by Renée Iaci for Shameless Hussy Productions, is all about "drug facilitated sexual assault". Flunitrazepam, also known as narcozep, rohipnol and roofies. And gamma-Hydroxybutyric acid or GHB, G, liquid ecstasy, liquid X, scoop, goop or, simply, G. Colorless, tasteless, odorless, these drugs can easily be slipped into drinks of unsuspecting victims – guys, gays as well as girls. What follows is drowsiness, slurred speech, lowering of inhibitions, increased sensitivity to touch and short term memory loss. It looks like drunkenness but what it can lead to is waking up to discover you've been sexually assaulted and you don't remember who did it. If reported – and it generally isn't, due to the confusion, shame and humiliation – these cases seldom even make it into the courts because there is so little hope of conviction. No memory: no case.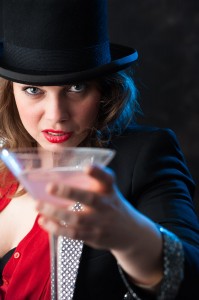 Heavy? The subject is heavy but the presentation is, for the most part, anything but. And it's all done on a bare stage, no props, all mimed. Gordon plays all the characters beginning with a teenaged girl getting ready to go out. Spraying her hair, deciding what to wear, pulling on tights – all the while innocently grooving to some sexually explicit rap music that includes lines like, "She says she likes to take it from behind". Nice.
Cut to the bouncer in the club she's going to go to. He could tell you in a glance who's going to get lucky, who's going to wake up raped. The bartender, pushing "triples", saying, "This chick was wasted." Back to our girl putting on foundation, blush, and mascara.
An ad for rohipnol: "In half an hour she's as good as unconscious". An ad for GHB: "You won't remember a thing." And back to our girl.
That's the format and it works like a damn. Back and forth. The woman in the apartment next door. The doctor. Her best friend who says, "Sometimes 'no' doesn't mean 'no.' It just makes it more exciting." Oh yeah.
Gordon makes these transitions so smoothly while making the characters so distinct and obvious. We see the Pharmacology and the Criminology profs, the two girls in the club who see it all go down: "Look what she's wearing" and "She's a ho."
Gordon makes us like her character because with each choice this teenager makes – this outfit or that, this hairstyle or the other – we recognize vulnerability. With the minutiae of getting ready – the mascara, foundation, gloss – we see her need for approval. And with the stuffing of her purse before setting off, we know all she wants is to have fun. We've all been there.
If you're worried about graphic sexual assault – we don't see it. But we know it happens.
Testimony from a real victim goes like this: "I'd rather have had both of my legs cut off. People would have felt sorry for me." It's never going to be "all better."
C'mon Telus. Make the future friendly. Or, here's the 2012 Top Five by revenue in BC:  after Telus Corp. there's Teck Resources Limited, Jim Pattison Group, Best Buy Canada Ltd. and Finning International Inc. Surely there are deep enough pockets there to put a simple but important solo show into schools where it can keep our children and grandchildren safe.