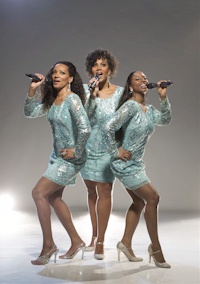 At The Stanley until July 7
604-687-1644/artsclub.com
Posted on May 18, 2013
Just how glitzy is this show? Wear your sunglasses, folks. There's so much silver lamé on the Stanley stage you could apply your makeup in the reflection. Buy stocks in Fabricana or wherever costume designer Sheila White buys this stuff because its shares are probably going up, up, up. And how many marabou storks are flying around sub-Saharan Africa absolutely naked. (I know, I know, they don't give up those feathers willingly. Let's hope at least some poor-folk had a chance to eat those baby-delivering birds.)
Director Bill Millerd goes really big with Dreamgirls, a 1980s musical (books and lyrics by Tom Eyen, music by Henry Krieger) based on the 60s Motown scene. Dreamgirls is a very thinly disguised story about the rise of Diana Ross and The Supremes with some dramatic license taken with the truth.
But out-shining all that glitter is Aurianna Angelique as Effie Melody White, a character based on Florence Ballard, one of the original Supremes. In the real story, outspoken, hard-to-work-with Florence was replaced by Diana Ross and she later turned to drugs and alcohol, dying young at thirty-two. In Dreamgirls, Effie makes a comeback and it all ends happily. A musical with a miserable ending? Not happening.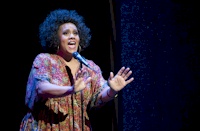 Back to Aurianna Angelique: she's got fantastic pipes. She doesn't just sing "And I Am Telling You I'm Not Going", she sculpts the song, she carves it, and she massages every note to the breaking point. It's a show-stopping, end of Act 1 bringer-down-of-roofs. And she does it again in Act 2 with "One Night Only". It's worth the price of a ticket just to see and hear Angelique deliver that song.
Interestingly, in Motown history "One Night Only", written for Florence Ballard by her songwriter brother, was illegally 'covered' by the Supremes and lawyers were brought in to stop the group performing it. In Dreamgirls, The Dreams also have to cease and desist and it becomes the comeback song for Effie. A pity Florence Ballard's life didn't turn out the same way.
Everyone in this show pulls his/her weight in the singing and dancing department. Beautiful Karen Holness is Deena Jones (the Diana Ross character); Starr Domingue is feisty Lorrell Robinson who has a longstanding affair with Jimmy Thunder (a wild and crazy turn by Hector Johnson); and Crystal Balint is Michelle Morris who comes late into the trio, replacing Effie when the trio's manager ousts her.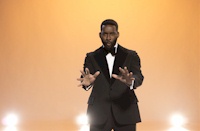 Daren Herbert is handsome and sexy as The Dreams' manager Curtis Taylor Jr. Herbert's a charmer and when, as Curtis, he turns those big brown eyes on Deena and sings "You Are My Dream", we almost hope she throws herself into his arms. What woman wouldn't? Deena, however is smarter than that.
Valerie Easton choreographs all that oh-so-familiar 'girl-group' physical movement – the hands, the feet, the arched back, the choo-choo train arms – but it's the big numbers like "Steppin' To The Bad Side" where Easton really goes to town backed up by Ken Cormier and his 6-piece orchestra. Once the entire ensemble (seventeen in all) gets going, The Stanley really rocks.
Not to be outdone by all that shimmer and glitz is Ted Roberts' set with panels that rotate and lots of lights that reflect off metallic surfaces. It's fun to see the backs of The Dreams as they perform for an unseen audience, to hear the thunderous applause and then have them turn and suddenly we're with them 'backstage'.
Dreamgirls is schmaltzy, big on glitter, long on sentiment but, heck, it's well done. And it's an interesting look back on a musical era. By the time The Supremes broke up and Diana Ross launched a solo career, that musical style had run its course.
The Arts Club will do well with this show. Audiences are loving it; houses are selling out. It may not attract a huge 'younger' audience but it will – and will deserve to – pull in the boomers who will remember well the group that went from backup ("ooh-ooh-ooh-ooh") to becoming huge recording stars.