At the Arts Club Granville Island Stage until March 15
604-687-1644/artsclub.com
Posted February 21, 2014
Is it my imagination or has Nicola Lipman been portraying quirky little old ladies since the beginning of time? It's not a complaint – she's wonderful at it: shuffling walk, shrunken posture, quavering voice. No one delivers such perfectly timed, snarky lines like Lipman. She's cornered the market on old crows. When Blackbird Theatre needed an old crone for their production of Hecuba, when Dean Paul Gibson needed a furtive, frightened spinster for Black Comedy, when Robert Rose went looking for a cantankerous eighty-something for Another Home Invasion or David Mackay needed a cranky old housemaid in Boeing-Boeing, they all turned to Lipman and she frequently stole the show with a caustic line here and a dismissive sniff there. When Arts Club artistic managing director Bill Millerd decided to produce Driving Miss Daisy, I imagine Lipman was a shoo-in.
So it comes as a shock when Lipman takes her bows: she's a small, sparky thing with a great big grin on her. Hardly a little old lady with battery acid in her veins. She just pops like a sprinter out of the wings when Driving Miss Daisy reaches the end of the road.
Written by Alfred Uhry, the play premiered off-Broadway in1987 with Dana Ivey as Miss Daisy and Morgan Freeman as Hoke Coleburn. The following year it won the Pulitzer Prize for Drama and was adapted by Uhry in 1989 for film, starring Jessica Tandy and Morgan Freeman.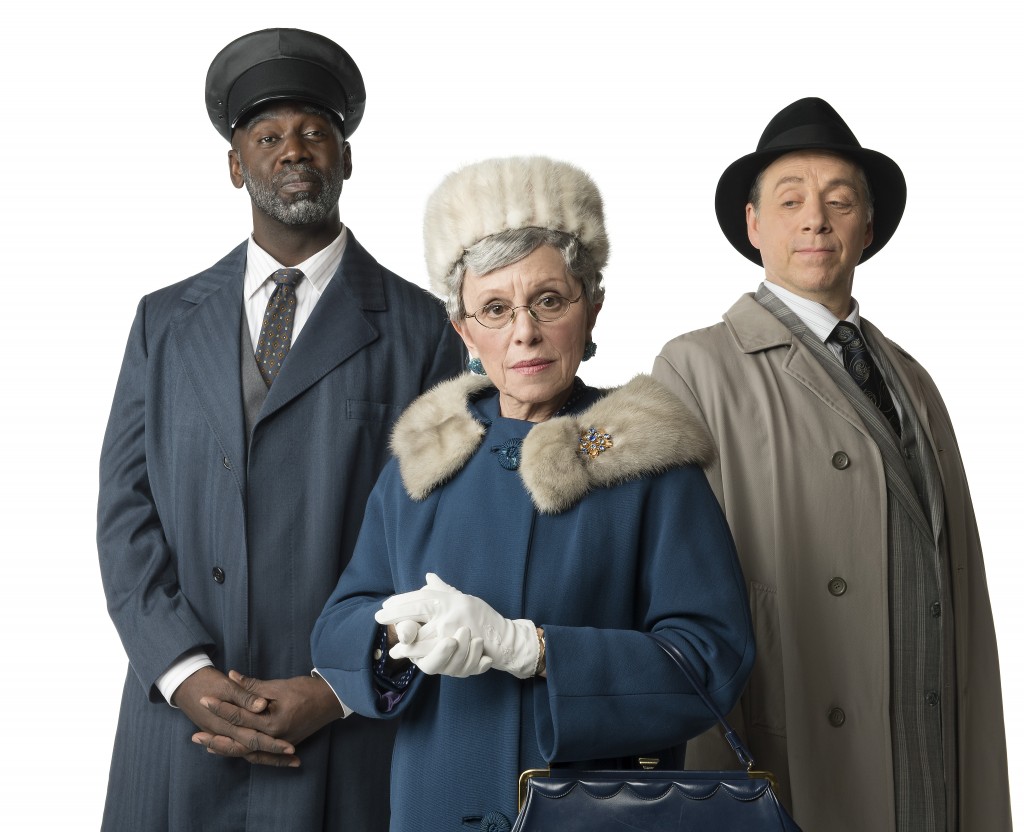 At the beginning of the play, Mrs. Daisy Werthan (Miss Daisy), a white, well-off, 72-year-old Jewish widow in Atlanta, Georgia has just wrecked her three-week-old Packard, taking out the tool shed and the garage at the same time. Her son, Boolie (Brian Linds) tells her she can't drive anymore, that he's going to buy her a new car and hire a chauffeur and that's that. Miss Daisy's having none of it; she doesn't want a stranger in her house and she'll darn well walk or take the bus to the Piggly Wiggly. She has been, as she says, "brought up to do for myself."
Undeterred, Boolie hires Hoke Coleburn (John Campbell), an African-American who had been driving a local judge around until he died. Miss Daisy is outraged and, at first, is downright rude to Hoke.
The writing is on this particular wall from the start. It's only a matter of time before Miss Daisy swallows her pride and comes to depend on Hoke completely.
This is a modest production with Ted Roberts' simple one-set design: the suggestion of Daisy's well-appointed living room stage right and Boolie's office stage left. The driving scenes are accomplished with the arrangement of several wooden chairs with Hoke in the front 'seat' and Miss Daisy in 'the back' – from which point she admonishes him for driving the speed limit when everyone knows you save gas when you drive below it. And don't park in the sun, Hoke, it "ruins the upholstery".
With precedents set by Jessica Tandy and Morgan Freeman, it's tempting to follow their example. It's a tough call: in attempting to catch the flavor of Atlanta, Georgia in the 40s, Hoke is kind of a stereotype now: kindly, soulful, respectful, tolerate and wise. We've seen this character before. Campbell's velvety drawl is often hard to understand; it may be authentic to the time and the character, but that doesn't make it easy for us.
Under the direction of Mario Crudo, this production is a simple, charming piece; the moments are small, the plot uncomplicated. We watch Miss Daisy age from seventy-two to ninety-seven over the course of a couple of hours. Lipman and Campbell both  do that seamlessly. With the exception of Lipman's performance, however, it's a bit like driving across the prairies. Where's the conflict, where's the drama? Driving Miss Daisy is heartwarming, and old age and the consequent dependency is the trip we are all on but as theatre, it all seems a bit smaller than life.