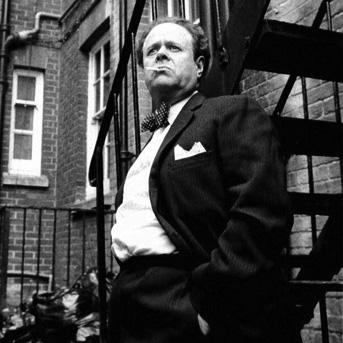 At The Cultch until December 21, 2014
604-251-1363/thecultch.com
Posted December 11, 2014
Christmas has come early for Dylan Thomas aficionados: if you love the Welsh bard – who did not think of himself as the Welsh bard because he was a confirmed anti-nationalist – go to The Cultch before December 21 and swim in that sea of Dylan Thomas's bubbling, tumbling, cup-runneth-overing of words, words, words. It's pure bliss.
Welsh actor/artist/writer Bob Kingdom reprises the role he created in 1985 with the assistance of Sir Anthony Hopkins – the Sir Anthony Hopkins – who happened to see Kingdom perform the first incarnation of this solo show in a Chelsea pub. Impressed by what he saw, Hopkins offered to help Kingdom tighten up the script and direct the performance. With the encouragement of UK-based Richard Jordan of Richard Jordan Productions Ltd., Kingdom took the show on the road. This year is the centenary of Thomas's birth; Kingdom and The Cultch celebrate it with a farewell tour of Dylan Thomas: Return Journey.
This is not so much a performance as it is an inhabiting of Dylan Thomas: the hair, the jowls, the voice (ah, that voice), the polka-dot bowtie and the 'plimsoles'- runners, that is. If you've ever heard the 1952 recording of Dylan Thomas reading "A Child's Christmas In Wales" you'll appreciate how fully Bob Kingdom has perfected the monotone delivery, which, nevertheless, is richly sonorous and utterly mesmeric. According to Richard Jordan (who was at The Cultch on opening night), Thomas's family helped Kingdom – who never actually met Thomas – with the tics and rather eccentric performance style.
Not only did Kingdom never meet Thomas who died in 1953 at the age of thirty-nine but Kingdom must be seventy or close to it.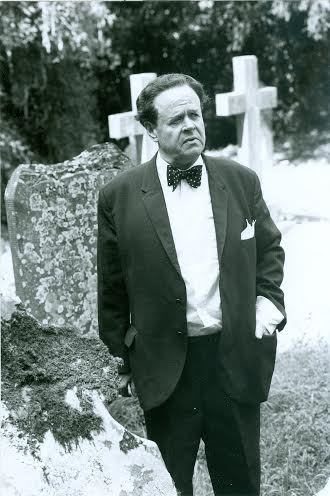 Described by critics as a lyrical tour-de-force, Dylan Thomas: Return Journey is framed as a lecture/poetry reading on one of many that Thomas delivered in the USA – possibly his last. He's not kind to his American audience, addressing them as "culture vultures", but then he wasn't kind to himself either when he describes himself as having a body like an "unmade bed" and looking like an "excommunicated cherub." With those apple cheeks, it's apt. As for T.S. Eliot, Kingdom/Thomas remarks that his name almost spells 'toilet' backwards.
A tribute to meticulous and exhaustive research, Kingdom uses only Dylan Thomas's words gleaned from lectures, interviews, short stories, radio broadcasts, letters, etcetera. So perfectly does Kingdom slip into the skin of Thomas it's hard not to say that "Thomas" regales us with tales of "his" boyhood. Amazingly, we do feel in the presence of the poet; we do believe that we are hearing Thomas describing a boyhood pub crawl in the 'charabanc' (bus) with a bunch of old geezers, one of whom sniffs, "Boys is nasty" and another of whom wants the charabanc to turn back because he has left his teeth at home. "I might want to smile," says he. "Not you," replies another. The old boys exit the pubs having changed to the colours of "beetroot, rhubarb and puce."
And then, of course, there are the poems, including: And Death Shall Have No Dominion (written at the age of nineteen); Fern Hill with its extraordinary blend of childhood exuberance ("happy as the grass was green") and melancholy ("Time held me green and dying/Though I sang in my chains like the sea"); Lament; Do Not Go Gentle Into That Good Night (written for his father); and A Child's Christmas in Wales.
Kingdom avoids talking about the binges for which Thomas was famous; it is, after all, the poetry for which Thomas is truly celebrated.
Dylan Thomas: Return Journey is a wry, gentle, melancholy evening – a homage to a Welshman who – by choice – spoke no Welsh (only "English, BBC Third Program and pub"). What one critic refers to as Thomas's "womb/tomb" perspective on life makes his work not only sublime but also profoundly universal.