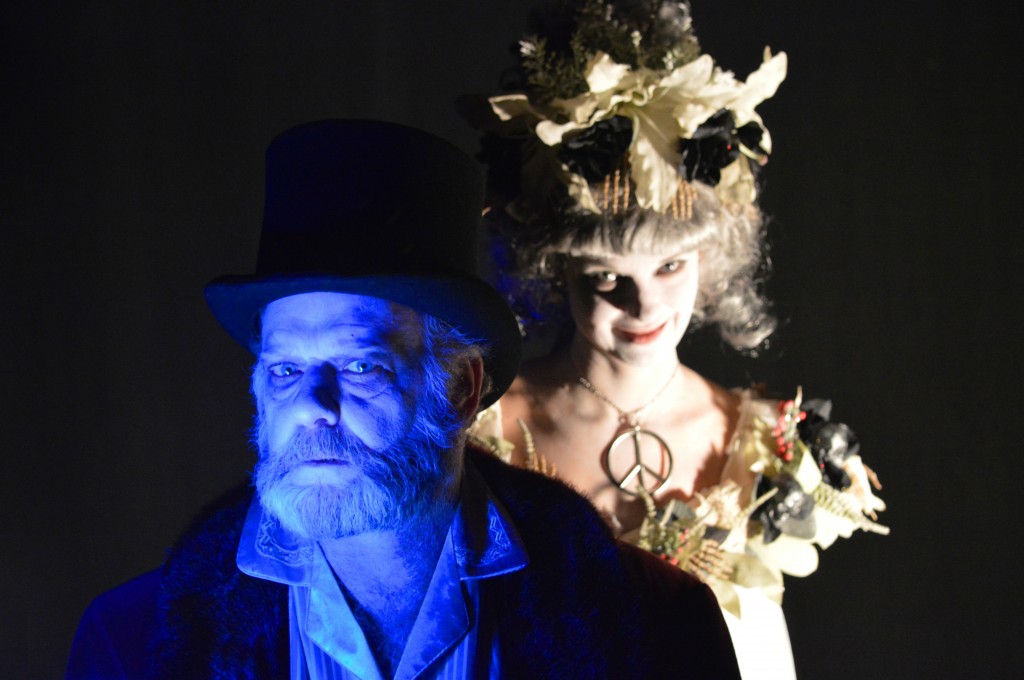 At the Jericho Arts Centre until January 2, 2016
604-684-2787/ticketstonight.ca
Posted December 12, 2015
Told from the point of view of The Ghost of Christmas Past (Thomas Jones), The Ghost of Christmas Present (Melissa Morris) and The Ghost of Christmas Yet to Come (Mike Stack), Ebenezer: A Christmas Ghost Story is a riff on Dickens' classic. More like characters in a nightmare than in a dream, the spirits are, they tell us, "Your unsettling storytellers."
The story has always been gloomy with all that Dickensian detail: overworked Bob Cratchit scratching out a meager living in the bone-chilling office of skinflint Ebenezer Scrooge; Cratchit's young son Tiny Tim, tubercular from cold and malnutrition as well as crippled; full prisons; full workhouses. We imagine the mean streets of cold, grey, fog-bound London.
But adapted from Dickens by David Newham (director) and created by Daniel Deorksen (musical director) and Newham for Seven Tyrants Theatre, Ebenezer: A Christmas Ghost Story is downright macabre. In whiteface with white hair piled high and ringletted or wild and sticking out in all directions, the spirits' faces show Frankenstein-like stitch marks or painted tears. More like zombies than ghosts, they're dressed in outrageous punk/Goth-style costumes by Ines Ortner. Her detailed costumes and beautifully crafted headdresses are works of art and would make a great lobby exhibit for the Jericho Arts Centre after the show closes.
The story begins to unfold after a lengthy monologue by the ghost of Jacob Marley (Simon Webb), dressed like an old 60s hippie with outlandishly grey/white hair, headband, long beard and wearing black leather flared pants and waistcoat. It's a terrific costume but it's awkwardly out of time and place. As Scrooge's former business partner, Marley would likely be dressed in the style of Ebenezer, but obviously from out of the grave.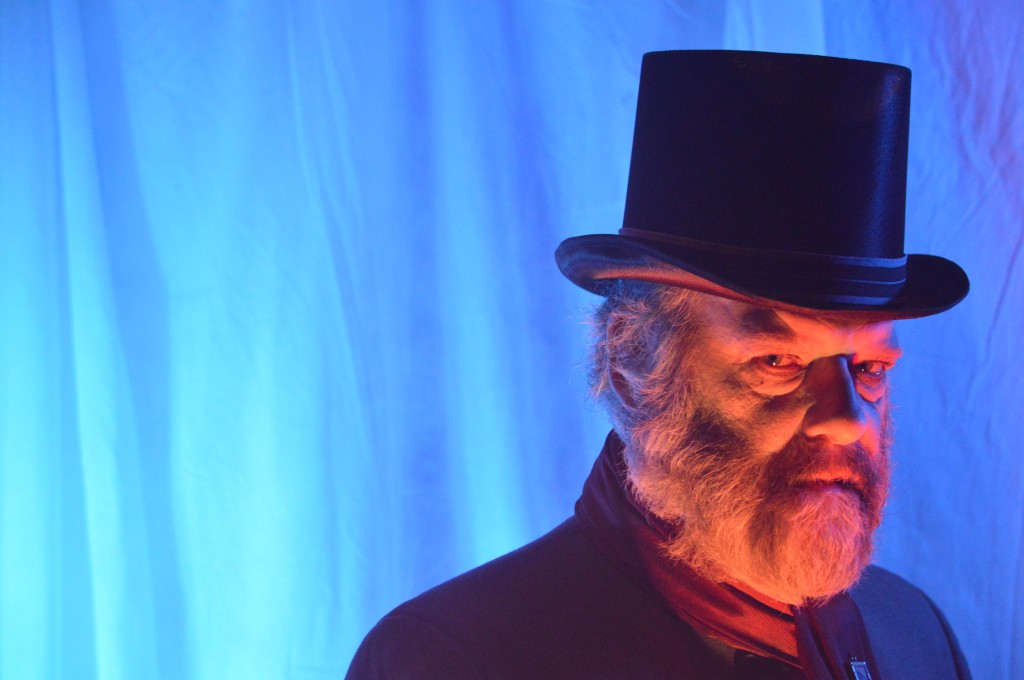 Seven Tyrants Theatre is big on style (Mozart & Salieri, The Beggar's Opera) and this show takes style to another level. Director Newham also designed the minimal set and the very dramatic lighting, including background colours that change faster than you can say Susan Currie, the hard-working, definitely up-to-the-challenge stage manager in the booth.
Original score and seven songs, more Brechtian than Broadway, are by Deorksen. All the performers sing and pick up instruments including violin (Masae Day), piano (Day, Morris and Martha Ansfield-Scrase), guitar (Wheeler and Jones) and clarinet (Stack). While some of the songs are nicely integrated, others feel arbitrary. "A Merry Fezziwig Christmas", for example, while a terrific opportunity for musicians and choreographers Marlise McCormick and Anna Kuman to stage a frenzied celebration led by Fezziwig with the whole ensemble in half-masks, that particular part of the story is fairly insignificant and the scene does little to move the narrative along.
Arguably the most frequently cast actor in town (and deservedly so), Andrew Wheeler is Ebenezer, first appearing in black top hat, sunglasses and a striped, ivory-on-white leisure suit. An extraordinarily versatile actor who has portrayed roles as various as Stephen Harper in PROUD, brutal CEO Carlyle in The Competition Is Fierce and would-be MP in The Best Laid Plans, Wheeler 'flies' through the air in silk pjs and fur-trimmed robe to revisit the past where Ebenezer sees his sister Fannie (Masae Day) and his abandoned fiancée Belle (Martha Ansfield-Scrase); to observe the present, the Fezziwigs and his nephew Freddie; and to glimpse the future, guided by The Ghost of Christmas Yet to Come.
Ebenezer's glee at discovering it's Christmas Day is joyful; Wheeler throws himself across Ebenezer's bed like a giddy kid who got everything on his Christmas list and, as the story goes, Scrooge buys the biggest turkey in town for the Cratchit family.
Some of the dialogue comes straight from Dickens; much is new but the story remains the same: redemption with a little prodding from some extraterrestrials just in time for Christmas. God bless us – every one.