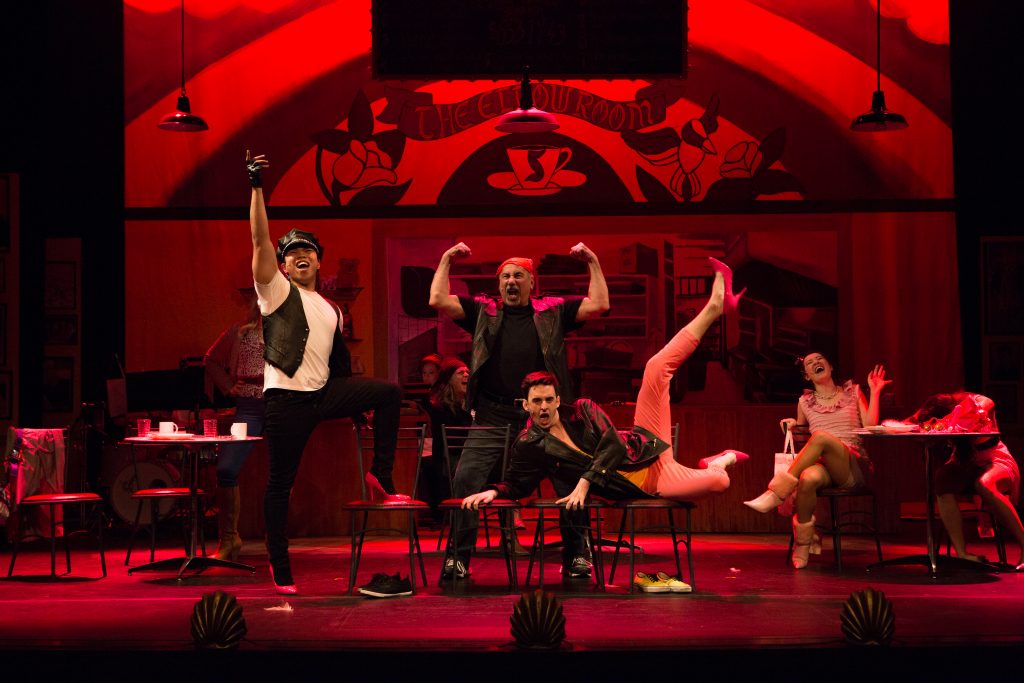 At the York Theatre until March 12, 2017
604-251-1363/thecultch.com
Posted March 4, 2017
I laughed so hard during Elbow Room Café: The Musical, I had to take my glasses off to wipe away the tears that were running down my cheeks. It's loud and it's proud and it's very very Gay. Don't even consider taking your kids or grandkids to Elbow Room Café: The Musical. At the actual Elbow Room Café down on Davie Street, the breakfasts, I hear, are great but it isn't the place for kids, either. While I don't imagine there's "deep fried c-nt" on the menu, there's deep fried c-nt mentioned in the show. You don't really want to have to explain this menu item to a five-year-old, now do you?
Owned and operated by Bryan Searle and Patrick Savoie (partners in business and in life), the café's claim to fame is, in the proprietors' words, "We abuse our patrons in a funny way. We are not your typical cafe, it helps if you have a sense of humor. The language is xxx, if you get easily offended you probably would not fit." If the place is busy, the waiter will tell you to "get your own coffee." If there's a lineup to get in and you're dawdling over your after-Eggs Bennie breakfast, you might be told to get a move on. Maybe your attire will be criticized. Thick skin is de rigueur.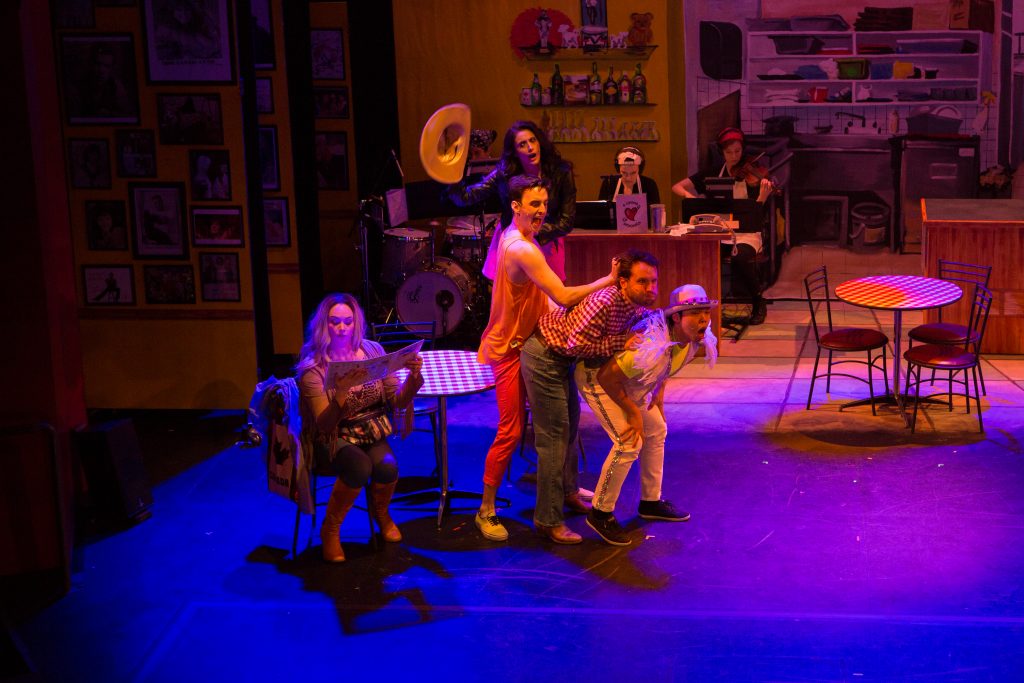 So what a great place to inspire a hilarious musical. And that's exactly where ZeeZee Theatre's Cameron Mackenzie and Dave Deveau – also partners in business and partners in life – came up with the idea.
Directed by Mackenzie, with book and lyrics by Deveau and music and lyrics by Anton Lipovetsky, this is a naughty, naughty show. At least four storylines are running together: Patrick/Patrice (wonderful, wonderful Allan Zinyk) wants Bryan (chocolate-voiced, teddy bear David M. Adams) to get married but Bryan thinks marriage is a dusty old tradition and refuses. They scrap and exchange insults regularly. But they love each other.
Second storyline: Jackie (Christine Quintana), a regular at the Elbow Room Café, and Jill (Olivia Hutt) broke up 253 days ago but they're still not over it. When they get together for coffee at the café, they end up fighting. But they love each.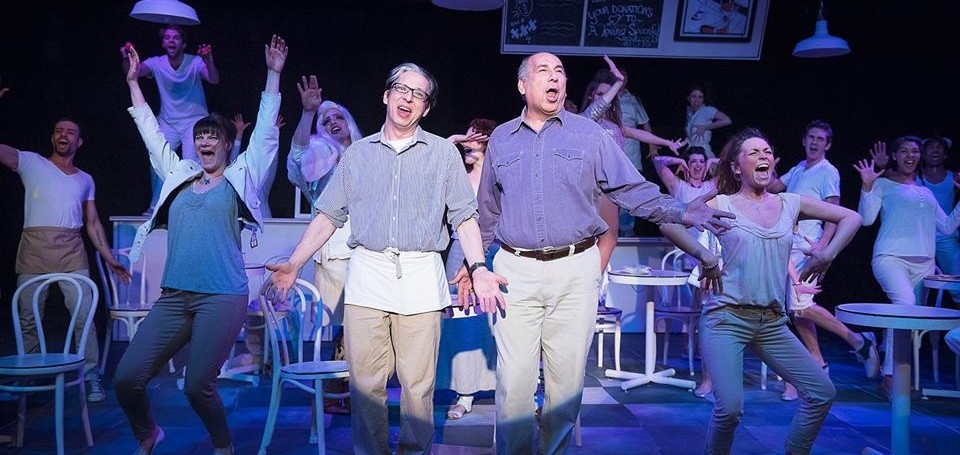 Imminently-about-to-be-married Amanda (Synthia Yusuf) drops in to the café after a bachelorette bacchanalia with Maid-of-Honour Beth (Stephanie Wong) and gayguy friend Stephen (Nathan Kay). Amanda is sprawling-all-over-the-place drunk. She does not love the groom-to-be and definitely does not want to get married.
Overarching all these parallel romances is that of Tabby (Emma Slipp) and Timothy (Steven Greenfield), a hayseed couple on holiday from Tennessee who inadvertently stumble into the café on their way to Stanley Park. He's uptight, she's not. She's really, really not and when Slipp let's 'er rip, you know it's been ripped. Tight jeans, cowboy boots and attitude as big as, I dunno, a heifer's behind? she takes the show and wraps it around her pinkie until it hollers. You just have to see her to believe it.
Justin Lapeña is Chiffon in the fantasy sequences and Nelson, the café's short order cook, the rest of the time. He does a very hot semi-strip number that got the audience woo-hooing on opening night.
The Elbow Room Café is bumpy in places but it's got so much heart in so many ways that it's easy to overlook the rough patches. When Quintana and Hutt sing together, the harmonies are heavenly and the interaction between Jackie and Jill so fragile and tender it made my guest misty-eyed. The relationship between Patrick and Bryan tells us it's alright to fight and scrap and still love each other. That's how love works. And then there's Slipp who brings the house down with Let A Girl Eat. Oh, yeah.
There are some outrageously campy harem costumes by Marina Szijarto who also did the set design; lighting by Kyla Gardiner. And a lively little onstage band in waitress outfits: Sally Zori, Clare Wyatt and Molly MacKinnon.
Lipovetsky's seventeen songs crackle with witty lyrics that come so thick and fast, you don't want to miss a word.
Elbow Room Cafe: The Musical is simply the most joyful, loving, funny show to hit the York Stage. It celebrates love in all its variety. It's honest: love is hard work, packed with the good, the bad and the ugly.
If your spirits need raising and you're liberal-minded, grab a ticket while you can still get one. I might want to see this one every night.