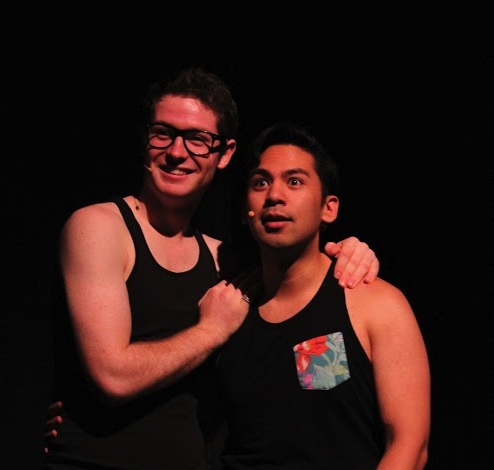 At the Jericho Arts Centre until May 14, 2016
604-224-8007/ticketstonight.ca
Posted April 24, 2016
A locally produced world premiere of a new musical is good reason to celebrate. Facing East, the stage play, written by fourth-generation Mormon, American playwright Carol Lynn Pearson, opened off-Broadway in 2008 after a not surprisingly sold-out run in Salt Lake City, home of the headquarters of The Church of Jesus Christ of the Latter-Day Saints (LDS).
Serendipity then occurred: Fighting Chance Productions' (FCP) artistic director Ryan Mooney randomly bumped into Nathan Gardner on Twitter and what ensued was a three-year online collaboration between FCP, Gardner, Mark-Eugene Garcia (book and lyrics) and David Rigano (composition). The result was Facing East, the musical. Following workshops and staged readings in the USA, the first full production by FCP and Nathan Gardner (in association with Sean Bryan, Deborah Barrigan and Danny Brooke) officially opens on April 28 on the Jericho Arts Centre stage.
I attended the first preview – reviewed only with the permission of the director, Ryan Mooney – on the understanding that the purpose of previews is to work out the glitches. And there were a few: off the top of the show, the orchestra comprising Clare Wyatt (piano), Alex Hauka (cello), Jamison Ko (percussion) and Adrian Sowa (guitar) was boomingly loud and left the singers struggling to be heard. And once in a while, when there were two actors in a scene, one found himself/herself standing in the dark. Insignificant glitches, easily remedied before opening night.
In the musical, Alex and Ruth McCormick (Francis Boyle and Mandana Namazi), an upstanding Mormon couple, are grieving at the graveside of their son Andrew (Jesse Alvarez). Not invited to the funeral was Marcus (Matt Montgomery), Andrew's lover. Marcus does, however, turn up when everyone but Alex and Ruth have left the cemetery and there's a confrontation.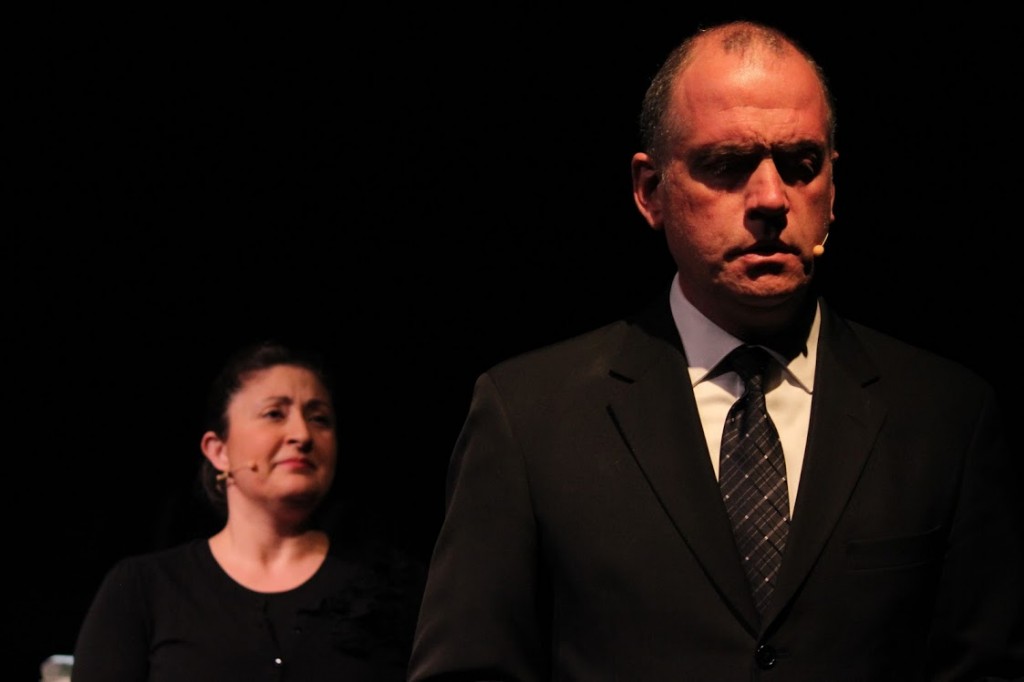 Mormons have a complicated relationship with homosexuality: it's okay for same sex couples to hang out together or to cohabitate; they just can't have sex. Couples in a legal same-sex marriage – even if they're celibate – are considered in a state of apostasy and subject to excommunication because marriage is strictly defined as a heterosexual union. Furthermore, Mormon doctrine says that homosexuality can be cured through faith in God, repentance and persistent effort.
It's just so difficult to accept that Andrew's mother would rather see her son dead than gay. But she does. And that is the real sticking point of Facing East: getting us to understand a mother's level of acceptance of LDS doctrine. While it's clear that Ruth is unfulfilled and leads a small, somewhat unhappy life as a wife and mother, her unquestioning adherence to Mormon law makes her, for me, totally unsympathetic for most of the show. Namazi's Ruth is fiercely zealous. A non-adherent to any organized religion, I found myself angry that any church could warp a mother's heart so totally.
The production, however, is good, the music – somewhat Sondheim-ish but without his witty lyrics – accessible and the voices, for the most part, confident. Set design by Tim Driscoll and Mooney is efficient.
As Alex, a broadcaster of one-minute homilies, Boyle is very likeable, mostly because between the parents, he is the most willing to abandon dogma in favour of the son he loves.
Alvarez and Montgomery make a credible, engaging couple. Alvarez's Andrew is sweet, cuddly and confused; Montgomery's Marcus is the more confident of the lovers and, like most of us, finds the LDS position on homosexuality both absurd and brutal.
Praying while facing east is, apparently, an ancient tradition; east is the direction from which light comes after darkness – symbols of enlightenment and sinfulness respectively. With the possibility of finding common ground on the horizon, Facing East does have light at the end: all three – Alex, Ruth and Marcus – loved Andrew and, as Marcus says, "I know in my heart that God loves me and I'm gay."