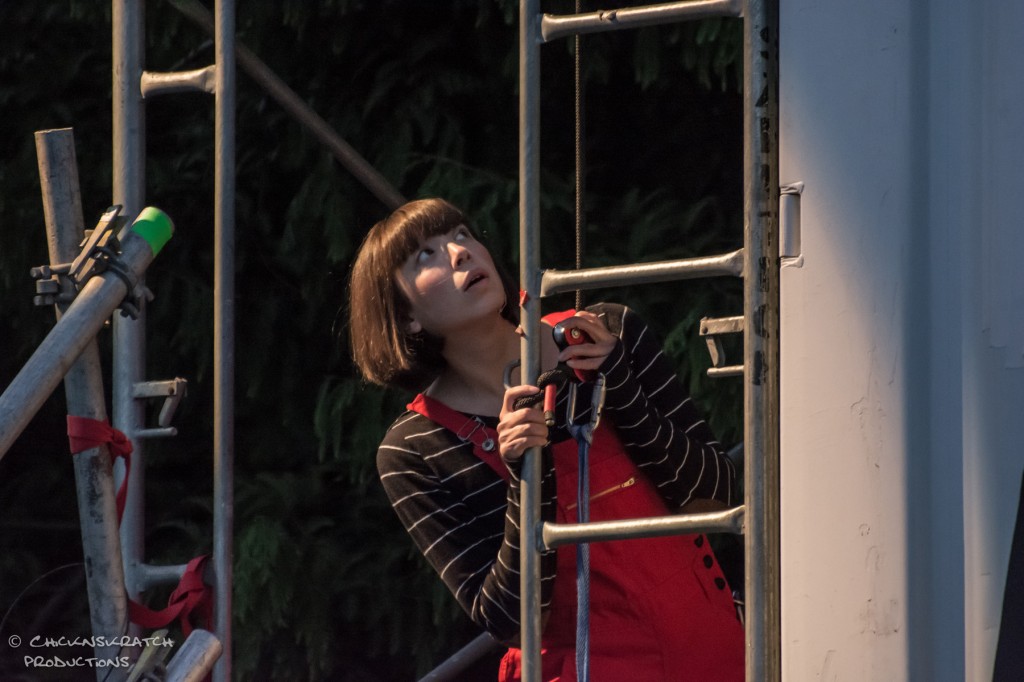 At the Stanley Park Works Yard August 25, 29, 31 and September 1
604-205-3000/shadboltcentre.com/bocadellupo.com
Free: reservations required. Rush tickets on site.
Posted on August 25, 2013
The parking is easy; Stanley Park is, of course, beautiful; the tickets are free; and the kids will love Fall Away Home.
Boca del Lupo, one of Vancouver's most innovative companies, returns to the Park where it all began eleven years ago with The Last Stand, a free, outdoor, family-friendly spectacular with high-rigged nymphs and ogres leaping down from evergreen giants. Unforgettable was Toni Rozylo, dressed in a bedraggled wedding gown, 'walking' down a huge cedar tree, her dress trailing up behind her.
And that's what Boca founders and this show's creators Sherry J. Yoon and Jay Dodge (with assistance from James Fagan Tait) do best: create beautiful, enduring images. Who can ever forget the Mothers-With-Strollers in Lagoon of Lost Tales? Or Quasimodo and Esmeralda huddled breathtakingly high in the girders of the Burrard Street Bridge?
There is a decidedly Lewis Carroll quality to many Boca shows and never more so than in Fall Away Home: Amaryllis, a young girl (played by Ming Hudson) hears someone knocking from within one of a dozen or so stacked, white-painted, shipping containers. Do we hear it she asks? Yes. "Maybe someone should go have a look?" Yes. And away she goes up, up several container ladders to the very tiptop. When the container doors swing open, Amaryllis falls in and down, down, down. Projections of rocks and boulders fly past her as Hudson hangs, twisting and tumbling in space. Like Alice, Amaryllis has fallen into a whole new and frightening realm.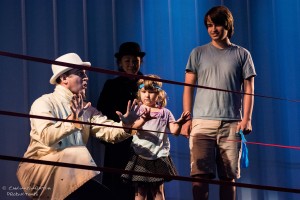 Enter 'the contraptions': two huge, wheeled, black 'teeter-totter' rigs that allow the black-costumed, menacing performers to be airborne, to spin in space and to wheel through the audience that – some two hundred strong – stands in the centre of the performance area. And they begin snatching kids (who have previously agreed to be snatched) and delivering them to the bad guy (Andy Thompson) who auctions them off. Feisty Amaryllis refuses to be auctioned and is sent off to The Home, overseen by The Matron (a monstrously huge projection of actor Dawn Petten's talking head. Her red lipsticked lips are the size of a large shark and she's every bit as nasty.
Amaryllis escapes to have many more adventures.
The press release reads,
"A mash-up of live action, animation, and audience participation, this unique production incorporates Boca del Lupo's signature use of technology, acrobatics, and theatre craft to create a show that is as much an experience as it is a performance."
Herein lies Fall Away Home's strengths and weaknesses. If you go looking for theme or narrative, you'll go off on in many directions: human trafficking, federal government scooping of First Nations children, questing for self definition or a place to feel safe – it's all there but fragmented, the way a child tells a story: once upon a time there was a little girl who fell into a shipping container and had adventures. She turned into a fish. Not really. The end.
But the blending of open-air spectacle and technology is undeniably creative. Kunal Sen's projected animations are terrific, sometimes terrifically funny – especially the frantic chase across the surfaces of the containers: stick figures with the images of the real performers' heads superimposed on the tiny bodies. Music by the Belle Orchestre whips up the excitement.
Fall Away Home is as Dodge describes it: as much experience as it is performance. The story is all over the place but the images are enduring. Adding to my cache of Boca moments is Amaryllis suspended apparently but not actually underwater with the sounds of gurgling water while curious fish peer at her before darting away.
Fall Away Home goes rain or shine (unless there's lightning or high wind); 90 minutes; and co-presented by The Shadbolt Centre for the Arts.