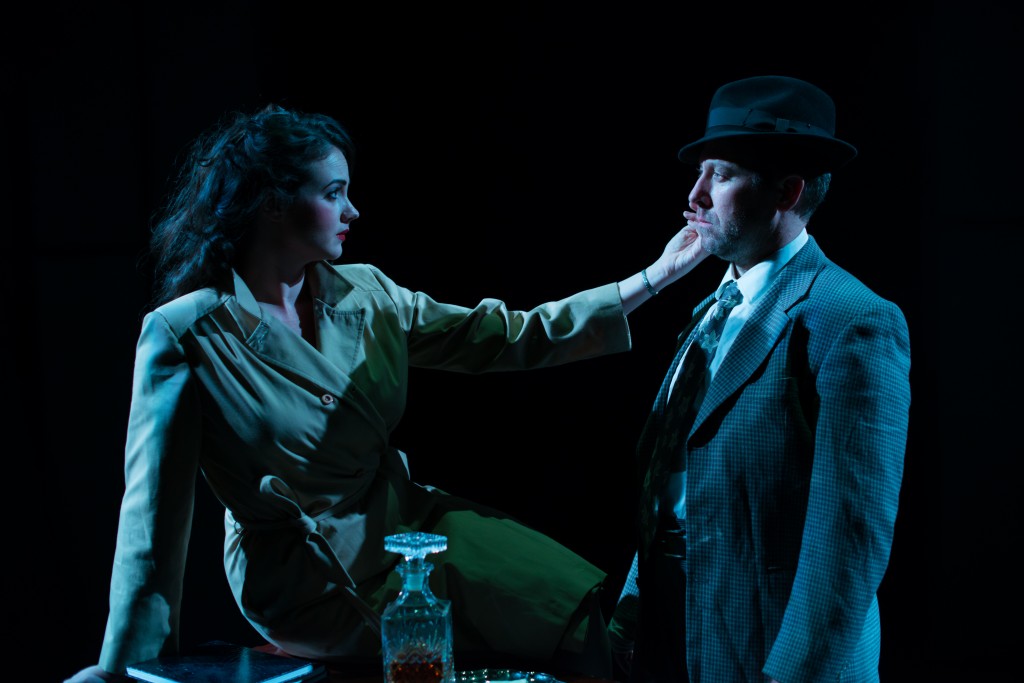 At the Arts Club Granville Island Stage until May 2, 2015
604-687-1644/artsclub.com
Posted April 11, 2015
It seems to me there's a trade-off to be made with film noir and/or 'stage noir': audiences will forgive the fact that the characters are really just caricatures if – and only if – the presentation is sufficiently 'noir-ish' – dark and shadowy, lots of smoking and drinking, gangsters, femmes so fatale that men are falling like flies (or unzipping their flies) for them, smoking guns, dead bodies and a wisecracking private dick that's just a little bit stupid when it comes to women. The music is breathy and sexy; there's a hot, hot trumpet wailing away somewhere in the dark.
Playwright Aaron Bushkowsky packs all of that into his adaptation of Raymond Chandler's novel Farewell, My Lovely (1940) in this Arts Club/Vertigo Theatre (Calgary) co-pro. The staging is, arguably, the star of this production.
The setting is Los Angeles, established off the top by Jamie Nesbitt's b/w projection of LA circa 1940. From that point on, the projections keep coming. Scott Reid's set – three slightly skewed arches – is almost austere but props (a desk, a chaise lounge, a table at the classy Belvedere Club, etcetera) are whisked on and off at top speed. Scene changes are super fast and Reid's lighting is appropriately shadowy or focused tightly on the immediate action. Dewi Wood's sound design is smoky, sultry and period-perfect; echoes of "My Funny Valentine" are still haunting me. Farewell, My Lovely is candy for the eye and ear.
If the staging is the star, a close runner-up is Emma Slipp – the 'Lovely' in the title. Yet another Studio 58 grad, Slipp makes her Arts Club debut in this show but she already has several Jessie nominations (amongst them, Sharla in ITSAZOO's Killer Joe) and work across Canada, the US, South Korea and Singapore to her credit. She's dark-haired, dark-eyed, curvy and beautiful and she delivers a line with just the right amount of innuendo. After saving Marlowe's life, for example, Slipp finds herself in a tight embrace with Graham Percy (Marlowe) and says, huskily, "I can sense your gratitude." That's right up there with Mae West's, "Is that a pistol in your pocket or are you just happy to see me?"
Indeed, Bushkowsky, recently short-listed for the Leacock Medal for Humour, proves shamelessly masterful at working the double entendres, another defining element of film noir. Laughter and groans greeted, "Evens dicks have a bad night once in a while."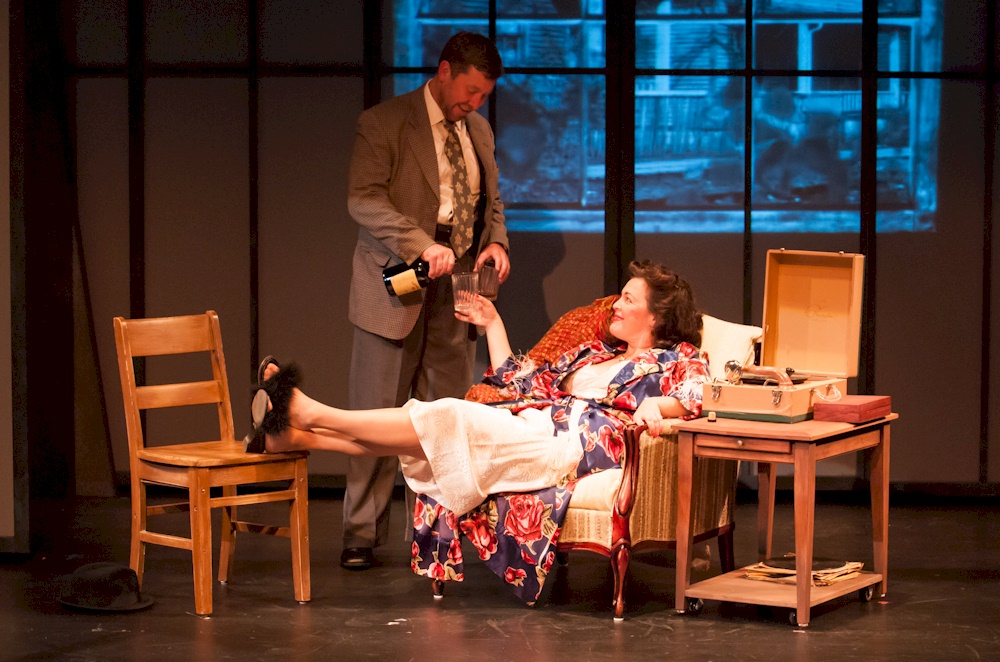 Luscious Lucia Frangione doesn't last long in this show; her character, Jessie Florian, gets 'offed' pretty quickly. But while Frangione's on stage, she makes a beautiful, blowsy drunk: a tangled mess of hair, a robe that threatens to fall open – or off.
Jamie Konchak's Helen Grayle is sophisticated and wicked; Mrs. Grayle doesn't last long, either.
Unlike James Bond, whose roots may be found in characters like Philip Marlowe and Sam Spade, Marlowe isn't tall, dark and handsome. He's a bit of a klutz, a hard-working private eye just trying to keep himself from getting killed. Percy, as Marlowe in this production, is a homespun kind of fellow, a sort of guy-next-door from whom you might borrow a lawnmower. And yet Percy makes his Marlowe interesting enough that the ladies love him.
Supporting roles are well played by Anthony F. Ingram, Stephen Hair and Beau Dixon.
The upside of this production? Interesting visuals, its 'noirishness' and Emma Slipp. The downside? Caricatures that we don't care about. That's the film noir trade-off.
Interesting footnote, though. Chandler's novels were written about a period when gangsters and corrupt cops struggled for supremacy on the street. The result was cynicism and mistrust of the constabulary. You have to wonder whether we're there again as the mentally ill are being gunned down not in the down and dirty streets of somewhere else, but right here in our town.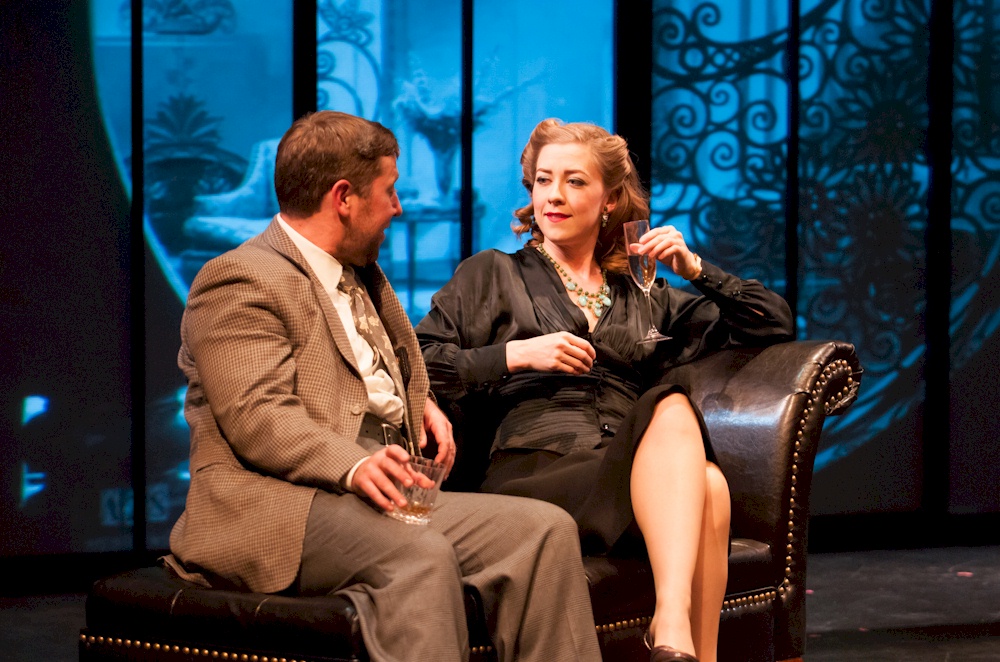 –