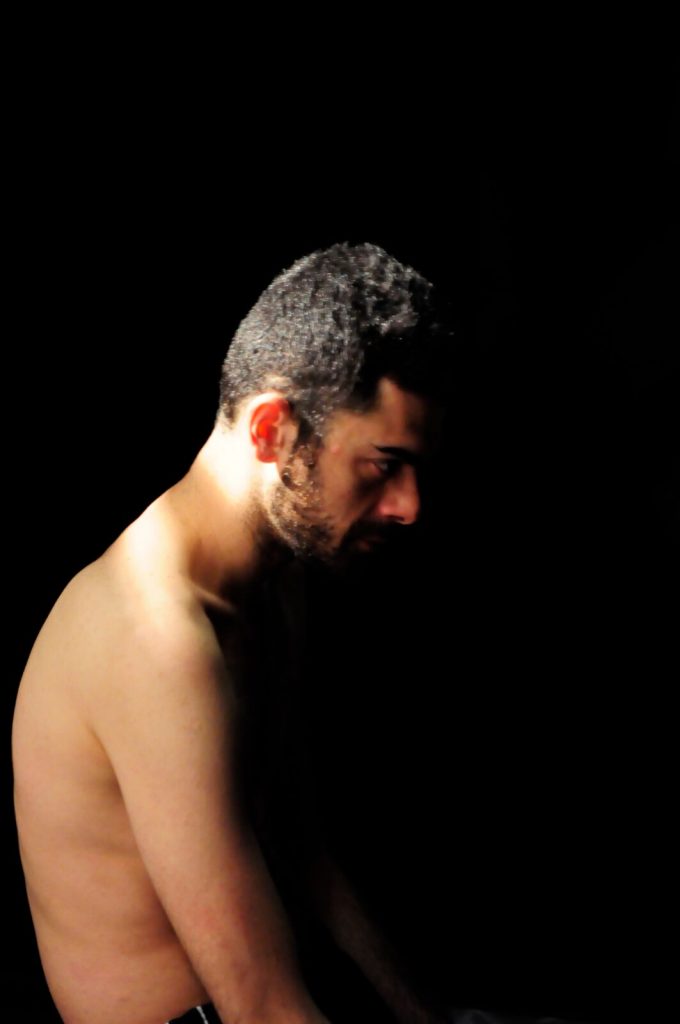 At Studio 1398 Granville Island, February 6-11, 2017
tickets.theatrewire.com
Posted February 5, 2017
This review was posted in April 2015. For further information regarding the 2017 production, contact Theatre Conspiracy at www.conspiracy.ca. Foreign Radical won the Critics' Choice Award for Innovation in 2015 and is even more relevant today in view of President Donald Trump's ban on immigration from seven, predominately Muslim nations.
If you like your theatre political, provocative and participatory, get yourself to the Vancity Culture Lab at The Cultch before April 25 when Theatre Conspiracy's Foreign Radical closes.
I generally keep my head down when audience members are asked to participate; but far from making a fool of myself in front of a bunch of strangers, I found myself really questioning the price of the freedom we enjoy in Canada. How much surveillance is okay? By participating in protests against logging in Clayoquot Sound, fish farms in Barkley Sound, the Enbridge pipeline project, Kinder Morgan's proposed twinning of the TransMountain Pipeline and increased oil tanker traffic in Burrard Inlet, will I be on Harper's proposed 'terrorist' list if Bill C-51 passes into law?
Written by Theatre Conspiracy's Artistic Producer Tim Carlson, Foreign Radical might shake your values up or, at the very least, get you talking.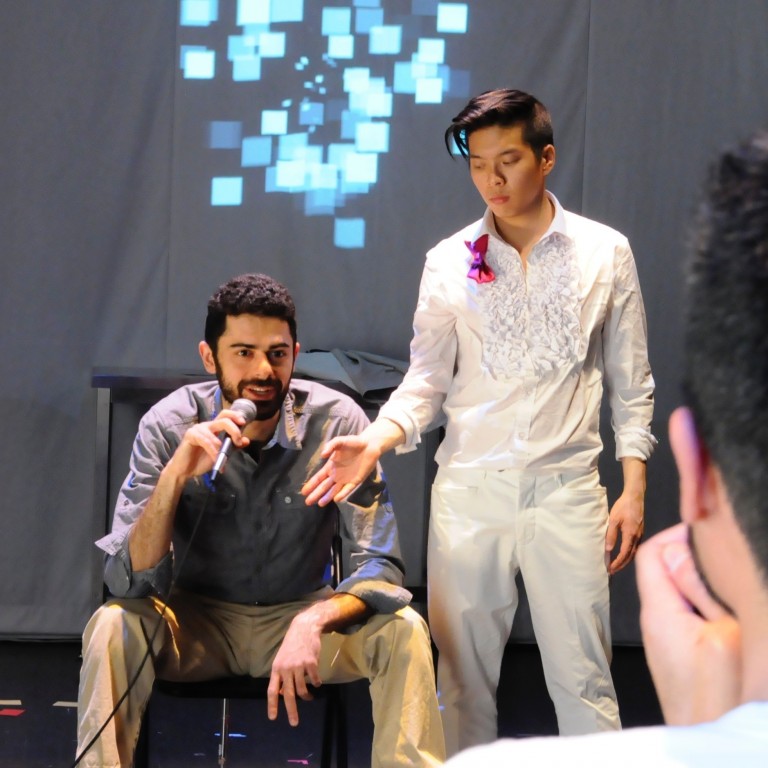 During seventy-five minutes, the audience moves back and forth from darkened room to darkened room. Running the show – in the style of a game show – is The Host (Milton Lim) in white tux, frilled shirt and a pink bowtie. He's dynamic, fast and friendly as he puts the audience – maximum 20 – through a series of questions. "Go with your gut", he says, jerking out his gut in a couple of quick thrusts.
The play – and the term is used loosely – is inspired by the FBI's Terrorist Watchlist that in 2013 had 470,000 names on it. When challenged by those on the list, the US government kept 99% of those named. Being put on that list requires "no concrete facts" but merely "reasonable suspicion". Reasonable suspicion includes being associated in any way with suspected or known terrorists. It could be your drycleaner's father's brother's dentist, in other words. Farfetched? Who knows?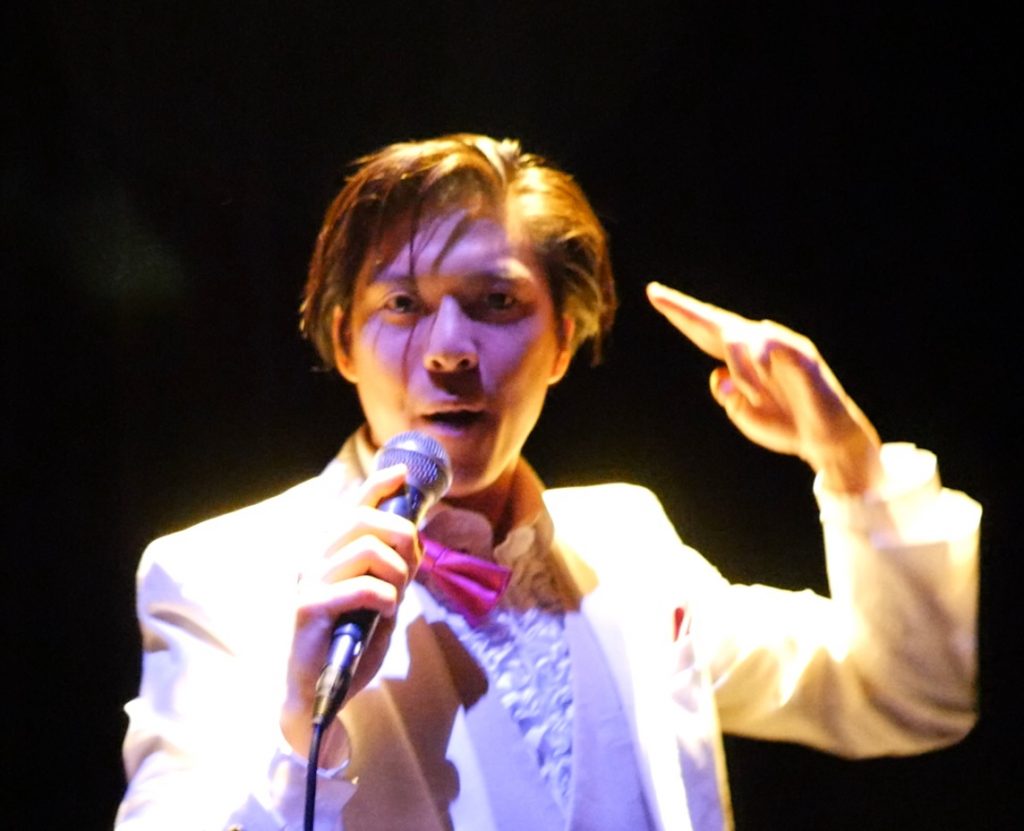 The Host poses questions and directs us to one quadrant of the room or another depending on our response. The questions come like shot from a shotgun: "Have you ever been refused entry at the border?" Have you ever been deported? "Have you ever been body searched?" Cavity searched? Held?" Have you ever taken part in a protest?"
Eventually, each one in the audience will have to make a decision about a character – a young man trying to cross a border. Is Hesam (soft-spoken Aryo Khakpour) a terrorist? How much risk are we prepared to take when an Arabic-speaking traveller, carrying a card from a friend who might have terrorist sympathies, arrives at our border? How do we make these decisions? Who makes them?
Under the direction of Jeremy Waller, the exercise is fascinating; the delivery method with projections by Candelario Andrade, significantly ramps up the Kafkaesque quality. Arabic statements are flashed up on screens as if we are expected to understand them. You will be asked – as a group – to expose your activities but you will not be alone – unless, of course, you're the one person, the night I attended, who confessed to having watched online porn within the last 24 hours.
While Foreign Radical is about the US Watchlist, Bill C-51 is the subtext; we want to believe it's not happening – or couldn't happen – here.
Few of us immediately left the Cultch after the show; we lingered in the lobby, we talked, we talked to playwright Carlson who remained there to discuss the piece. We're probably still talking about it. One woman told me a relative – a pediatric oncologist – had been held for hours at the border. On the scale of selflessness, a pediatric oncologist would be right up there with Mother Teresa. Yet there was something Canadian border guards found 'suspicious'.
Foreign Radical is not a perfect parallel to the Canadian experience but it's a wake-up call and it might be where this country is heading.