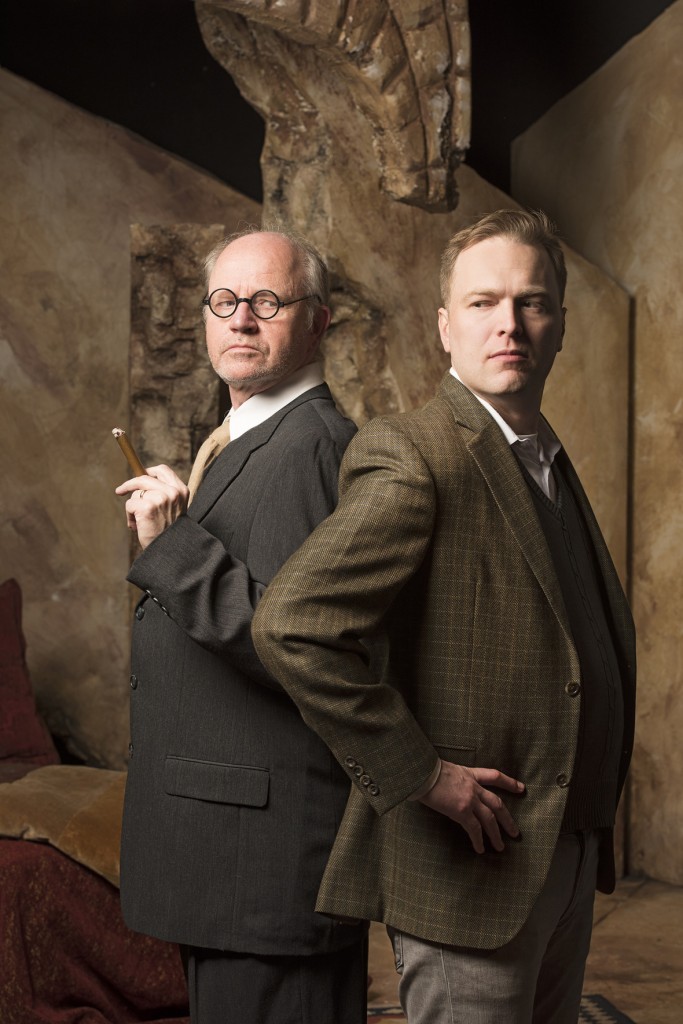 At Pacific Theatre until May 30, 2015
604-731-5518/www.pacifictheatre.org
Posted April 27, 2015
This Pacific Theatre production, under the direction of Morris Ertman, is intelligent, thought provoking and splendid in every respect – one of the best I've seen on this stage. Written by American playwright Mark St. Germain and first produced in 2009, Freud's Last Session was inspired by Dr. Armand S. Nicholi's book, "The Question of God" (2003).
Underscoring an imagined meeting between two intellectual giants – C.S. Lewis and Sigmund Freud – is the question: If there is a God and he is, as Christians claim, a loving God, why do evil and pain exist? Significantly, the play takes place on September 3, 1939 in Freud's London study; the radio is on and Neville Chamberlain has just announced that England is now at war with Germany.
Lewis has not yet written The Problem Of Pain (1940) in which Lewis offers an intellectual, Christian response to pain and suffering; basically, that pain and suffering are created by man, not God and, having given man free will, God cannot or will not intervene. Either we have free will or we don't.
Lewis, from the age of thirteen, was an outspoken atheist; suddenly, at the age of thirty-three, he became a Christian and began writing passionately about faith. Wanting to know what triggered this conversion ("abandoning truth for an insidious lie", according to Freud), the psychoanalyst invites the religious apologist to his home. Lewis accepts.
Freud at this point is experiencing the excruciating pain of oral cancer and is determined to commit suicide – a sin against God, according to a young and healthy Lewis.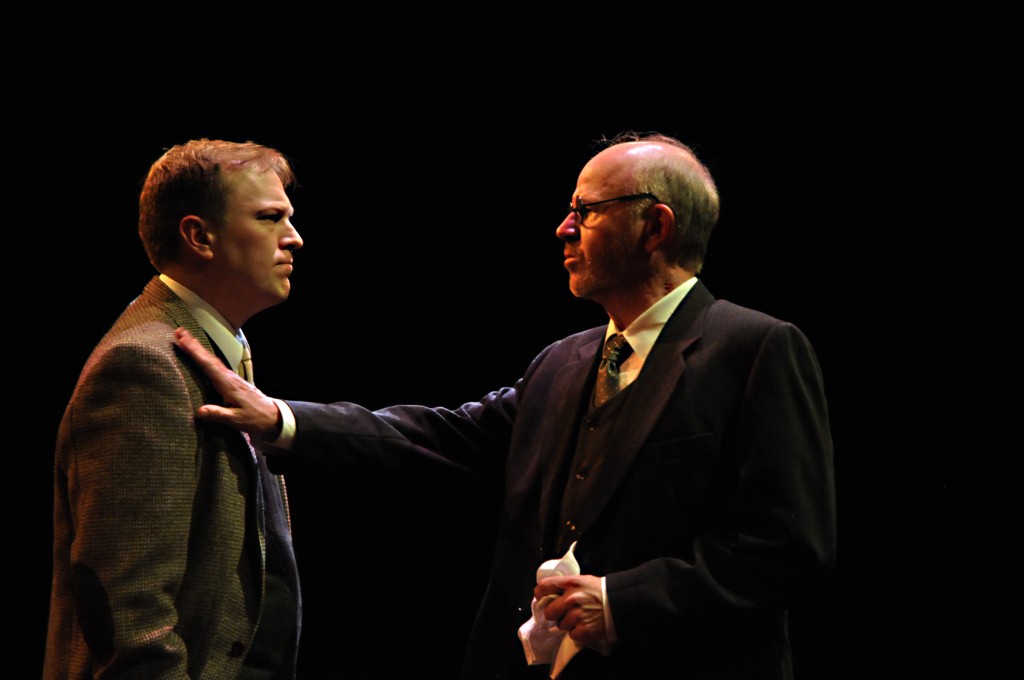 St. Germain does not come down solidly on either side although I suspect Christians will agree with Lewis and atheists, with Freud.
What the playwright does do, however, is show that both men, in spite of their differences, are human. In the course of the play, Freud (Ron Reed) several times has such agonizing pain that he momentarily cannot carry on the conversation. At the height of a fervid, shouting match, Lewis (Evan Frayne) rushes to Freud's side, offering what little he can to comfort him.
Reed is absolutely outstanding in the role: slightly stooped, his clothes hanging a little loosely, fingers sometimes twitching, Reed is believably eighty-three and so believably in pain it's gut-wrenching to watch. He also captures Freud's wit, heavily laced with irony. When Freud exclaims, "Thank God" and Lewis calls him on it, Freud dismisses it: "It's a bad habit, like God help me". If only he could. Or would.
Evan Frayne, as Lewis, is in every respect equal to Reed's Freud. As the younger, Oxford and Cambridge scholar who shows little humour (except for his laughter on the subject of flatulence) and even less humility, Frayne turns the moment of Freud's paralysing attack of bone-wracking pain into one of such compassion, that it might bring tears to your eyes. I have seldom witnessed a scene of such tenderness on stage. Frayne and Reed make it truly remarkable.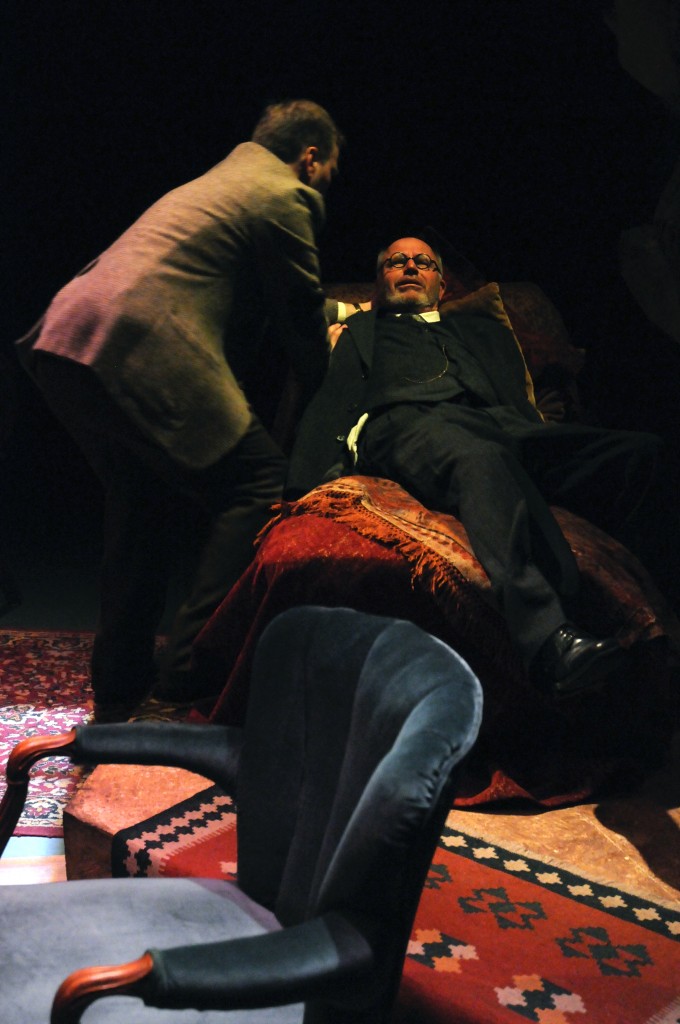 Carolyn Rapanos' set is warm, glow-y and a very interesting combination of reality (Freud's couch covered in cushions, desk, period chairs, Persian-style rugs) and fantasy (huge wings – as of some ancient amulet to accompany an Egyptian Pharaoh to the Other World). John Webber lights the set mostly in warm, inviting colours; Luke Ertman provides the sound design.
The great overriding irony is, of course, that it is the eve of England's entry into WWII. Evil is afoot. Where is God now? And yet King George VI concludes his BBC broadcast to the people, " . . . and with God's help, we shall prevail. May He bless and keep us all." A peekaboo God: now you see him, now you don't.
The Allied forces did prevail, but I don't imagine the families of those who perished in it thought God had much to do with it.