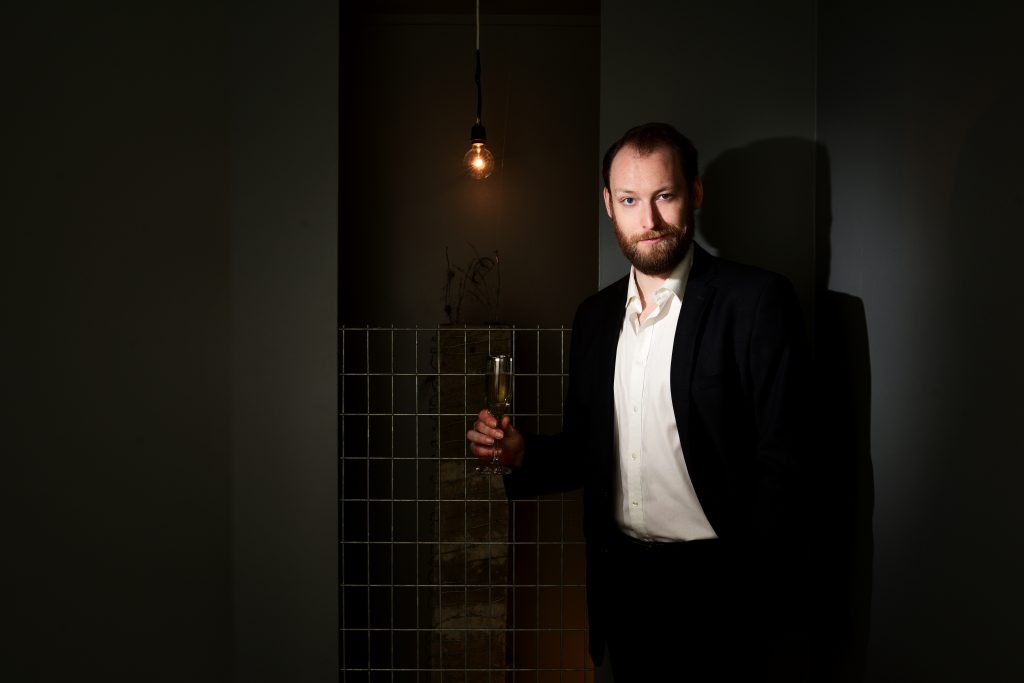 At The Fishbowl (100 – 1398 Cartwright Street, Granville Island)
April 7:           7:30PM and recently added performance at 9PM
April 8:           2:30PM and 7:30PM plus added performance at 9PM.  
Tickets:          $12/$15 at eventbrite.ca
Posted April 6, 2017
Want to know what the end of the world looks like? If Pi Theatre is right, it's godawful. Even if Pi Theatre is wrong, it's probably godawful. Written by Amy Lee Lavoie and conceived and directed by Pi Theatre's artistic director Richard Wolfe, Genetic Drift is food for thought and pretty scary.
Genetic drift happens when chance events cause drastic changes to the gene pool of a population. Climate change is one of those events and some would argue we've already embarked upon an era of genetic engineering in order to survive what's coming at us: rising temperatures and pollution of the air, oceans and fresh water, as well as the earth out of which we grow our food.
It's the present. We are, supposedly, an elite bunch – "young, robust and financially secure", our host, smooth-talking Tor Skroder (Alex Forsyth), tells us. We are gathered together for a glimpse into the future – specifically 2167 and have paid a lot of money for the privilege. Through some computer hocus-pocus, we get a look at that dystopia.
Enter Gary 3 whose "hiding spot" we are invited to observe. The offspring of a businessman and an actress (his sperm, her eggs blended in a petri dish) and spliced into the DNA of a water bear (check that out on Wikipedia), Gary 3 is grotesque: his body looks fairly normal but his head and face look like someone took a blowtorch to it. Designer Amy McDougall has created a flesh-coloured, ravaged, nose less rubber helmet for actor Tom Jones to wear. It's really ugly or, in Trump-speak, it's "very ugly, very, very ugly". Gary 3 is, according to Lucy the computer, the only one left; Gary 1 disappeared and Gary 2 didn't last past 31 days.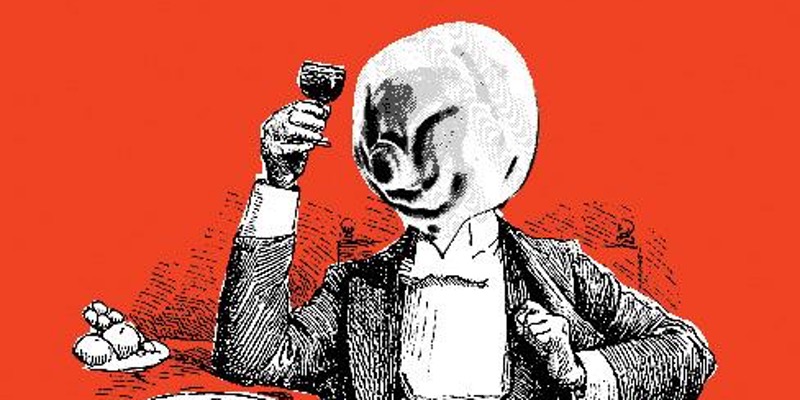 What gets our guilt going are Gary 3's comments about us "inventing things to be angry about" when the world as we know it – although beautiful – is in its endgame. "Do you want to know what the end of the world looks like?", he asks. "Look around. The signs are everywhere", he says. All the doom and gloom prognostications? Believe them. "Don't be so fucking passive," he rails at us. "You have all the evidence right now."
Of course, Gary 3 is right and there we are, drinking bottled water and eating tidbits of imported cheese ("I'd give my dick for a bit of cheese – if I still had a dick", he says, looking down forlornly). Probably driving ourselves home in our cars. In short, amusing ourselves to death.
Produced by Pi Theatre and presented by Boca del Lupo as part of its Micro Performance Series, Genetic Drift is prophetic but entertaining and very cool looking with its colourful, swirling video designs by Daniel O'Shea. The venue is intimate, 'micro' you might say; the show is about 35 minutes long and the audience stands for the duration. The Fishbowl heats up with 25-30 bodies in it so prepare to shed your coat and scarf before the show starts. Water is a good idea but to avoid all that guilt, take your own reusable bottle.
Like all end-of-the-world imaginings, Genetic Drift offers no solutions but it frames the situation inventively. And it certainly answers the question first posed by the host, "Would you want to live forever?" Not in that world, I wouldn't. Even in this world, I'd have to think about it.