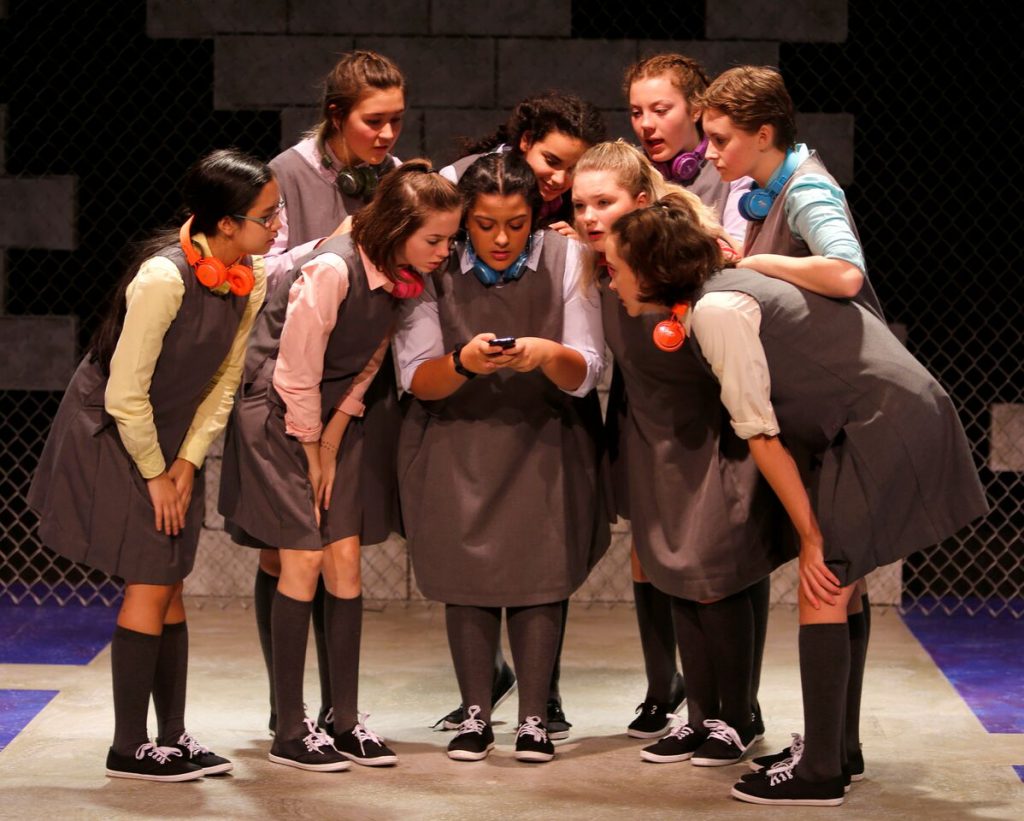 Templeton Secondary School until November 10, 2017
Tickets $10; available at the door or at eventbrite.com
Posted November 4, 2017
"Girls are becoming the assholes boys used to be." It pains me to think that this line from Girls Like That might be true or, worse, that it has always been true but social media has simply made it possible for girls – and guys – to bully on a worldwide web scale. It's so easy to post photos that result in humiliation or even suicide.
Girls Like That, written by Evan Placey, is roughly based on the tragedy of Amanda Todd, the Port Coquitlam teenager who killed herself after a photo of her topless was posted on the Internet. But how many unreported incidents are there that scar girls (or boys) for life?
Girls Like That is the first time I have seen a show at Templeton Secondary; I don't usually review school shows but this one is produced by Shameless Hussy Productions (in collaboration with Theatre Temp's Dream Big Productions and the Girls in Leadership Club), a longtime Vancouver company founded by two rebellious 'hussies' – Renée Iaci and Deb Pickman. The Hussies, as they are known, have worked before with Tanya Zambrano, a performing arts teacher at Templeton, and it's a made-in-theatre-heaven fit: all those talented young actors to work with and a school that's progressive and accepting enough to know a good thing when it's offered.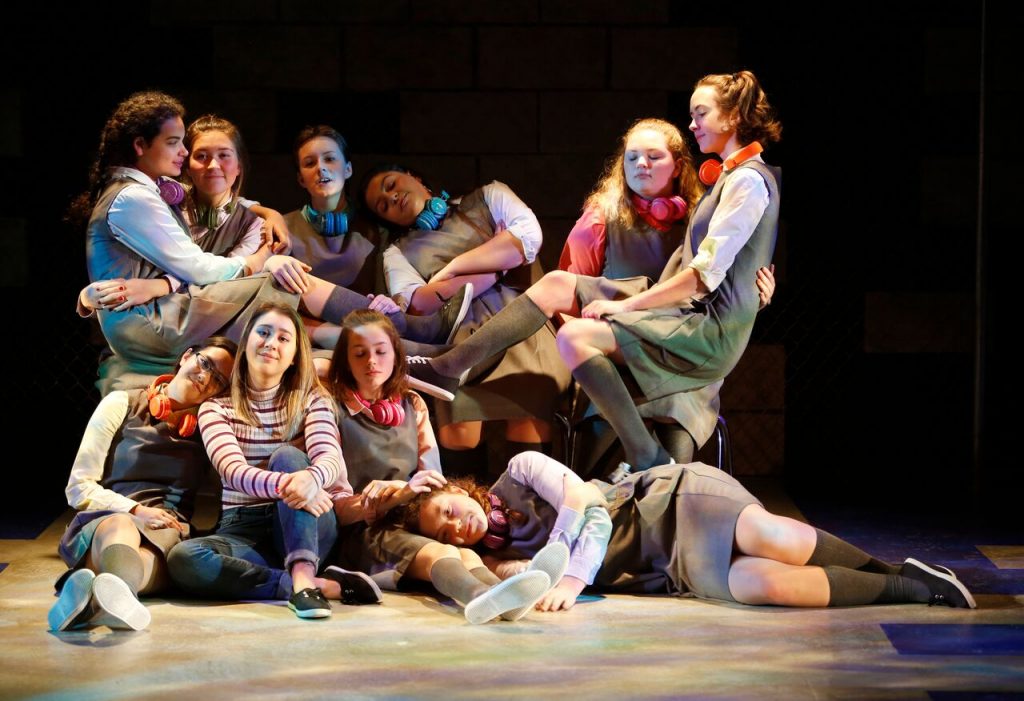 In Girls Like That, the ten characters are girls, friends since kindergarten, at St. Helen's, an exclusive school for girls. Dressed in simple grey tunics, white blouses and black sneakers, they are seen at age five in the sandbox. Later, in the same grey tunics, we see them in gym class, getting ready to swim. And we see them as teenagers, still together, still at school. There are several tableaux of them all together, heads on each other's laps, cuddled together: as sweet as a basketful of puppies.
"Friends for Life" is what St. Helen's promises but when someone posts a nude photo online of Scarlett, all that talk about friendship comes apart. Suddenly she is "Scarlett, the harlot" and the girls, like hens in a chicken coop, start picking on her, shunning her and eventually watching and video-ing her being beaten up. That basket of sweet, cuddly puppies has turned into a bunch of snarling pitbulls.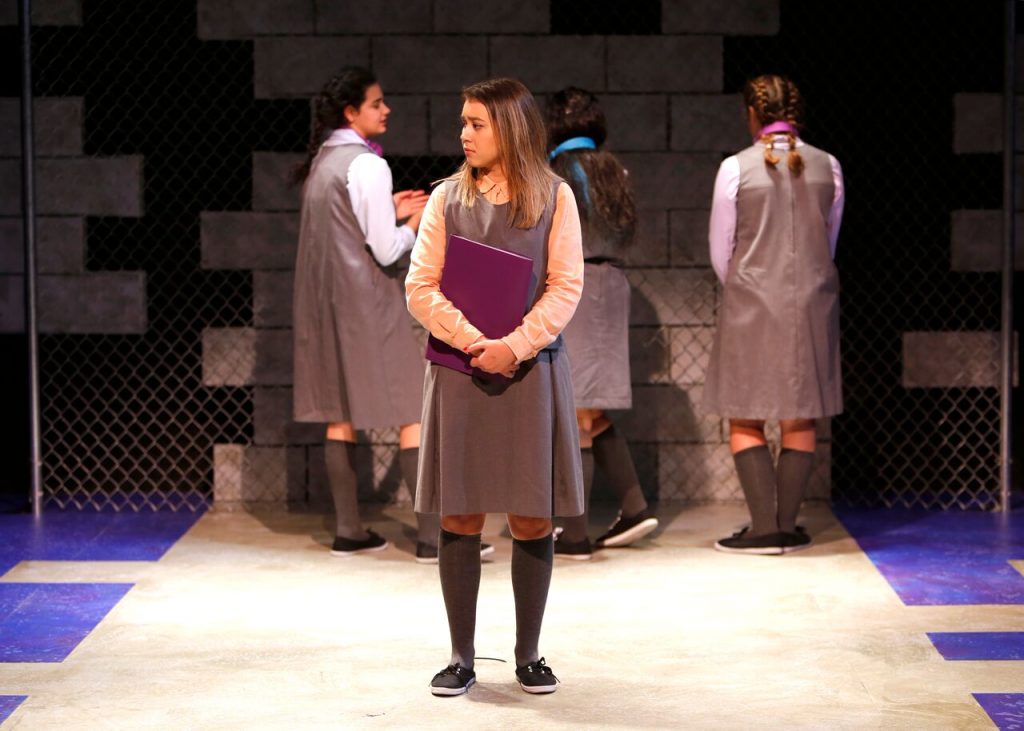 They slag the "mole on her right breast", her large nipples, the "line of blubber on her belly, size of her breasts, etcetera. Friends for life? Not so much.
With the sexualization of little girls beginning almost the moment they greet the world, it's no wonder these St. Helen's girls are so ready to turn on each other. Puberty and the consequent competition for boys' attention plus loads of targeted marketing will do it.
With choreography by Dawn Ewen, there are half-a-dozen pop songs like "Little Butterfly" and "California Gurls" that spice up the narrative. If you take a moment to check out this California Gurls video, you'll see just what kinds of role models are being put out there for teenaged girls: https://www.youtube.com/watch?v=F57P9C4SAW4. It's appalling.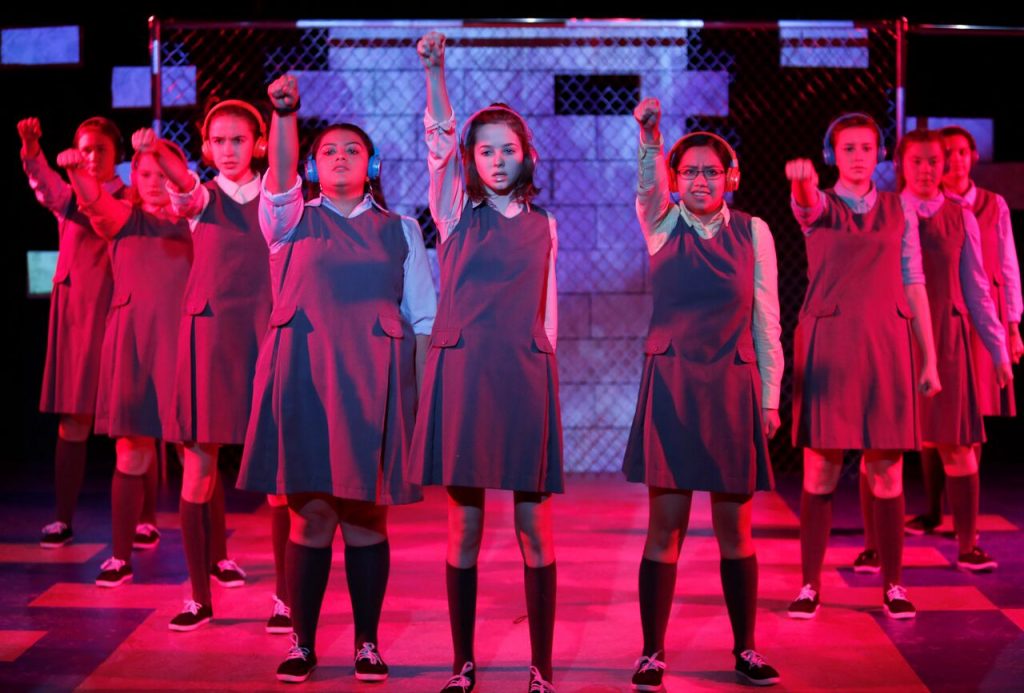 The script isn't perfect; there are several confusing flashbacks – one of a woman in a flapper dress, another in aviator gear – but those are eventually resolved. And the absence of any meaningful women in these characters' lives – mothers, grandmothers, teachers – seems unrealistic but that's surely part of the playwright's point.
This is a terrific, lively production that appears to have involved about a hundred really enthusiastic students including ushers in white shirts and bowties, and crew. Every last one of them takes a bow until the stage is completely full of kids. Pretty darned impressive.
Only Scarlett (Alison Moreau) is named in the play but each of the other performers – Chloe Bray, Sophia McKinley, Jasmine McRae, Sasha Cripton-Inglis, Raquel Francis, Savannah Read, Louise Cove, Isabella Tecson and Claire Dooley – brings something unique and interesting to the production.
Parents, take your kids to Girls Like That and talk about it. Kids, don't think you're alone: reach out, someone will listen.
And may all our girls grow up to be Shameless Hussies and take on the world.