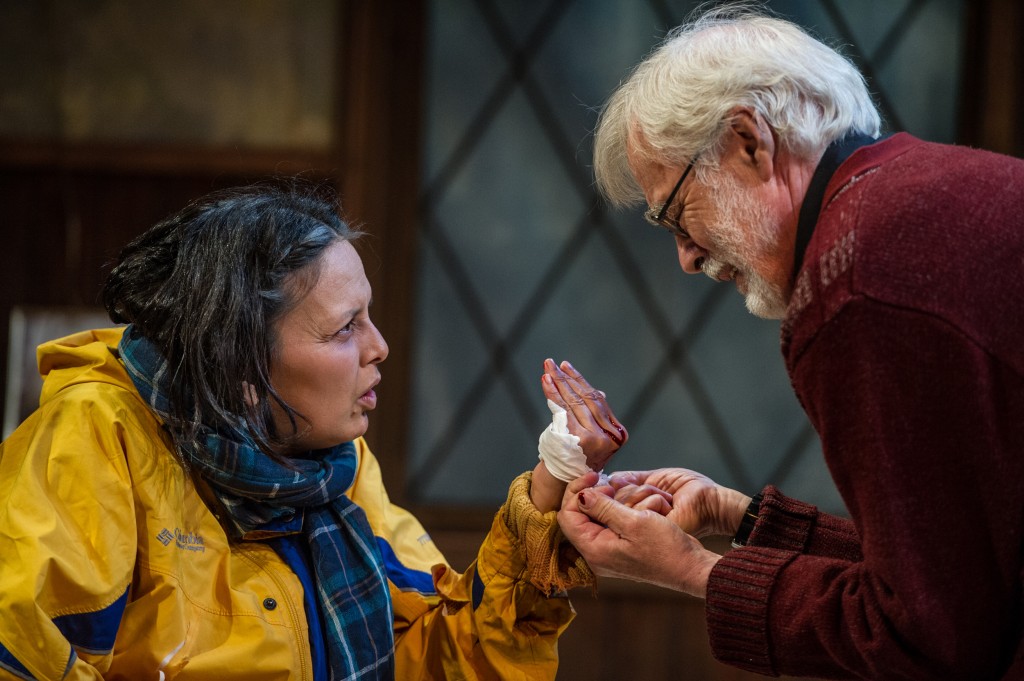 At The Firehall Arts Centre until May 30, 2015
604-689-0926/firehallartscentre.ca
Posted May 28, 2015
The evils of the residential school system are bitter memories that Canadians – both First Nations and non-First Nations – are struggling to come to terms with. Even after the closing of the last school in 1996, the repercussions continue as penal system statistics and a drive through the downtown eastside so sadly illustrate. While many First Nations men and women on the down and dirty streets of Vancouver never went to a residential school, there's a very good chance that one or both of the parents or grandparents were 'scooped' as the expression went, ripped from their families, denied their culture, forbidden their language and in many cases physically and sexually abused by Catholic or Anglican priests.
Over 150,000 First Nations children attended residential schools across the country but as one study explains it, the entire culture has suffered 'historic trauma', described as the way in which the entire culture has been hurt and even those not directly related to the residential school experience are suffering from it. Historic trauma is like psychological baggage that gets passed on from generation to generation.
In Drew Hayden Taylor's God and the Indian, Cree woman Johnny Indian not only was sexually abused while in St. Mark's, a residential school run by the Anglican Church, but because she wasn't able to protect her younger brother Sammy who died while there, she was cast out by her family. She lost her best-friend brother, her parents and her culture. In short, Johnny lost everything. Even her name.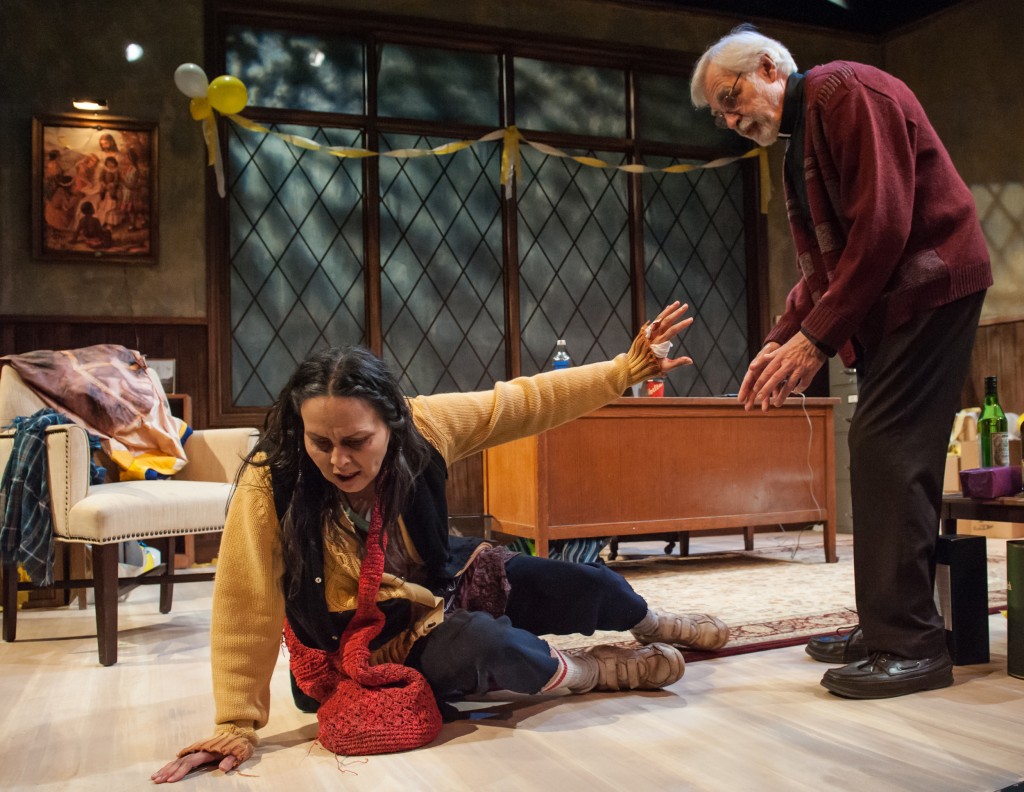 In Taylor's play, presented by the Firehall Arts Centre in partnership with Native Earth Performing Arts, Johnny happens to see Assistant Bishop George King coming out of the local Tim Horton's. She follows him to his office in the church and confronts him there.
Lisa C. Ravensbergen (Ojibwe/Swampy Cree/English/Irish), who describes herself as a "multi-hyphenated theatre artist", is Johnny and it's a dazzling performance. Her speech patterns are rivetting and her swings from repressed fury to bleak humour make this play – which, basically, is created out of Johnny's accusations and King's denials – dynamic. Dressed in ragged cloths, holding up one foot as if it's too painful to bear weight and jabbing the air with fingers crooked like the claws of an angry crow, Ravensbergen keeps the play moving to a conclusion that appears inevitable but isn't.
Thomas Hauff is Assistant Bishop George King, an unrewarding role but one he tackles with aplomb. From his opening salvo – "Good morning, my Saviour", with a nod to the familiar image of Jesus with the "little children" hanging on the wall – to the end, King denies abusing Johnny while he was a teacher at St. Mark's. He does, at one point, confess, but neither Johnny nor we believe he's sincere. Hauff, as King, is avuncular, patronizing, condescending, eventually scared out of his wits but never remorseful.
What Johnny wants and what we want is a sign of regret; what we get is a man with a career, a wife and children who has buried his guilt so deep, he can't dredge it up.
Perhaps, just perhaps, this encounter with Johnny will create a crack in that façade.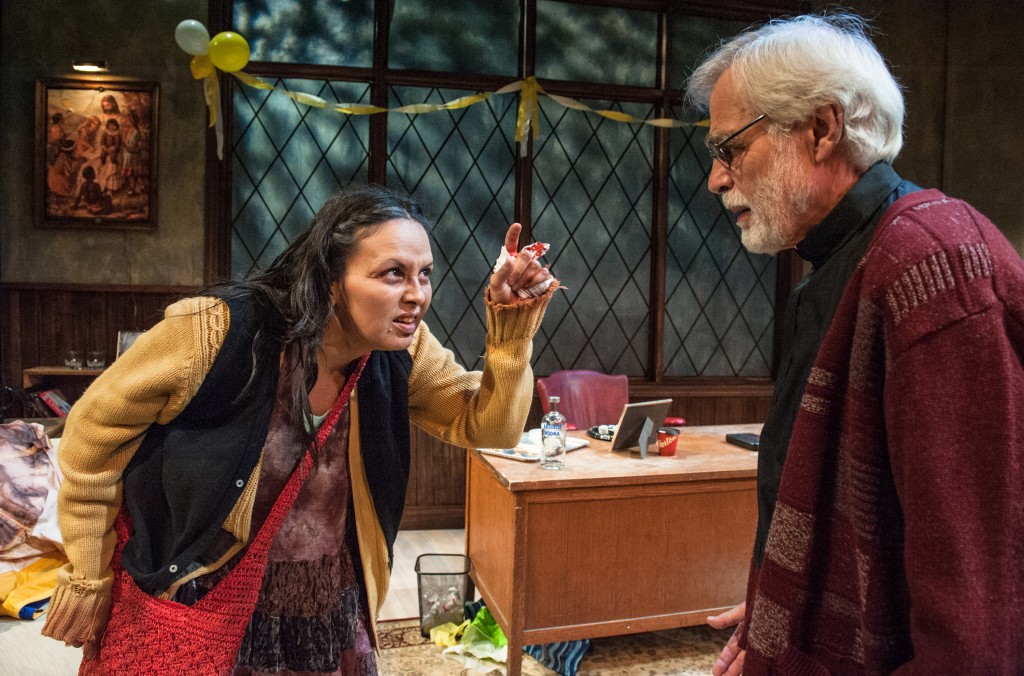 An irony of the residential school system is the 'historic trauma' it produced in non-First Nations people, too. Obviously, the system was nowhere nearly as damaging as it was to our indigenous people but those of us who are neither Catholic nor Anglican, and were unborn or small children when the residential school system peaked in 1930, still carry the guilt of those who were actually responsible. White man's guilt. Unfortunate, too, is that many of those who initiated the system, truly believed they were doing good. The real crime is that once abuses were rumoured, so little – if anything – was done. An apology by Prime Minister Stephen Harper seemed so little, so late, so useless.
Because of the humour and fine performances under the direction of Renae Morriseau, God and the Indian is provocative but not heavy-handed. I didn't see the earlier production starring Tantoo Cardinal and Michael Kopsa, but re-reading a review of that production leads me to believe this script is better in every respect. Definitely worth a second look if you saw it back in 2013, if only for Ravensbergen's stellar performance.