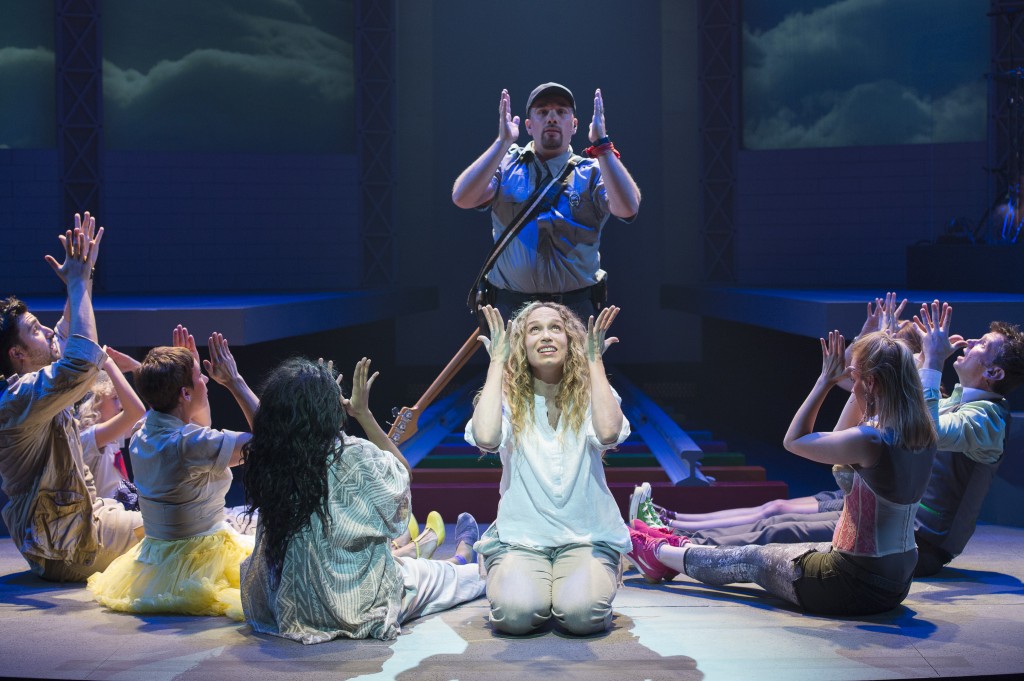 At the Arts Club Granville Island Stage until August 1, 2015
604-687-1644/artsclub.com
Posted June 25, 2015
"Pre-ee-ee-pare ye/The way of the Lord". If you're not singing that as you exit the Arts Club Granville Island, you have no music in your soul. Christian or cynic, you'll have a hard time getting this ear-worm from Godspell, the rock opera that rocked off-Broadway back in 1971, out of your head.
Director/choreographer Sara-Jeanne Hosie remarks in her director's notes that everyone in this cast of twelve – including an adolescent – has to be able to sing and dance and act; most also have to play a musical instrument. They all more than meet Hosie's requirements, especially Jennifer Copping who, in what has to be one of the most gender-bending performances experienced by Vancouver audiences, plays Jesus Christ. The voices – solo and ensemble – are terrific; the choreography is energetic and smart; Alan Brodie's set and light design are great; and the story, of course, is timeless; John the Baptist, played by twelve-year old Aubrey Joy Maddock – her blonde curls bobbing – introduces a motley crew of transients to Jesus. Over the course of a couple of hours, this group of young men and women, become Jesus's disciples as she instructs them by way of parables: "Let he who is without fault cast the first stone." "Love thy neighbor as thyself." "Don't be overcome by evil but overcome evil with love."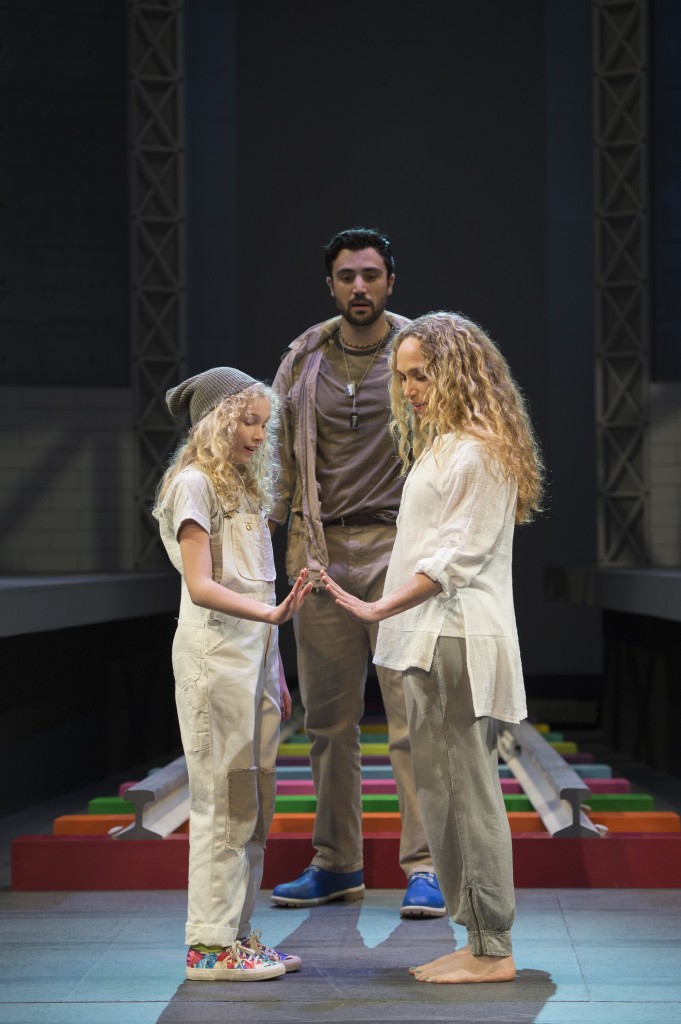 Hosie boldly puts her own stamp on Godspell by setting the action in a train station, namely Jerusalem Station. Arrivals and departures flashing up on the electronic board include Jericho, Capernaum and Galilee. While the original cast was conceived by creator John-Michael Tebelak (with music and lyrics by Stephen Schwartz) as clowns, Hosie simply puts them in contemporary dress and different coloured shoes. I believe the idea of staging the parables as a sequence of TV game shows – color-matched with the footgear of the performers – is also Hosie's.
It's definitely a fresh new approach.
The music and songs are wonderful: Prepare Ye by the whole ensemble; Day By Day, solo by Janet Gigliotti, On the Willows, solo/piano by Kale Penny; Save the People with lead vocalists Andrew Cohen and Jennifer Copping; Bless The Lord, solo by Katrina Reynolds; and another dozen others.
Jennifer Copping, in grey sweats and a white cotton shirt, is an appealing, engaging Jesus. Lauren Bowler, as The Vamp, in a pink and grey bustier and short shorts, performs a death scene like no other: it goes on and hilariously on as the gates of Hell stand waiting. Little Aubrey Maddock grins her way through the whole show – a real trooper. It's a treat just watching her watching the others perform. It looks like she's thinking, "That will be me in a few more years."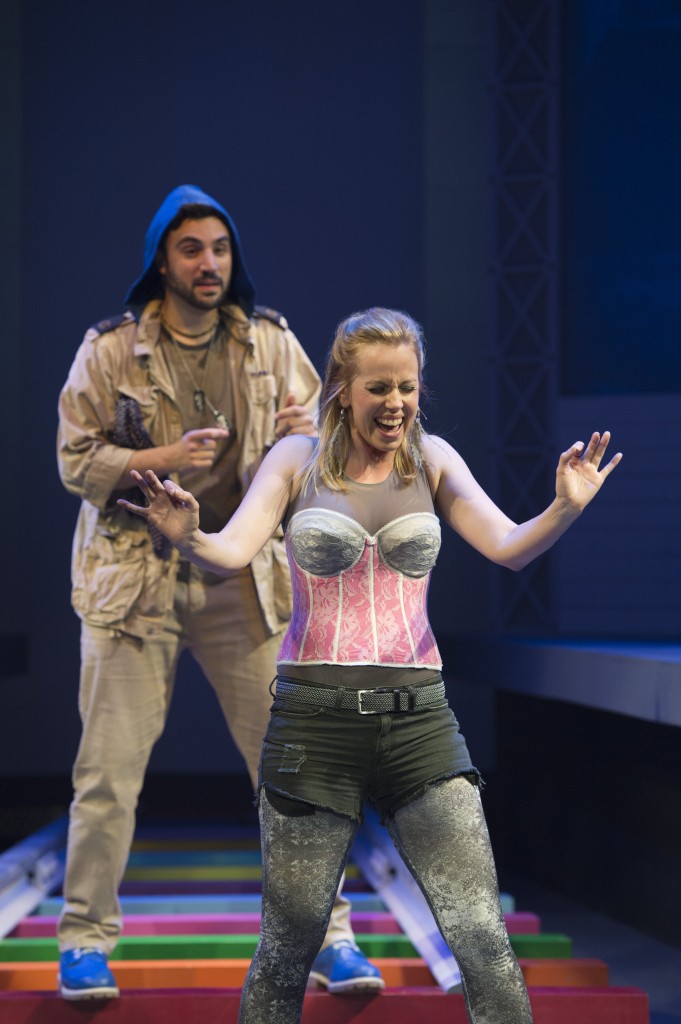 But. A lot of water is under a lot of bridges since 1971 and, God forgive me, the message feels naïve. Love thy neighbor as thyself – even if your neighbor is an ISIS terrorist, a drug dealer, child pornographer, wife-beater or drunk driver?
And so Godspell is now just a 70s novelty with terrific songs. And that might be enough for many people.
Should you want to take children, I wouldn't recommend it. We all know how it ends and although, thank the Lord, they don't do a traditional crucifixion on stage, Jesus does die a violent end after having been betrayed by Judas (Andrew Cohen).  And, as one of the vehement critics of this musical pointed out, Godspell does not include the resurrection which, if you're a Christian, is really vital.
Still. The music and dancing is grand. Hosie takes a lot of risks – most of which pay off. And you will leave the Arts Club whistling or singing.