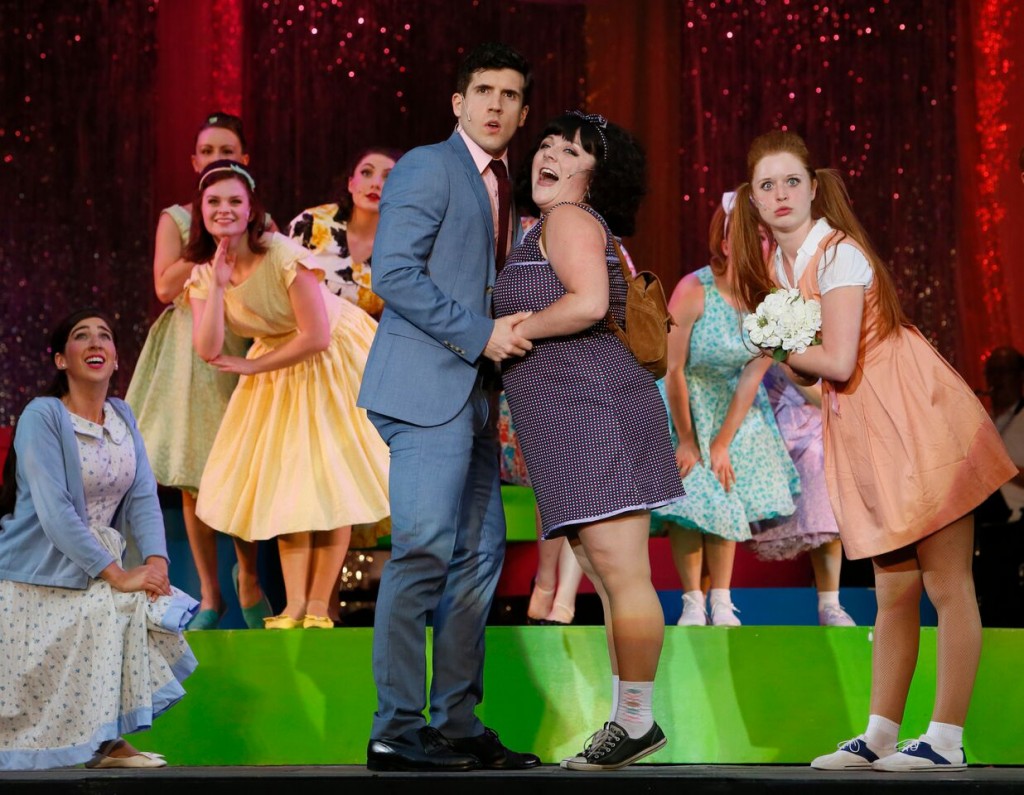 At Theatre Under the Stars (TUTS) until August 21 (even numbered days in July; odd numbered days in August)
1-877-840-0457/tuts.ca
Posted July 15, 2015
Oh, such fun! Oh, such a joyful explosion of young – and young-ish – talent! Director Sarah Rodgers, a smart, animated redhead, seems to have simply lit three dozen sparklers on the venerable Malkin Bowl stage. Obviously it's not that easy but that's the trick: make it look easy, make it look like everyone on stage is having the time of her/his life and the audience will lap it up. And lap it up we did on opening night with everyone from young and old, fat and thin, blonde, brunette or white-haired singing the refrain, "Big, blond and beautiful" or "You can't stop the beat." (I have finally replaced the Godspell earworm – "Pre-ee-ee-pare ye/The way of the Lord" – with the latter. Oh, joy.)
It's 1962 in Baltimore and the bouffant hairdo-ed, Patterson Park High School girls all regularly tune into the Corny Collins show on their family's TV. It's a dance party with a very select group of guys and "gidgets" showing off their moves. Plus-sized Tracy Turnblad dreams of being on the show but when she turns up late for the auditions, she's turned away by disdainful producer and former Miss Baltimore, Velma Von Tussle, not for being "too late" but for being "just too – much", which she pronounces dripping with scorn.
The setting being non-integrated Baltimore, the Corny Collins Show has just one day each week that's "Negro Day" and Tracy decides the show is going to get integrated. Everyone gets busted, everyone gets released and they all live happily ever after but not until after sparky little Tracy lands Link the handsomest guy on the show and the colour barrier comes tumbling down. She's out to conquer the world and when she does, 'I'll make every day Negro Day", she promises.
Where are the Tracy Turnblads now that Baltimore needs them again? Hairspray doesn't go there but delivers a rallying cry for tolerance: colour, body type and all the other things that get in the way of getting along.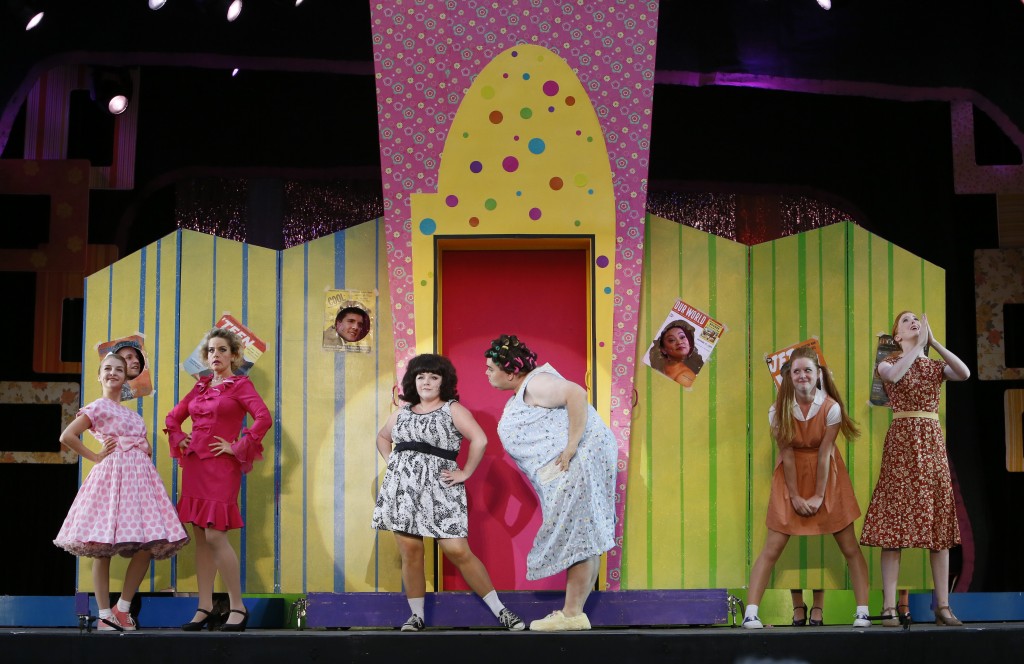 Erin E. Walker, a graduate of the Capilano Musical Theatre Program at Cap U, is Tracy and she's a little dynamo with a supersize voice. When she's singing, you know it. She's stout but she busts moves without a hair out of place in her poufy, hairsprayed 'do'. She's got a good sense of comedy, too, and delivers lines like, "I won't go all the way but I'll go pretty far" with equal parts of innocence and sly.
Tracy's big-boned, "triple E" bosomed mom is played by the incomparable Andy Toth who steals this show again and again. And, oh, good Lord, when Toth comes out newly decked out by Mr. Pinky – a plus-size clothing designer/retailer – the TUTS audience burst into applause and laughter at the bright pink, feather-trimmed dress and fuzzy pink wig. There's over the top and there's OVER THE TOP. Toth really knows the difference and works it, baby.
Dustin Freeland, a Studio 58 grad, is handsome-if-self-absorbed Link, an example of Tracy's mom's advice to Tracy that, "Boys aren't the brightest things".
A complete surprise to director Rodgers was Cecilly Day who turned up from Vancouver Island to audition for Motormouth Maybelle. She blew Rodgers away and she'll blow you away, too. Gorgeous. Fantastic stage presence. Dazzling voice. Let's hope Day catches the ferry over the pond on many more occasions.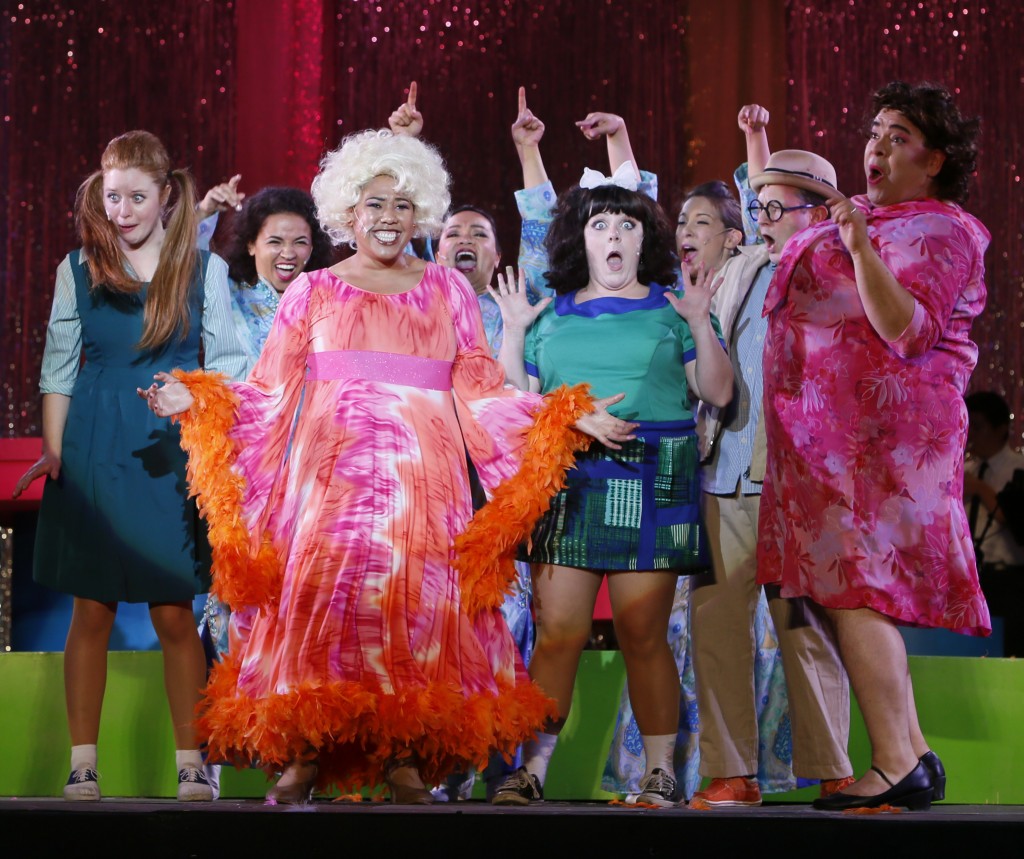 Fine work by Lori Ashton-Zondag (as nasty Velma) and multi-crinolined Elyse Maloway (as Velma's snooty daughter Amber). Great dancing by David Lindo-Reid and, really, everyone in this huge cast. Choreographer Julie Tomaino puts them all through some amazing, exuberant moves that makes you wish you had taken a different career path and were up there raising the roof with them.
And someone new to watch for is Marisa Gold (as Little Inez) who appears to be about thirteen but has a BFA in Music from SFU and is a professional dancer, choreographer and instructor. She's got plenty of moves and attitude.
Set designer Brian Bell puts the orchestra, under the musical direction of Chris D. King (who also doubles as Corny Collins), behind a scrim onstage so you can watch them, too.
Hairspray has been around since 1988 – first as a film, then adapted as a musical in 2002 and finally as a musical film in 2007. It's still fun, still relevant, still great family entertainment and proves the song, "You can't stop the beat."