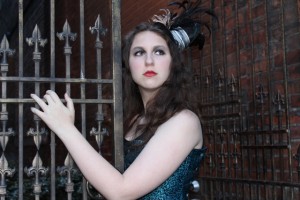 At Performance Works Outdoor Stage (indoors if it rains) until August 10
Free. $5 to reserve a seat.
604-669-3410/www.carouseltheatre.ca

Posted July 29, 2013
I don't imagine many young women in theatre school dream of playing Hamlet. Lady Macbeth, Hedda Gabler and Martha (Who's Afraid of Virginia Woolf) would likely be on their list but not the melancholy Dane.
But as Carole Higgins, artistic and managing director of Carousel Theatre for Young People explained, when you run the Teen Shakespeare Program (TSP) every summer, you use what you have. If, out of the crop of students in any given year, you have an outstanding female student and you've decided the summer show will be Hamlet, then gender-blind casting is the name of the game.
This is Sofia Newman's sixth season with TSP and already under theatrical belt is performing Antony in Julius Caesar so she's no stranger to stepping into men's boots. This time around, it's Hamlet's footwear. Newman is assured and confident and delivers the Bard's words in such a conversational way, you begin to wonder if, indeed, this is Elizabethan English. That's a knack many professionals have not managed to learn.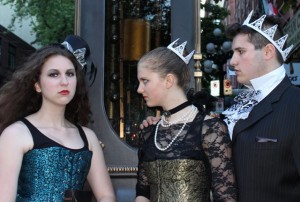 The gender bending goes right through this production. Leila Raye, in her very first TSP show – but with lots of previous theatre experience – is Claudius and it's a very classy, haughty performance as Hamlet's uncle or is it his aunt?
Aye, and there's the rub. Although Newman steps easily into the role, she's actually costumed like a woman in what I call art school chic: tattered lace, layered skirts over trousers, high boot runners and a little 'fascinator' hat that perches on top of the head with feathers, ribbons and lace leaping out of it. With Seamus Fera in a dark business suit as Hamlet's mother Gertrude, and Raye in a long, regal gown and jewels as King Claudius, it's easy to get caught up in playing who's who in your head. Ophelia is played by young Dexter van der Schyff, Laertes by a very proficient Daelyn Lester-Serafini and as Horatio, Noah Heyl is one of the few young men who actually play young men. Uncle, aunt, mother, father, king or queen? If you'd never seen Hamlet before, it might actually be less confusing.
Costume designer Stephanie Kong pulls off a minor miracle with costumes all in black and white, no two alike (well, maybe a couple of the messengers). She blends solid black with b/w prints and lace with denim. It looks great and I'm betting she pulled it all off on a shoestring budget.
The Teen Shakespeare Program runs each summer for 6 weeks. Four weeks are spent in intensive, five hours/day training in voice, movement and text analysis culminating in a two-week fully professional run. In this 'pre-professional' program, many of the students go on to Studio 58, UBC Theatre Department or elsewhere for further training.
The setting is sweet with a grassy hill rising sharply behind a small wooden stage. The wind rustles through the maples, gulls and crows fly by and until twilight sets in, Mother Nature is the lighting designer. After that, Noah Feaver takes over.
There's hot coffee, hot chocolate, snacks for the kids. Cushions for your backside; blankets for after sunset. And perhaps best of all – apart from the proud moms and dads – are the kids in the audience who might be experiencing Shakespeare for the first time. Bard on the Beach's Christopher Gaze would agree: get 'em while they're young. They won't care if Hamlet is a guy or a gal. It's all about story and it's still a bloody good one after more than 400 years.